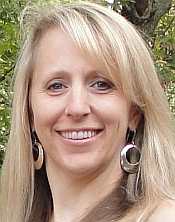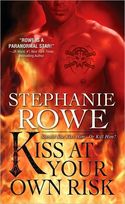 My January release, KISS AT YOUR OWN RISK, is my first paranormal romance release in three years, and it is a very special book to me. It's my triumph, my golden award, the moment of raising that trophy over my head and feeling the true joy of accomplishment fill me. Why? Because KISS AT YOUR OWN RISK is the most beautiful, magical book I've ever written, a book that would never have been born had I not been forced by life to dig deep and find beauty within me that I'd never before access. This book is my phoenix, my rise from the ashes, and it is my salute to the power of each of us to triumph, to prevail, to become who we are meant to be.
Sometimes life derails us. Sometimes life comes crashing down on us so mercilessly that we feel like we'll never get out from under it. Sometimes, all we can do is get down on her knees and cry, shouting to the world that it's TOO DAMN HARD.
I've been there. Two and a half years ago, my world was rocked. Every foundation of my life was ripped out from under me in one breath. In that moment, I remember so clearly, standing in front of my bathroom mirror, my hands shaking uncontrollably (I had no idea that actually happened in real life). Staring at my stricken face in the mirror, I said to myself: "You have two choices. You can let this break you, or you can take this as the greatest gift ever, to start life over and do it differently. I choose the latter."
The words seemed powerful. It seemed an easy choice to make. And I thought I was all set.
Turned out, the road back was a lot longer, tougher and harder than I ever imagined it was. And the further I got along the road to rebuilding my life, the tougher things become. The more lost I felt. The harder it was to have hope. To believe things would ever be good again. To believe that I would ever, EVER wake up in the morning and not feel a weight in my chest so heavy that I thought my soul was broken forever. Writing became a torture for me; this thing that used to be such joy had become an ordeal to suffer through. It wasn't the writing. It was the scars on my soul. Writing became symbolic of how I was treating myself in all areas of my life.
I eventually realized that the problem was that I was focusing on the external. I was trying to get all the external building blocks of my life in order to make myself feel better, to feel safe, to feel hope, to feel love. I finally understood that nothing could change until I worked on myself first.
And so began my journey to heal my life from the inside out.  I realized that, somehow, in order to alleviate the weight in my heart, I had to get happy on my own from within, and not wait until the other stuff was fixed.
Turns out, it's not that easy to get happy when you're still standing in the middle of burned out carnage of your life. But as it also turns out, it IS possible, and it's the greatest gift ever to realize you have that power, that your emotional well-being isn't dependent on anything, or anyone, ever. That you can wake up with joy in your heart, loving yourself completely, loving every word you type, loving every choice you make, no matter what is going on around you.
And you know? I did it. I found peace in my heart, I learned to allow myself to be happy, and that's when life became good. That's when I started to write with beauty. That's when the things that had been broken for so long, the really big things, began to heal.
Now, I wake up in the morning with peace in my heart. I sit down at the computer and feel beauty filling my soul and spilling out into the keyboard. And when I look outside, I notice the sunshine and the blue sky, instead of the traffic or the dirt.  And I treasure all the changes in my life that have happened, and those that are still happening.
Sometimes, life can be tough. Sometimes, you don't want to fight the fight. But when you get through it, and you find your joy and your peace and your sunshine, it's sheer beauty that fills your heart in the most amazing way. And then, once you're happy, there's room for the good stuff to start coming, and when it does…ahh… it's exhilaration like you didn't even know existed.  It's when you can hold your new book in your hands, and smile deep in your heart, because you know that book, that amazing book, is your salute to the power of the human soul.
Who else has tales of triumph?  I would love to hear them.
He needed a killer woman…
Blaine Underhill is one lucky man after having recently escaped a century and a half of imprisonment at the hands of an evil witch. Now he's determined to save his still-enslaved friend, but in order to do so, he'll need the help of one of the world's most lethal women.
She was drop dead gorgeous, literally…
Trinity Harpswell is sick and tired of being a Black Widow. Having managed to go three years without accidentally killing anyone she loves, she's one short week away from freeing herself from this killer curse forever.
When Blaine tracks her down and convinces her to help him, little does Trinity know that the next seven days are going to be murder!
ABOUT THE AUTHOR
Four-time RITA Award nominee and Golden Heart Award winner Stephanie Rowe is a nationally bestselling author, and has more than twenty-five contracted titles with major publishers such as HarperCollins, Dorchester and Harlequin. Stephanie has charmed reviewers with her unique blend of humor and otherworldly magic. She lives outside Boston, MA, where she is working on the next two books in the Soulfire Series: TOUCH IF YOU DARE (July 2011) and HOLD ME IF YOU CAN (September 2011).  For more information, please visit http://www.stephanierowe.com/.
To comment on Stephanie Rowe's blog please click here.