I'm giving one lucky winner a signed copy of my new release,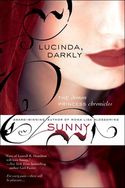 Lucinda, Darkly. So don't be shy about posting a comment on this blog. Winner to be announced in the blog comment section the next day, so be sure to check back tomorrow.
My editor just emailed me last night with the happy news that my single title LUCINDA, DARKLY is a national bestseller. And ON THE PROWL is a USA Today bestseller—my anthology with Patricia Briggs, Eileen Wilks, and Karen Chance. So I guess that elation is definitely going to affect the topic of this blog: how I became an author.
For me, turning writer was a complete turn-about in careers at the mid-point of my life, from respectable family practice physician to penning erotic dark fantasy/urban fantasy. Which is more fun? Well, of course, the latter. This new career has lead to TV appearances on Geraldo At Large and CNBC, won me several awards—my first ever in my life!—and forced me out of my normal reserve into public speaking and meet-and-greets with complete strangers at conferences.
But then, writing those hot love stories in more explicit detail than I could ever have imagined when I first picked up that pen 2-1/2 years ago was a big step in breaking out of my shy, conservative shell. I'd first tried writing a story twenty years ago in college, failed miserably, then made several more unsuccessful stabs at it as time marched by. For me, the key to finally completing an entire manuscript, something I'd been unable to do all my life, was desire—really, really wanting it—and fearlessness. Both came when I was thirty-eight years old. It was an age when I pretty much thought I had accomplished all I would accomplish in life. And it was actually the success of my husband, an author, and my two talented children who have appeared on TV that finally sparked that crucial desire for my own success—when my then 6-year-old son was listing everyone's talent, and mine was, "Mommy drives real well." Chauffeuring them to their classes and auditions!
Writing, to me, was like losing weight: You can't make anyone do that until they really want it for themselves, and start taking concrete steps to achieve that goal. That little comment by my son prodded me to finally sit my butt down and write out—and finish!—a complete story. Oh joy! Oh thrill! What a major achievement! But then as the giddiness faded, the question of "now what?" emerged. My husband was a memoirist who didn't have any contacts in the romance field, nor had any idea on how to guide me. I ended up selling the good-old fashioned way. I drove 3-1/2 hours down to RWA's New England Chapter's annual conference in the Boston area, and pitched a novella to Hilary Sares, a Kensington editor there. Three weeks after my submission, I got "The Email" that she wanted to buy and publish my little novella.
Since then, I've attended a lot more conferences, sat in on loads of informative workshops and panels, and spoken with many other authors—an interesting, inundating process of learning about the romance writing industry these last couple of years. There are many routes other writers have taken to becoming published: some entering and winning contests, others through agents, others like me through editors, either pitching to them at conferences or submitting through the slush pile, and yet others who were recommended to either editor or agent by another published author. I've learned that while talent is necessary, so is luck—finding that one agent and/or editor who loves your writing. And most of all, determination and perseverance—some of them writing for over twenty years before someone finally said, "Yes, I want to publish you." My hats off to those ladies who stuck with it for so long. I honestly don't know if I could have done so myself.
Someone recently told me that their sister went from being a school teacher to a rock star. What I would love to hear from you is your thoughts on imaginative career changes. What you would like to do, or what someone else has actually done. Any other comments would also be most welcome.