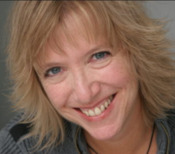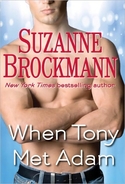 On June 6th, my 51st published work, WHEN TONY MET ADAM, an e-short-story about characters from my Troubleshooters series, was released.  It features Navy SEAL Tony Vlachic and movie actor Adam Wyndham, who also happens to be my most popular character Jules Cassidy's ex-boyfriend.  I wrote this story in part to celebrate the repeal of Don't Ask, Don't Tell, and in part to show readers what happened during the months between the end of ALL THROUGH THE NIGHT (TS #12), where Tony and Adam have a chance meeting, and HOT PURSUIT (TS #15), where it's made clear that the two men have been romantically involved for quite some time.
But June 6th was also a special day for me for another reason entirely.  It was Day One of shooting for THE PERFECT WEDDING, a SAG ultra-low budget feature-length movie that I co-wrote and that I'm producing this summer.
A quick description of the movie:  The Perfect Wedding is the story of two gay men, Paul (Eric Aragon) and Gavin (Jason T. Gaffney), who fall in love when they spend a holiday weekend at Paul's parents' house, where they gather to help plan Paul's sister Alana's (Apolonia Davalos) wedding.  The question of their sexuality is not a part of the story — everyone knows they are gay, and no one cares.  The humor comes from the situations the characters find themselves in, and their responses to the obstacles they must overcome — there are no stereotypes, no one is in the closet, no one is a drag queen.  (Not that there's anything wrong with that! <g>)
The movie is an ensemble piece, led by veteran actors James Rebhorn (over one hundred roles in movies and television shows, including Independence Day, The Talented Mr. Ripley, Cold Mountain, Scent of a Woman, Seinfeld and 30 Rock), and Kristine Sutherland (Buffy the Vampire Slayer, and Honey I Shrunk the Kids).  In addition to the Paul/Gavin romantic comedy storyline, there are other interwoven subplots: Paul's mother Meryl (Kristine Sutherland) is planning a big wedding for Alana, in part because Meryl's husband Richard (James Rebhorn) has just been diagnosed with early-onset Alzheimer's.  Richard is essentially symptom-free, but Meryl is terrified of what the future holds.  Even though she knows it's foolish, Meryl can't help trying to create something so big and beautiful that no one — not even Richard — will ever forget it.  But Alana wants a small wedding, and hijinks ensue.  With Paul's help, Alana's fiance, Kirk (Brendan Griffin), re-proposes that they get married that very day, in a small ceremony at sunset near the water, with only close friends and family attending, just as Alana had always imagined.  The proposal, the intimate wedding, and Paul and Gavin's ultimate connection are touching scenes in a very warm and funny story about a very real, modern American family.
So that's what you'll see onscreen, about six months after the 20-day shoot has ended.  In the meantime, as a low-budget producer, I'm moving furniture, cleaning gaffer's tape from the floor, picking up cast and crew from the airport, searching for local restaurants that can feed thirty-plus very hungry people for seven-dollars-a-head (tops!), or watching our extremely handsome leading man shoot a scene for hours and hours and HOURS while wearing only a towel.  (Life is tough, but someone's got to do it. <g>)
But the question I get asked the most these days is, "What's the difference between writing a novel and writing a screenplay?"  And the difference isn't in the writing process, although collaborating with two other creative minds can be interesting.  (I co-wrote this script with my husband and my son!)  Still, there's plenty of alone-time and isolation during the actual writing.  The difference comes in the production of the storytelling delivery-vehicle.
When an author finishes the final draft of a novel, it goes to the publisher who sets it in type, and creates cover art, and deals with the printing process.  Yes, there are editors and copy editors who read it and catch typos and try to get your street thugs to use correct grammar (Me:  STET! <g>)  But the final product is a book that you hold in your hands or download onto your e-reader.  And while there is definitely a team of people involved in the publishing production process, the creative work is done mostly by the author.
But a single person cannot make a movie — at least not a movie with a script like THE PERFECT WEDDING.  To start with, you need a cast of nine people to bring the characters to life.  So already, right there, you've got a small crowd.  Then add your crew.  The director takes the written script and adds his own unique vision.  The director of photography brings her creative mind into the process to help set up the camera angles and shots.  The gaffer lights the scene, which helps create mood and lets us see the action.  The art director and the set dresser create a beautiful yet realistic world where our characters live.  Our wardrobist decides what the characters should wear in each scene, and the makeup/wardrobe tech makes the actors look their best.
And then there's the Production Manager, the First Assistant Director, the Key Grip, and all of the other production assistants and interns who swarm over the set every day, helping to get the scenes shot.  (About 25 crew in total!)  It takes all those talented people to tell the story when the delivery-vehicle is a movie.
So what's the biggest difference between a novel and a movie?  From a producer's standpoint, it costs a whole lot less to feed a novelist!  But the creative collaboration – seeing so many people bring their talent and passion to a team whose sole focus is to tell this one tale?
It's an undeniable thrill.
I'll be posting more pictures and news from the set of THE PERFECT WEDDING all this month on my Troubleshooters World Facebook page at www.facebook.com/SuzBrockmannTSWorld Drop by and say hi!
You can find Suzanne Brockmann:
Suz Brockmann's Troubleshooters World on Facebook
Suz Brockmann's Friends of Jules on Facebook
Recent video chat with Brenda Novak
To comment on Suzanne Brockmann's blog please click here.