Travis headed in the opposite direction from Elaina to reduce his chances of running into her again. He wan­dered toward the back of the house instead of going to the upstairs family room. He wasn't feeling running into Grant either. He could hide out in the back sunroom or on the lanai until Byron got here and was ready to go.
The faint sounds of violin music stopped him.
His feet changed direction and instinctively followed the music. How many times when he was younger had he gone to the music room after a stressful or frustrat­ing encounter with his family, Grant or Elaina? Lured by the sound of something smooth and soothing like a balm to his hollowed emotions. He stopped at the door and watched India.
He didn't recognize the song she played. The music was a strong, fluid sound laced with an edge of anger and passion. Her eyes were closed, a line between her brows as she focused on the intricate pattern of notes. She'd been a great player before leaving with the orches­tra, and now she was outstanding. The complicated and intense execution of the music fascinated him.
Something was bothering her. She lost herself in music and practiced daily, but he could feel the deeper need in her to express what she couldn't say. The idea of something, someone, putting her in a mood caused a restless energy to bubble inside him. The need fix whatever obstacle stood in her way turned him over like a plow in the tobacco fields.
India finished with a flair. Her body stilled as the last notes echoed in the room. Slowly her arm lowered, her shoulders slumped, and she let out a deep sigh. She was both utterly beautiful and deeply sad.
Travis's chest ached. He'd stopped breathing. He slowly drew in a breath as the memory of the sad notes lingered in his mind.
"You play that perfectly," he said in a quiet voice.
She didn't jump, which told him she'd known he was there. How did she always sense when he was in a room? Was she just as aware of him as he was of her?
"I've had a lot of practice." She leaned over to set the violin in the open case next to her chair.
He approached her slowly instead of walking away as he should. "What's got you riled up?"
She snapped closed the violin case with a frustrated huff. "Two guesses."
Travis grabbed the black folding chair next to the music stand, flipped it backward and straddled it.
"What did he do?" Only her dad had the ability to re­ally anger her.
"He's marrying Patricia." She finally looked at him. Her eyes narrowed. "You knew?"
The news hadn't been unexpected. Grant had made Patricia more a part of the family in the years India had been away. Elaina and Byron had been given time to get used to the idea of their father marrying his long­time lover. For India the hurt of Grant's indiscretions would still feel new and tender.
"Byron mentioned it the other day. Your dad talked to him about it. He doesn't want it to affect the cam­paign or take–"
"Attention away from Byron. I know, he told me." She rolled her eyes. "It's just. . .  I can't believe he chose her."
Her arms crossed over her midsection. The anger in her eyes gave way to a deep sorrow that made Travis wish he could stand up, wrap his arms around her and hold her until the pain subsided, even though pain like that never truly went away. It could be painted over like a stain on a wall, but beneath the new layers of shine, the stain would always be there.
"Your father has wanted her for a long time," Travis said slowly. He kept his voice neutral, not taking sides in this family fight. How could he? Grant was marry­ing the woman he'd wanted for years. Something Travis would never experience. A small knot of envy twisted his stomach. "I don't condone what went on with him and Patricia when your mom was still alive, but I do know she makes him happy."
India snorted. "I didn't realize we valued happiness in this family anymore. I thought happiness came sec­ond place to the family, our legacy and the business."
"Maybe it did once, but I think your dad's coming around. If you really wanted something that made you happy, he'd understand."
Soft amber eyes met his. "Not if I told him what I really want." A wistful smile lifted the corner of her mouth.
His heart shot into second gear. The need to do some­thing, touch her, hold her, tell her how he felt tempted him. He shifted in the seat and broke eye contact. India sucked in a breath. Had she seen his thoughts? Was his longing written all over his face?
He cleared his throat and gripped the back of the chair he straddled instead of giving into the urge to reach for her. Not in Grant's house. Not with the cloud of his conversation with Elaina still in the air. "Things all set for the fish fry next week?" he asked.
India's brows drew together before she turned away and fingered the sheets of music on the stand. "Yes, Frank is going to have most of his people there frying the fish. You got the DJ, right?"
She'd chosen Frank's Fish and Chicken to handle cooking the food. A perfect choice. Frank's was a Jack­son Falls staple almost as much as the Robidoux family. The small place that started as a fish market serving quick lunches of two pieces of fish, a slice of bread and hushpuppies during lunch hour had quickly become a community hangout on the side of town where Travis had grown up. Choosing Frank's was a textbook way to use a local business that was loved and trusted by the community for the event.
"I've got two lined up," Travis answered her ques­tion. "I don't want us to be stuck with no music because my DJ didn't show up."
"Good. I think everything will go well." She glanced around before standing and walking over to one of the wooden tables where she knocked three times. "I hope so."
He smiled at the superstitious gesture. "Still knock­ing on wood for good luck?"
"Always. I'm not tempting fate." This time her sweet smile reached her eyes. "We threw this together via email and phone calls. I'm worried sick everything will go crazy."
"Well, I won't tempt fate either." He knocked on his head. India laughed, like he'd hoped she would, and his chest expanded. "I need to get through this so I can fi­nally relax and take a quick vacation."
"How can you vacation in the middle of a case?"
Not easily, but he needed the time away to clear his head. He stood and crossed over to her. "I'm going out of town for a very quick weekend. I'm hoping it will help me recharge and get ready for the trial."
"You and Camille?" she asked casually. Too casually.
"No. I don't think things will work out with Ca­mille." She was part of the reason he needed to clear his head. He couldn't force things with her anymore. He'd tried to force a happy marriage for years. He'd be damned if he'd do that while dating.
Interest brightened India's eyes. She eased closer. "Why not?"
Travis didn't back up. His heartbeat hadn't recovered from earlier and despite himself he didn't want to put distance between them. "She's not the woman I want." One small confession, that's all he'd allow himself.
India chewed the corner of her lip. Her chin lifted and yearning flickered in her gaze. "Who do you want?"
The hesitant question cracked his resolve. Her fin­gertips still rested on the wooden table. Travis slid his hand across the smooth surface until his fingers lightly brushed hers. Awareness scattered across his senses.
India's eyes widened slightly. Then her gaze became bolder. Desire expanded like a hot air balloon inside him. Bigger. Wider. Adding pressure to the cracks in his resolve. Years of denial whispered, Do it in the deep recesses of his mind.
"Travis, I knew I'd find you in here," Bryon's eager voice interrupted just in time. He walked in all smiles and easy swagger.
India slid her hand away from his and turned toward her brother. Disappointment and relief plowed over Tra­vis after Byron's interruption. He'd seen his own feel­ings mirrored in India's eyes. If Grant can have who he wants, why can't I? Things were about to get out of hand, and right now Travis wasn't sure if he trusted himself to regret what almost happened.
(C) Synithia Williams, HQN, 2020. Printed with permission from the publisher.
***
Jackson Falls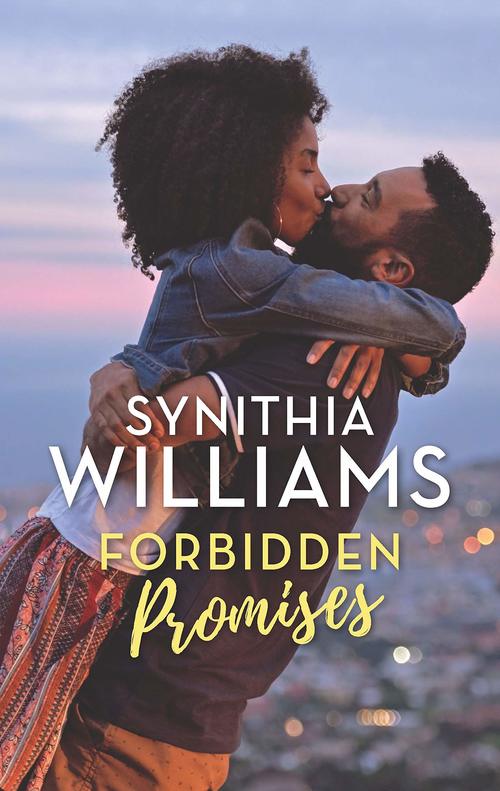 What do you do when you want the one person you can never have?
Get in and get out. That was India Robidoux's plan for this family visit. But when her brother needs her help with his high-profile political campaign, India has no choice but to stay and face the one man she's been running from for years—Travis, her sister's ex-husband. One hot summer night when Travis was still free, they celebrated her birthday with whiskey and an unforgettable kiss. The memory is as strong as ever—and so are the feelings she's tried so hard to forget.
Travis Strickland owes everything to the Robidoux family. There's nothing he wouldn't do for them—his divorce could never change that. Still, he has one regret. Impulsive and passionate, India always understood him better than anyone else. And the longer they work together on the campaign, the more torn he is. Coming between her and her sister is out of the question. But how can he let love pass him by a second time?
Romance [HQN, On Sale: February 25, 2020, Mass Market Paperback / e-Book, ISBN: 9781335013248 / eISBN: 9781488056635]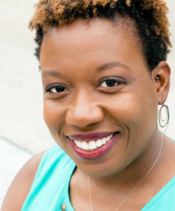 Synithia has loved romance novels since reading her first one at the age of 13. It was only natural she would begin penning her own soon after. It wasn't until 2010 that she began to actively pursue her dream of becoming a published author. She completed her first novel, You Can't Plan Love, in the fall of 2010 and sold it to Crimson Romance in 2012. Her novel Making it Real was a USA Today Happily Ever After blog 2015 Must Read Romance and A Malibu Kind of Romance a 2017 RITA finalist. When she isn't writing, she works on water quality issues for local government while balancing the needs of her husband and two sons.