A Review of S.T.A.G.S. by M.A. Bennett
S.T.A.G.S. by M.A. Bennett, is a fast-paced mystery that kept me on the edge of my seat wanting to know more. The story starts off with the main character, Greer MacDonald, coming to a private school named S.T.A.G.S. She finds herself alone, with no friends in a school that is much fancier than her last, but she's managing fairly well during the first part of the school year. Then during Justitium, the school's mid-term break, Greer gets a letter slipped under her door from one of the Medievals, the most popular group in the school, inviting her to spend Justitium at Longcross Hall—the home of the most popular Medieval, Henry Warlencourt. Is this invitation like any old invitation to a birthday party or special event, or is there a hidden story behind the listed events of "Huntin' Shootin' and Fishin'"?
M.A. Bennett knows how to organize and compose a novel to make the reader feel like she is truly a part of the story. From the first word of page one, I knew this was going to be a book that kept me up at night secretly reading. I could never stop reading. The suspense and the multitude of cliffhangers made me want to read until sun-up—or at least until my parents caught me. S.T.A.G.S. is not only captivating, it is one of the best books I have read. Every word is so precisely placed, it is as if each word holds a piece of the puzzle for the reader to uncover. If I had to rate this book from one through five, it would definitely get a six.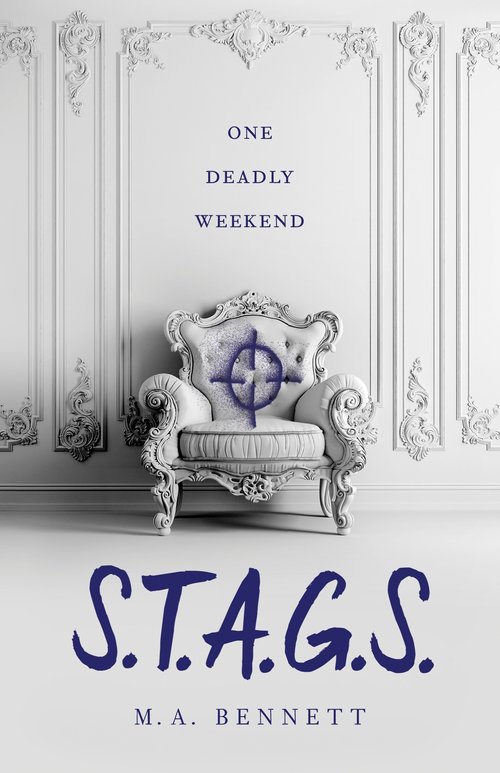 Get ready for one deadly weekend in this twisting thriller for fans of Pretty Little Liars and One of Us is Lying that explores just how far the elite at an English boarding school will go.
Greer MacDonald has just started as a scholarship student at the exclusive St. Aidan the Great boarding school, known to its privileged pupils as STAGS. STAGS is a place where new things—and new people—are to be avoided. And in her first days there, Greer is ignored at best and mocked at worst by the school's most admired circle of friends, the Medievals.
So, naturally, Greer is taken by surprise when the Medievals send her an invitation to a sought-after weekend retreat at the private family estate of their unofficial leader, Henry de Warlencourt. It's billed as a weekend of "huntin' shootin' fishin'."
As the weekend begins to take shape, it becomes apparent that beyond the luxurious trappings, predators are lurking, and they're out for blood.
Young Adult Suspense [Delacorte Press, On Sale: January 30, 2018, Hardcover / e-Book, ISBN: 9780525578468 / eISBN: 9780525578482]
Until next time, keep secretly reading the books you love.
Gidget: Middle school student by day, voracious reader by flashlight at night. Gidget loves great mysteries and utopian girl-power adventures. She's an artist who wants to be a member of the WNBA or a secret special agent when she grows up, but will be pleased when she finishes her math homework for now so she can hop into bed and read the next great novel on her to-be-read pile.