Hello and thank you for hosting me today. With Fourth of July fast approaching many people will be hosting family and friends as we celebrate the birth of the United States of America. I remember growing up, my grandparents would have everyone to their house for a barbeque. There would be hamburgers, hot dogs and my grandmother's fried chicken. Corn on the cob dripping with butter, slices of fresh watermelon straight out of my grandfather's garden and dessert–we'd have my grandfather's homemade vanilla ice cream and berry pie. Yum.
As an adult I found I didn't like cooking the way my grandmother and grandfather did but I will occasionally make a few choice creations. One that I would like to share with you that would be perfect for a Fourth of July celebration whether a picnic at a park or a backyard barbeque. This is an appealing, do-ahead dessert that can be formed and frozen, ready to be thawed and baked the day you want to eat it.
Fresh Plum-Blueberry Turnovers
Makes 8 large turnovers
12 ounces plums, pitted and sliced
2 cups fresh blueberries
½ cup plus 1 tablespoon sugar
1 ½ tablespoons cornstarch dissolved in 1 tablespoon water
1 7-ounce package of almond paste
¼ cup whipping cream
quick-cooking tapioca (if need as thickener for fruit)
2 sheets of packaged frozen puff pastry, thawed
1 egg beaten to blend (for glaze)
Combine plums, berries, ½ cup sugar in heavy medium saucepan. Bring to a boil, stirring. Reduce heat to medium and simmer until plum/berrys are soft, about 4 minutes. Add cornstarch mixture and stir until mixture thickens and boils, about 1 minute. Mixture should be very thick. If fruit mixture is still runny add a few tablespoons of tapioca to hot plum/berry mixture. Bring to boil again, about another minute. Cool. Cover and chill until cold, at least 4 hours or overnight.
Finely grind almond paste in processor. Add cream and puree until smooth.
Line 2 baking sheets with parchment. Roll out 1 pastry sheet on floured surface to 12-inch square. Cut pastry into four 6-inch squares. Spread scant 2 tablespoons almond paste mixture over center 4 inches of each square. Place ¼ cup plum/berry mixture on top at the center of almond paste on each square. Brush 2 sides with glaze. Fold pastry over filling, forming triangles and pressing edges to adhere. Press edges with fork to seal. Transfer to baking sheet. Repeat with remaining pastry sheet, almond paste mixture and plum/berry mixture.
Cut small hole and a few slits in top of each turnover to allow steam to escape. Brush turnovers with glaze. Sprinkle with 1 tablespoon of sugar. Freeze for 20 minutes. (Can be prepared 1 week ahead. Cover and keep frozen. Thaw 6 hours in refrigerator)
Position 1 rack in center of oven and 1 rack in top third of oven. Preheat to 375 degrees. Bake turnovers until golden, switch top and bottom sheets halfway through baking, about 30 minutes. Cool on baking sheets. Serve at room temperature. With ice cream 🙂
Enjoy!
Giveaway
What are some fun traditions you have for this special holiday? Tell us below and you'll be entered to win this wonderful prize from Terri!
one signed copy of PROTECT AND SERVE
A purse size flowered journal
A Recipe card for Peanut Butter Chocolate Squares
A Harry and David Dark Chocolate Moose Munch bar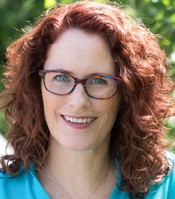 Award winning multi-published author Terri Reed discovered the wonderful world of fiction at an early age and declared she would one day write a book. Now she is fulfilling that dream writing full-time. Her romance and romantic suspense novels have appeared on Publisher's Weekly top 25, Nielsen's Bookscan top 100 and featured in USA Today, Christian Fiction Magazine and Romantic Times Magazine. Her books have finaled in Romance Writers of America's RITA contest, National Reader's Choice Award contest and the American Christian Fiction Writers The Carol Award contest.
She resides in the Pacific Northwest with her college-sweetheart husband, two wonderful children, and two dogs. When not writing, she enjoys spending time with her family and friends, gardening and playing tennis.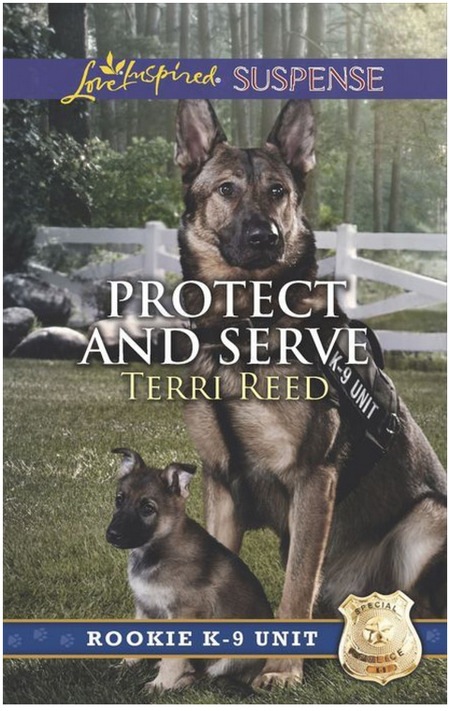 PERSON OF INTEREST
When rookie K-9 officer Shane West and his German shepherd partner find the lead police dog trainer murdered, he's determined to bring the killer to justice. But then he discovers Gina Perry hiding nearby—a pretty junior trainer who had the motive, means and opportunity to kill her boss. Gina insists her troubled brother is the real murderer…and this isn't the first time he's killed. And when Gina's brother comes after her, Shane is assigned to protect her and uncover the truth. Suddenly, Shane—a cop who always hoped to join a big-city force—vows to stay by Gina's side as a murderer lurks in the small-town shadows.
Rookie K-9 Unit: These lawmen solve the toughest cases with the help of their brave canine partners.
Romance Contemporary | Mystery Pet Lovers | Inspirational Mystery [Harlequin Love Inspired Suspense, On Sale: April 5, 2016, e-Book, ISBN: 9781488008344 / eISBN: 9781488008344]

Police dog handlers under threat in this great romantic suspense series