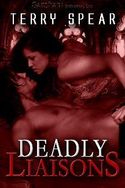 It seems that if a world is a fantasy, anything could go. It's fantastical after all. But the fun in creating an urban fantasy for me is in making it seem real enough that readers will feel as though werewolves, or vampires, live among us. Just think, the hunky guy who lives in the apartment next door, who helped shovel snow out of your path, could be a werewolf. Or a vampire. He dances, and drinks, and eats, and acts just like a regular guy. With a few exceptions. In both cases, the hero has bite. Either as a wolf-my, what very big teeth you have… Or as a vampire-make my day.
They're both very adept at fighting the good fight and they stick with a woman in the long run. Both are extremely protective of their kind and of those who come under their protection, can be a bit possessive and bossy, but the heroines have enough starch to get what they want also. I've been asked which I prefer-a vampire or a werewolf. And the truth is I love both.
To read more of REALISTIC URBAN FANTASIES please click here.