1–What's the name of your latest release? 
Worth the Wait
2–What is it about? 
It's about a flighty actress who returns to her hometown after her mother passes away and discovers she's inherited half a house with the ex-stepbrother she hasn't seen in ten years. They each have different goals for the house. She wants to sell it and use the money to move to Hollywood. He wants to keep it and renovate it to prove he's still capable after a life-altering injury shattered the future he'd had planned for himself. There's a definite opposites-attract vibe to the story, but it also deal with some complex issues like grief and mental illness and how sometimes the things you least expect are the ones that make all the difference.
3–What word best describes your heroine? 
Optimistic
4–What makes your hero irresistible? 
He's got that whole brooding, wounded-warrior alpha-male thing going on.
5–Who are the people your main characters turn to when they need help? 
For my heroine, it's her half-sister, Gina. For my hero, it's his siblings-Dave and Nicole, and also his two best friends-Mark and Jack.
6–What do you love about the setting of your book? 
Heavenly Falls, the fictional town where this story is set is an amalgamation of several places near where I live, so there's a lot of sentimental value there.
7–Are you a plotter (follow an outline) or a pantster (write by the seat of your pants)?
A combination of both, I think. LOL.
When I first started out, I was very much a pantser. But now my writing schedule is so busy, there's no way I can do that anymore, since many times it's months from the time I sign a contract before I actually get around to writing the story. I'd forgotten everything if I didn't have a solid outline down on paper ahead of time. So, I create an outline when I'm doing the proposal for my agent and publisher, mapping out all the plot points and making sure I hit the beats I need in the story, but leaving enough wiggle room to make any last minute changes for flow, etc, once I get to the actual writing.
8–What is an ideal writing day for you? 
One filled with coffee and peaceful music in the background, with now distractions to take me away from the computer.
9–Do you listen to music while you write, need total silence, or do you have the TV on?
I do, as mentioned in the question above. But it's mainly instrumental new-age piano stuff and movie soundtracks with now words. It all becomes white noise when I'm writing and I tune it out. Except lyrics. I can't have music with lyrics playing while I'm writing because then I find them creeping into my words on the page. LOL.
10– How do you approach research? 
I tend to do a lot of it during the outline stages of things that I mentioned above. Planning out locales and things my characters would need to know to make them authentic. Then if I hit a snag as I'm writing, I'll stop to look it up. Like subway schedules or train routes or travel times or whatever.
11–What is your publishing journey story? 
Long and complex. LOL. I wrote my first book ever back in 2011 after I had a dream where the story basically came to me fully formed. It wouldn't leave my head until I wrote it down. I scribbled it all by hand on legal pads then eventually typed it out. 120K words in a month. I had no clue what I was doing, so that's when I got online and started looking around for advice. I joined RWA and my local chapter, plus a few online chapters too. Found advice through my local chapter. Found some great critique partners through the FF&P online chapter of RWA, some of whom are still friends and crit partners today. Once I got that book polished, I started submitting. It was bought by a small publisher in October of 2012 and my first published book, a paranormal romance, was released in January 2013. Then things went downhill. While my books continued to sell, my mother was diagnosed with stage four cancer a week after that first book came out. She passed away in June 2013. I had two more books in that paranormal series out that year, but my writing mojo was gone because of grief. I didn't' end up writing much at all for the next two years. Instead, I enrolled in an MFA program to try to learn what I did right with that first book so that I wasn't a one-hit wonder. During that program, I met my writing tribe and it's probably one of the best decisions I ever made. I graduate with my masters degree in January of 2016 and finally started writing again. That second paranormal series ended up being published with Tule Publishing in October of that year. Then I switched to contemporary romance, targeting Harlequin. After two years and lots of back and forth with the editors there, I finally sold my first book to their Medicals line and One Night with the Army Doc came out in August 2018. My 5th book with the Medical line (still have to pinch myself to believe it's true), titled Their Hot Hawaiian Fling, releases May 1, 2020. I also sold several sweet, small-town romances to Entangled Publishing, including my latest release Worth the Wait. So, yeah. Like I said, long and complex. LOL.
12–Do you have critique partners/writing groups you want to give a shout-out to? 
For this particular book, a shout-out to all my peeps in the Writing Popular Fiction program at Seton Hill University who helped by workshopping this story in its early days and to my mentors in the program who passed an earlier version of this story as my thesis project.
13–What're the most frustrating things about being an author? 
For me, I think it's all the hats an author has to wear these days. It's not just writing the book, you have to marketing and sell it too. One skill set doesn't necessarily translate to the other, so it can be tough for an introvert like me to go out and promo myself. LOL.
14–What's your favorite scent?
Lilac
15–What movie will you watch no matter what if it's on TV? 
Practical Magic
16–Do you like breakfast, lunch, or dinner best? 
Breakfast
17–What's one thing you wish you knew more about? 
How my dog's brain works.
18–What's the silliest thing you've recently done?
I shoveled snow in my PJs
19–What can readers expect from you next? 
My next release after Worth the Wait is with Harlequin Medicals. Their Hot Hawaiian Fling come out May 1, 2020.
20–How can readers reach you?
Website: https://www.tracidouglass.net
Facebook: https://www.facebook.com/TraciDouglassAuthor
Twitter: https://twitter.com/Traci_Douglass
Instagram: https://www.instagram.com/tracidouglassauthor/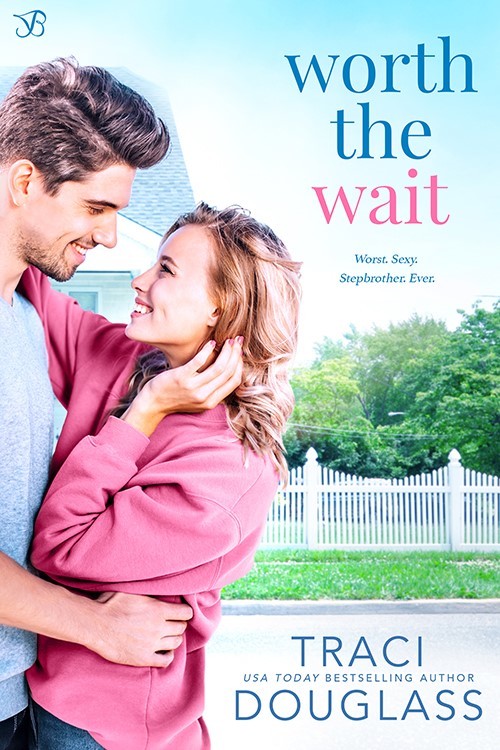 Mandy Reynolds needs a reset on life in so many ways. Her acting career isn't exactly where she'd hoped it to be. She can't even get a job as a germ for a commercial. When she inherits half a house she sees it as a sign and heads home to Heavenly Falls, Illinois. She'll sell the house, and use the money to take her career to the next level in Los Angeles. That is if she can convince her hard-headed––and stupidly gorgeous––ex-stepbrother, Alex Noonan, to sell fast.
The last time Alex saw Mandy, she was a gangly teen, who followed him around like a sad puppy. But she's grown into a smart and funny woman, who is as frustrating as she is beautiful. The fact that they have to live in the house–together–while they fix it up, is one temptation he doesn't need. And while he's having fun spending time with her, she's moving on soon, and he needs time to heal.
Plus, she has no idea he's got a secret that could put a monkey wrench in all of her plans. . .
Romance Contemporary [Entangled: Bliss, On Sale: March 9, 2020, e-Book, ISBN: 9781640637863 / eISBN: 9781640637863]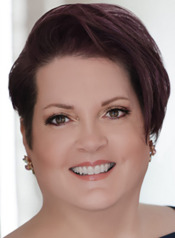 Traci is a USA Today Bestselling Romance Author with Harlequin/Mills & Boon, Entangled Publishing, and Tule Publishing. Her stories feature sizzling heroes with humor, quick wits, and troubled pasts and heroines who are smart, tenacious, and always give as good as they get. She holds an MFA in Writing Popular Fiction from Seton Hill University. She loves cute animals, chocolate, coffee, hot British actors, and sarcasm—not necessarily in that order.