Master storyteller Vito Zuppardo lives in Baton Rouge, Louisiana. Born and raised in New Orleans, he knows the best places in the city and writes about them all. In his Voodoo Lucy series of books, he combines the intrigue of the historic French Quarter, New Orleans voodoo practices, Creole cuisine, and unique architectural styles.
The characters in this series are multifaceted, intelligent, charming, daring, and outrageous. They provide interesting backdrops to settings of stories about murders, gangs, drugs, shady politics, along with fascinating relationships. The interactions between criminals, law enforcement officials, residents, and those who work and play in New Orleans offer a rich, captivating look at this distinct city.
Here are quotes from the three books that describe the people, places, and stories that will keep readers engaged and wanting to know more about Voodoo Lucy.
Tupelo Gypsy, book 1, June 2018
The French Quarter never slept. Jazz music wafted out of clubs until the first sign of morning, to be replaced by the much less agreeable clanks and screeches of a garbage truck picking up trash in the alleyway that separated Bourbon and Royal.
Her real name was Lucinda Jones, and most recently, she was known as Voodoo Lucy. In truth, she had several names. The one she used at any moment depended on what con she was running.
The legend of Voodoo Lucy had started eight months ago, shortly after twenty-eight-year-old Lucy and her mother Wanda arrived in New Orleans.
Revenge, book 2, March 2019
Lucy sat up, her heart racing and a horrified look on her face. With one hand, she brushed damp hair from her eyes. Then a calm came over her as she twisted her long, red hair into a curl, a dead giveaway. It didn't fool Dr. Griffin.
"Lucinda, let me talk to Lucy," he said.
"This is Lucy," Lucinda said.
"At the sound of the bell, Lucy will be at full attention," he said. "Do you understand, Lucinda?"
"She's weak. I can help her," Lucinda said.
Club Twilight, book 3, September 2020
Lucy Jones, some called Lucinda, strolled from the bank with her umbrella open, shading her milky skin from the sun. Lucy stood five feet, seven inches, with flawless skin, beautiful blue eyes, and natural red hair. Always dressed like she'd bought the entire outfit off a department store mannequin, she was the envy of many ladies. Women wanted to look like her. Men—and some women—wanted to be with her. Lucy displayed mixed vibes in public and confused many people.
"Good morning, Lucy," a lady passing said. If you were a friend, you called her Lucy. If not, best address her as Ms. Jones or Ms. Lucinda. She'd given many a tongue lashing for disrespecting her.
Readers will enjoy traveling the streets of New Orleans, riding along with the stories of those who live there. The first two books in the series are currently available on Amazon. Club Twilight is available for preorder and will be released in September 2020.
This promotional post was created and provided by the author. Visit VitoZuppardoBooks.com for more information.
***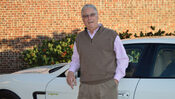 Vito Zuppardo started collecting pieces of information in 1986 from each trip to Las Vegas, Bahamas, Monte Carlo, and the other many casinos he represented. His main job was keeping his clients happy which was a full-time job while they were vacationing at luxury casino resorts.
Vito is the author of 5 novels and started writing in 1996. His first novel Alluring Lady Luck was based on true events from his 25 years in the casino business operating high limit gaming customers to various casinos around the world. Nevada Gaming Control said Vito Zuppardo was one of the most successful casino representatives in Nevada producing over 60 million dollars in revenue in three years. It's his life adventures that make his books fun to read, and characters stand out.
Vito was born and raised in New Orleans and moved to Baton Rouge, after Hurricane Katrina.
Life is truly what you make of it.