from Chapter 7
Helen, Wendy, Pearl, and Opal, our beloved Mahjong Matrons, filed into the restaurant at nine o'clock sharp. The four widows didn't bother to pause at the hostess station for a seating assignment. They had their own table they occupied every morning, always sitting in the same spots. When I'd first started working full time at the restaurant, I'd bring them menus as a formality. They really didn't need them as they ordered the same thing without fail, day in and day out. After a while I gave up on bringing the menus and just headed straight for the kitchen to place their order with Peter and prep their tea.
When I returned to the dining room and approached their table, the elderly women turned to greet me with pleasant smiles and twinkles in their eyes.
"Good morning, Lana," Helen sang in a cheerful voice.
"Good morning, ladies," I returned, giving them all a smile as I set the teakettle down in the center of the table.
Helen, who often acted as mother hen, reached for the kettle, and as the women flipped over their teacups, she filled each one to the brim. "Have you heard the latest news?" she asked, setting the kettle back down.
"The latest news?" I thought it best for right now to pretend like I hadn't heard. Anyone who knew me was well aware of the fact that I did not read the newspaper or watch the news. I was usually the last person to known about current events unless they went viral on some social media platform. It wasn't that I didn't care about what was going on in the world, but my sensitive nature had grown tired from trying to keep up with what always seemed to be bad news.
Pearl, Opal's older sister leaned forward and whispered, "Yes, the news about Margo Han. She was killed last night. Stabbed in the back!" She lifted her hand, balled it into a fist and made a stabbing motion.
I paused for a minute realizing my potential error. If the case continued, there may be a point where it would come out that I was the one to find her body. Then the Matrons would know I lied to them and probably be furious with me. "Oh that news." I replied. "Yes, I did happen to hear about that. Such a shame. Did you ladies know her?"
Wendy, whose sensibility often kept the group from going overboard, was the next to speak. "We only knew her a little bit. She was a nice woman, but did not seem to be close to anyone. She was not married, and did not have any children."
"How do you know her then?" I asked the group.
Opal was the next to reply. The petite woman was so dainty in her speech, that sometimes it could be hard to hear her if you weren't listening closely. Barely above a whisper, she said, "She would come to the hair salon sometimes on Saturday mornings. She asked a lot of questions about mahjong and we tried to have her come play with us, but she always said no."
I tucked that information away in my brain. Interesting that she had visited the salon, yet I had never seen her. Which reminded me that she had mentioned she'd been to Ho-Lee Noodle House on a few occasions. But I couldn't place her.
"So, what do you ladies think about what happened to her?" I asked.
The four women glanced at one another, then Helen answered for the group. "We think she probably made somebody mad at the school. From what we know, all she did was work."
The bell in the kitchen rang, which signified that Peter had completed the Matrons' order. I excused myself to retrieve their food.
I returned to the table and set down their daily breakfast choices: Chinese omelets with chives, century eggs, pickled cucumbers, and a large bowl of rice porridge.
Right before I turned to return to the hostess station, Wendy glanced up at me and said, "Usually the ones who look innocent have the most to hide. I bet someone like Margo Han was keeping a secret or two."
*
When the lunch rush had died down and Nancy had things under control, I decided to take my break and head over to the salon to find out if anyone there had some information on Margo Han. If she didn't have a husband or kids, I wondered who her next of kin would be. I vaguely remembered her saying that her family owned a dry-cleaning business. Were her parents still living? Maybe she had siblings who ran the business? Or maybe a secret boyfriend no one was aware of. Usually women liked to chat about those sorts of things while getting their hair done, so I was hoping there'd be some knowledge to gain.
I opened the door to the salon and was immediately met with acrylic-nail fumes and Chinese pop music.
Yuna, the salon's receptionist, was jamming out to a song playing over the salon's speakers, singing into a round hairbrush she'd probably plucked from the shelf of hair supplies they sold. Her normally pin-straight long hair was now wavy and mermaid green with a few braided strands wrapped around her head. Metallic turquoise clamshells dangled from her ears and complemented her aquatically themed hair perfectly.
The young twenty-something showed no signs of embarrassment as she realized that I'd walked in and caught her mid-refrain. "Oh, hi, Lana. Did you come to join the party?" She held her makeshift microphone out toward me.
(C) 

Vivien

 Chien, St. Martin's Press, 2021. Reprinted with permission from the publisher. 
Noodle Shop Mystery #7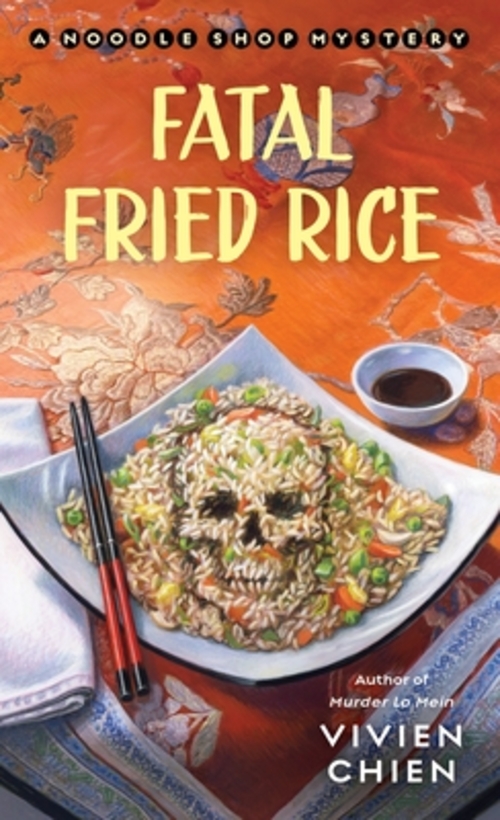 Lana Lee returns for another delectable cozy set in a Chinese restaurant in Cleveland, Ohio in Vivien Chien's Fatal Fried Rice…
Lana Lee runs her family's Chinese restaurant in Cleveland's Asia Village like nobody's business. When it comes to actual cooking, however, she's known to be about a step up from boiling rice. So Lana decides to go to culinary school on the sly—and prove that she has what it takes in the kitchen after all. But when course instructor Margo Chan turns up dead after class, Lana suddenly finds herself on the case, frying pan in hand.
Since she was the one who discovered the body, Lana must do double duty in finding the killer and clearing her name. Now, with or without the help of her boyfriend Detective Adam Trudeau, Lana launches her own investigation into Margo's life and mysterious death. Doing so leads her on a wild goose chase to and from the culinary school—and all the way back to the Ho-Lee noodle shop, where the guilty party may be closer than Lana thinks.
Mystery Cozy | Mystery Culinary | Mystery Amateur Sleuth [St. Martin's Paperbacks, On Sale: March 9, 2021, Mass Market Paperback / e-Book, ISBN: 9781250782595 / eISBN: 9781250782601]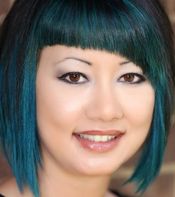 Vivien Chien first started writing simple stories about adventures with her classmates when she was in elementary school. As she grew up, her love of books and the written word increased, leading to the attempt of her first novel at age 16. After many struggled beginnings and several different genres, she found her passion in the mystery world.
When she's not writing, she can be found frolicking in the bookstore or searching for her next bowl of noodles. She has a soft spot for doughnuts, a healthy love for coffee, and an extreme need to participate in random acts of crafting.
She currently lives in Cleveland where she is hard at work on the next book in her Noodle Shop series and writes side-by-side with her toy fox terrier.