Psst. If you ever run into her, don't tell her that her old friend writes erotica. There's probably zero chance the woman I'll call C will connect the shy conservative she used to hang with with Vonna Harper of the 'dirty' books. C is more than a tad judgmental, and I don't need to listen to her opinion of how I've turned out, but a part of me would love to see her expression. Back when her husband and mine were best friends, she knew I was a writer, but then I wrote romances and historicals, not the hot-hot-hot stuff. I'm certain it never occurred to her that I have a dark side.
Because despite all the time we spent together, we really didn't have that much in common, our friendship ran its course, but I think about her from time to time, particularly right now as my latest erotic Her Red Corset hits the electronic stands.
Why, you ask and even if you didn't, please play along because I have a bit of a tale to share about why I wrote Her Red Corset. To give you the short explanation, the story takes place on the second floor of an historic building, in a room that once served as a bordello. I've wanted to use that setting ever since C, our respective husbands, and I had dinner at a restaurant in an old building along the California coast. Our waitress explained that the building used to be a hotel. The ground floor was a respectable establishment but what went on over the heads of proper gentlemen and ladies was another story. Of course I was all ears, and my imagination was off to the races. We weren't allowed to go up the rickety stairs but did get to see pictures of a dark, musty, and mysterious space.
In HER RED CORSET, historian Sheri Brooks is steeling herself to deal with hard-nosed developer Gage DeStafano. Gage wants to tear into the building he just bought and turn it into a series of offices while Sheri is determined to make sure he doesn't compromise the building's historic integrity.
Sheri enters the former bordello before Gage arrives. Instead of an empty space, she fantasized that she's standing next to a large, canopied bed with the aroma of sex clinging to the sheets. A disembodied voice challenges her to picture herself as a lady of the night. Instead of cutting and running, she picks up the red corset someone placed on the ornate velvet spread. By the time Gage shows up, Sheri has poured herself into the corset and put on a come-hither dress and sky high heels.
I'm not going to give away the plot except to say Gage is all man. He'll concern himself with making sense of what's happening later. Right now he wants to see what Sheri looks like in and out of that sexy as hell corset.
Nope. C would never connect HER RED CORSET with that long-ago dinner, would she?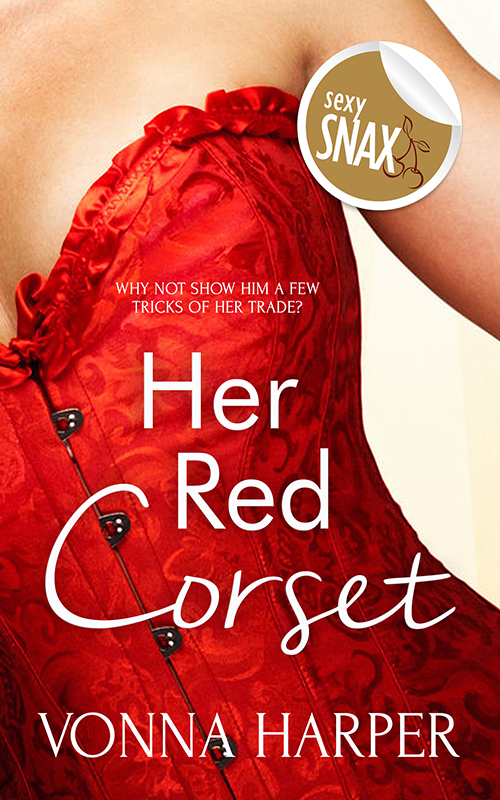 FROM POPULAR ROMANCE AUTHOR VONNA HARPER
What happens when a modern woman enters what used to be a brothel and the past envelops her? A lot, all of it involving one masculine hunk.
The exotic room on the historic building's second floor used to be a brothel, did it? At first Sheri Brooks is simply intrigued. Then she gives into the impulse to try on the mysterious red corset and the line between past and present blurs—all except for Gage DeStefano who is very much a modern man.
A man determined to see if Sheri is indeed a lady of the night. If she is, well, why not let her show him a few tricks of her trade.
Erotica [Totally Bound Publishing, On Sale: June 20, 2017, e-Book, / eISBN: 9781786861993]
Welcome to the world of Vonna Harper's crazy imagination! She probably should come up with a politically correct way of describing the kinds of books she writes, but readers can figure out for themselves that this is a journey on the wild side.
Bottom line she writes erotica and erotic romance. She kind of stumbled on the sub-genre she's become known for, but once she realized how popular capture/bondage themes are, she decided to explore said theme. And she has. A lot. A whole lot. Like a big bunch.
Most of all she's deeply thankful to for the readers who put out their hard-earned money.