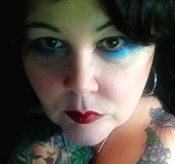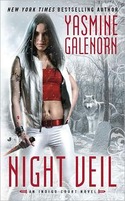 A much bandied question goes: Who do you prefer, Superman, or Batman? My answer has always been Batman. Because he's fallible, he's gritty, and he's flawed. I've never been able to empathize with Superman. He was too good, too black-and-white with his ethics, too invincible. He lived in a world of sunshine and total darkness, where my visions ran in shades of gray. I couldn't believe his character because it seemed far too one-dimensional to me.
I love playing in the dark. Shadows and mist, gloomy clouds and drizzling rain make up my environment most of the year here in the Seattle area, and it's the environment in which my characters live. I'm at my best writing dark fantasy, with characters that face overwhelming odds but somehow make it through this battle to face the next one. There's an old saying that once your characters are down, you kick them again. While it seems cruel, this is how compelling fiction is written.
In dark fantasy, urban fantasy, and paranormal romance, if there is no conflict and if the stakes aren't high enough, then no one will care much about your characters. If you know the characters will come out unscathed, then why invest yourself in the book? If you know they're invincible and win every battle without a scratch on them, who gives a damn?
My characters have flaws, as well as strengths. They are far from perfect, they make mistakes, they lose battles, and lose friends to the enemy. But they keep on trying. They are often outnumbered, but they persevere because they know that if they don't, no one else will. Their magic runs afoul, they get hurt and knocked around, but with each book, they make a little more inroad on the Big Bad they're facing.
And they grow. Characters that don't evolve have never appealed to me, so my characters learn and remember mistakes. Essential aspects of their nature can't be changed, but they do alter behavior when they realize it's not working. From book to book, the characters progress even as the world's story arc evolves. Their personal lives don't take second place to the action and adventure of the whole.
With both my Otherworld Series, and the Indigo Court Series, monstrous odds face my characters, but slowly, book by book, they build their allies and strengthen their chances. They understand that no one character among them can fight the evil they face and win–it takes a team. And they accept that, at times, they may have to use tactics similar to those their enemies use. Sometimes they have to play in the dark and get their hands dirty. But every now and then, they have a win so spectacular that it makes up for their struggle and gives them the hope to continue the fight.
So tell me, who do you prefer–Batman, or Superman, and why? One commenter will receive a $25 Amazon or Barnes & Noble gift card (your choice).
Bright Blessings,
NIGHT VEIL (release date: July 5, 2011):
Eons ago, vampires tried to turn the Dark Fae in order to harness their magic, only to create a demonic enemy more powerful than they could have imagined. Quietly amassing their strength for centuries, the Vampiric Fae-led by the merciless Myst, Queen of the Indigo Court-are determined to enslave the world. Only one witch stands in her way…
Cicely Waters grew up believing she was simply one of the magic-born-a witch who can control the wind-but when she returned home to New Forest, Washington, she discovered she was also one of the shifting Fae. Now she must perfect her gift. For Myst, Queen of the Indigo Court, has captured Grieve, the Fae prince who holds Cicely's heart. To save both her beloved Grieve and her friend Kaylin-whose demon is waking-Cicely must journey deep into the heart of the Indigo Court. But even as Cicely gathers strength, old alliances are breaking faith.
And new allies, like the hedonistic vampire Lannan Altos, promise to take Cicely down a far darker path than she's ever travelled before.
New York Times, USA Today and Publisher's Weekly bestselling author Yasmine Galenorn writes two urban fantasy series for Berkley: both the Otherworld/Sisters of the Moon and the Indigo Court series.  In the past, she wrote mysteries for Berkley Prime Crime, and nonfiction metaphysical books.  Her books have hit the New York Times, the USA Today, and the Publishers Weekly bestseller lists numerous times. Yasmine has been in the Craft for over 30 years, is a shamanic witch, and describes her life as a blend of teacups and tattoos.  She lives in Kirkland WA with her husband Samwise and their cats.
Yasmine can be reached via her website at www.galenorn.com, Twitter & Facebook. Her social networking sites are linked on her website.
To comment on Yasmine Galenorn's blog please click here.