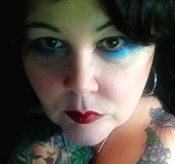 From the time I was a little girl, I was terrified of the house I grew up in because I knew it was haunted—by what I couldn't say, but a malign energy tainted that house. It didn't help matters that I've always been somewhat psychic. I could always sense whatever was there watching me. To this day, that house shows up in my nightmares and in my nightmares, it's usually filled with tens of thousands of spiders (I'm arachophobic) and I wake up screaming. Granted, I had a lot of serious baggage to deal with in childhood, but the house stands out in my mind as the 'haunted house on the hill' even though it was smack in the middle of a lower-class suburb.
Scared of the house or not, that didn't detour me from falling in love in love with the paranormal, and from becoming a total fantasy/SF freak. When I was five years old, I stumbled over Dark Shadows and went nuts over it. I'm not certain why my mother let me watch a vampire soap opera but wouldn't let me watch 'the man with the funny ears' (Spock, on Star Trek, which started the same year). I have a feeling she didn't fully realize that Dark Shadows was about a vampire.
But before ST:TOS was over, I was watching Kirk, Spock, and my favorite—Uhura, take on the denizens of deep space. And every Saturday, I settled down in front of the TV for the Science Fiction Double Creature Feature, immersing myself in Godzilla, The Day the Earth Stood Still, War of the Worlds (and no, we're not talking Tom Cruise's version, we're talking the real thing here!), The Valley of Gwangi, The Creature from the Black Lagoon—all those incredibly riveting old movies that I still love today. In fact, just last night I hauled out the DVD of Invasion of the Body Snatchers.
I knew I wanted to be a writer from the time I was three and had been making up odd little stories from the day I could string sentences together. I learned to read early and my loves ran to volcanoes, dinosaurs, and…would you believe it? Yep! Fantasy and science fiction. The Space Cat series by Ruthven Todd was one of my first discoveries—I just loved that adventuresome astronaut cat. And thanks to a non-restrictive policy allowing children to check out books from any section of the library, I sped through the fantasy and science fiction section. I ploughed through Asimov, Clarke, Pohl, and my favorite to this day—Ray Bradbury. I cut my teeth on The City and the Stars, I fell in love with Something Wicked This Way Comes and The October Country. By the time I was ten I knew that I didn't care all that much for Heinlein, but I was nuts over Clifford D. Simak.
As time went on and I left home, I discovered Anne McCaffrey, Marion Zimmer Bradley, JRR Tolkien, Jack Chalker, Joan D. Vinge. And later on—Ben Bova, and Greg Bear, among others. I added them to the growing list of writers I admired, but I also began to branch out in my reading, moving into other areas. But my love for F/SF never diminished, nor did my determination to make it as a writer in that genre.
Fast forward to my first book contract. In 1996, with seven novels hiding in my closet (and trust me, they're still there), I received my first contract. Not for fantasy—or SF—but for a nonfiction book. Of course, the nonfiction was connected to my love for the paranormal. It was a book of guided meditations. But I didn't care—I was ecstatic I'd finally gotten my foot in the door. Soon, I thought—soon I'll find a home for my fantasy.
Eight nonfiction metaphysical books later, I landed an agent and she found a home for my eighth novel—a paranormal mystery, of all things. Now, I'd never planned on writing a mystery but that's what the book turned out to be. So I wrote two mystery series for awhile, thrilled to be telling stories again instead of writing nonfiction, but still wanting to break into my favorite genre. In specific, urban fantasy.
And then, a few years ago, I sent in a new proposal. My editor loved it and my agent negotiated a contract for me for a third series—this one urban fantasy/paranormal romance. And so my bestselling Otherworld Series (aka Sisters of the Moon Series) was born. And I finally felt like I was 'home.'
Now, as I'm starting work on the seventh book of that series—Bone Magic—the fourth one is about to hit the shelves. Dragon Wytch will be out on July 1st, and it's my twentieth published book! Best yet, I'm still head-over-heels in love with writing this series. I've finally found an outlet for my wild, over-the-top imagination. And my readers seem to agree: what I knew when I was three years old—that I needed to write fantastical stories—was right on target.
So tell me, what's your favorite genre? What do you love to write and/or read? Has it changed since you were a child, or have you had a lifelong favorite?
You can contact me through my website, MySpace, or Live Journal.
Keep watching the skies!