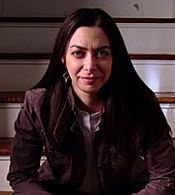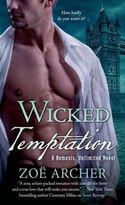 WICKED TEMPTATION is the latest and final book in my Nemesis Unlimited series.  If you're unfamiliar with Nemesis, I like to describe it as "Leverage/old school A-Team in Victorian England."  It's a secret organization dedicated to righting wrongs in the highly stratified world of late 19th century England.
In WICKED TEMPTATION, Nemesis's spymaster, Marco Black, is reluctantly assigned to the case of Bronwyn Parrish.  Bronwyn is a young society widow who has been cheated out of her fortune.  Though nemesis usually assists the underclasses, Bronwyn's case is special, and both she and Marco find themselves quickly enmeshed in a dangerous intrigue that takes them to Paris, and from Paris to points beyond, all the while fighting an explosive attraction.
I'm particularly proud of WICKED TEMPTATION because it's my twentieth published work.  My first romance novel, LADY X'S COWBOY, came out in 2006, and I've been writing and publishing fairly consistently ever since.  My work has spanned from straight historical, to literary fiction (written under my real name—Ami Silber), to paranormal historical adventure, to sci-fi, to steampunk, and now, with WICKED TEMPTATION, back to straight historical.  People ask me if I find it difficult to cross so many genres, to which my answer is an emphatic, "Not at all!"  I love exploring different worlds, and there are so many to discover, it's more difficult reining my ideas into just one genre.
It does kind of amaze me that I've managed to produce so many books in just eight years.  But that can easily be explained when I'm asked, "What have you been up to lately."  With my answer being the inevitable, "Writing."  Even on vacation, I'm thinking about my next project, and my husband, fellow romance author Nico Rosso, can attest that I'll always find a used bookstore and peruse the aisles, in search of inspiration.
With WICKED TEMPTATION, my inspiration came from my travels in Europe, particularly France and Italy, and also my love of spy movies and books.  I admit that it was always one of my dreams to be a spy, leaping noiselessly from rooftop to rooftop in the middle of the night, and generally being an intelligent badass.  And I got to live out that dream through Marco and Bronwyn.
What is your secret dream for yourself?  Do you want to be a rockstar?  A restaurateur?  A spy?  Leave a comment and one person will receive a copy of WICKED TEMPTATION (US and Canada only).
To comment on Zoe Archer's blog please click here.