Julie Anne Long's latest novel WILD AT WHISKEY CREEK releases today. To make the characters feel real, Long spent time curating the perfect playlist to inspire
her writing. She stopped by Fresh Fiction to share her secrets.
Long, Long Time — Linda Ronstadt
We first meet Glory at an open Mic night in HOT IN HELLCAT CANYON, and this is the song she riveted the audience with…and walked out in the middle of…when she saw Eli standing in the doorway. We learn in Wild at Whiskey Creek that this is the first time they'd seen each other in nearly a year. She knows this beautiful song of unrequited love is one of Glenn Harwood's favorites, and she loves to make crusty Glenn cry.
Hey Hey What Can I Do — Led Zeppelin
Pivotal to the story, this Led Zeppelin song is a bit of a paradox—enormously
popular on FM radio, it was the flipside of The Immigrant Song but never
appeared on any album, so it's nearly impossible to buy it or own it. It's the
White Whale for many Led Zeppelin fans. Glory catches Eli singing this off key
at the top of his lungs in his car when they were teenagers, and she teases him;
she stealthily learned it so she could play it at his seventeenth birthday
party, a pivotal moment in both of their lives, the moment when everything
clicks into place—and complicates everything. Metaphorically, the 45 of the song
is rare and elusive as their love for each other.
Son of a Preacher Man — Dusty Springfield
Glory opens Open Mic night (hereinafter known as the Night of the Riot) with the
smoky-voiced Dusty Springfield classic; it's perfect for Glory's voice, too, and
she funks it up just a little bit more to get the audience's toes tapping right
away.
Me and Bobby McGee — Janis Joplin
One of little Annelise Harwood's favorites ("I like songs about boys" ), a wry,
wistful Janis classic of lost love, which is when Glory begins to realize her
open mic set has kind of a theme.
Ode to Billy Joe — Bobbie Gentry
The haunted, mesmerizing, sort of southern gothic Bobbie Gentry classic is also
perfect for Glory's voice—and it's a song full of secrets about a woman
absorbing a devastating, secret heartbreak in the context of the everyday and
mundane. The parallels to her own life are hardly lost on Glory.
Songbird — Fleetwood Mac
At open mic night, she decides her goal is to make her audience cry, and this
achingly beautiful love song can reduce cynics to puddles. She sang this the
night they took Eli's father's ashes down to the river, many years ago.
Your Time is Gonna Come — Led Zeppelin
Meaningful in more than one way, Glory's launches her shot at fame at at The
Baby Owls show with this Led Zeppelin classic—it's risky, but she knows if she
nails it, especially that intro, she'll have the audience in the palm of her
hand. The song is all about lying and cheating and hurting and retribution.
She of course nails it. 🙂
Mercedes Benz — Janis Joplin
Glory dedicates this song to actor Franco Francone (in town to film on-location
scenes for television show The Rush), a witty barb aimed straight at
Eli—specifically because of the line about her friends driving Porsches. Franco
drives a Porsche, and Eli ticketed him for speeding. There's no love lost
between the two men, particularly when Franco makes it clear he's interested in
Glory.
Holly Holy — Neil Diamond
The slow-building anthem escalates into revival-meeting type fervor. It's
perfect for her huge, expressive voice, and she both pulls the crowd in and
brings down the house.
South Central Rain — R.E.M.
She knows The Baby Owls. crowd will know this chiming classic with it's soaring,
one-word lament of a refrain, and a line about the city on a river/lives a girl
without a dream.
Sweet Child of Mine — Guns n' Roses
Beautiful, noisy, wistful, powerful, she pulls this wildcard out and delights
and surprises the crowd with an acoustic version.
Eli's Comin' — Three Dog Night
Written by Laura Nyro, Three Dog Night turned this into a huge hit, and it's
basically all about a guy named Eli who's hellbent on breaking your heart. It's
emotional, a little wild, and a showcase for any singer who can send their voice
into the rafters and make a note scream or cry. Glory whips it out on impulse
when she sees Eli and Bethany together.
Go Your Own Way — Fleetwood Mac
Another not-so-coded message for Eli, this one is the ultimate breakup song,
full of pain, frustration, longing and rebellion.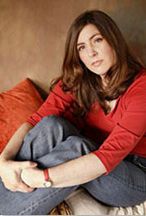 San Francisco Bay Area native Julie Anne Long originally set out to be a rock star when she grew up (and she has the guitars and fringed clothing stuffed in the back of her closet to prove it), but writing was always her first love. She began her academic career as a Journalism major, until she realized Creative Writing was a better fit for her freewheeling imagination and overdeveloped sense of whimsy. And when playing guitar in dank, sticky clubs
finally lost its "charm," Julie realized she could incorporate all the best
things about being in a band-namely drama, passion and men with unruly hair-into novels, while also indulging her love of history and research.
Since then, her books have been nominated for numerous awards, including the Rita, Romantic Times Reviewer's Choice, the Holt Medallion, Bookseller's Best, and The Quills, and reviewers have been known to use words like "dazzling," "brilliant," and "impossible to put down" when describing them.