Giveaway: $10 Amazon Gift Card
Hello, I'm thrilled to be here on Fresh Fiction and to talk to you about two of my favorite subjects: Cowboy Heroes, and Military Heroes. I write hot, humorous, heartwarming, contemporary romances, and nine times out of ten my hero is either a cowboy or military hero…or both.
When I'm asked which is my favorite to write I always answer with both. It's way too hard to choose one over the other. I even made a long list of their attributes to help. Here are the top 4 of each:
Cowboys:
Respectful. The cowboy heroes I write about are contemporary, but modeled after the John Wayne, Audie Murphy, Roy Roger cowboys of the big screen. They are righteous and live by a code of honor. Even when they go all alpha and my heroines knock them down a peg, they remain respectful.
Loyal. Cowboys put family first, their women, their friends, sacrificing their needs to help those they care about.
Swoon-worthy drawl. It doesn't take much imagination on my part at all to hear the handsome cowboy in my head whisper, "Darlin'", in a deep sexy tone to my heroine. It's goose-bump city for me.
Hard body. Muscles and ridges and V's…oh my. Yes, my cowboys have ripped bodies from the all the physical work they do around the ranch, not a gym. My heroines happily reap the rewards.
Military Heroes:
Respectful. The military heroes I write about are based on my husband (he's fulltime National Guard) and other soldiers in his unit I've observed over the past *cough* three decades. They are polite, and have manners, and live by a code of honor. Even when they go all alpha and my heroines knock them down a peg, they remain respectful. (Sound familiar?)
Loyal. Military heroes never leave a man behind. Always have your six (your back). It's ingrained in them. They form tight brotherhoods with comrades, and it spills into their personal life with their families, friends…their women.
Tattoos. Sure, there are cowboys that have them, but tattoos and service men kind of go hand-in-hand. The ones my military heroes sport always have a deeper meaning, and I enjoy peeling back the layers in his backstory to find out just what kind of tattoo I need to give him and why.
Hard body. Muscles and ridges and V's…oh my. These men are ripped. They have to be in order to carry out their orders, and even though most of my heroes are former military, they still have the hard bodies and muscle definition that turns my heroines stupid. In a good way. J
This list could keep going on and on, but I think you get the idea, and notice a lot of similarities. That's why I can't choose one over the other. They are very similar. And man, when I get to combine them? Doesn't get any better than that to me.
In my new release, IN A RANGER'S ARMS, the first book in The Men of At-Ease Ranch series, my hero is a cowboy and former Army Ranger who owns a ranch with his brother and two former ranger buddies to help returning veterans transition back into society. It was a hoot to write, and I had a bit of fun throwing in a cow who has a crush on the hero and is less than friendly toward the heroine.
If you want to be kept in the loop of my new releases, and to participate in exclusive contests, join my Newsletter
Thanks for reading,
~Donna
Giveaway:
$10 Amazon Gift Card
Do you prefer a cowboy hero, military hero, or both? Put your answer below and you'll be entered to win!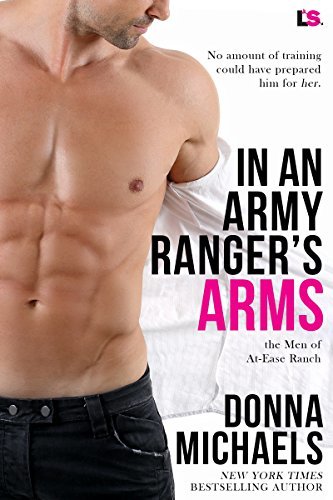 Former Army Ranger Stone Mitchum doesn't have time for sex. Since starting a company with his brother and two buddies, he's had more important things on his mind. Like transitioning veterans back into society. But when his curvy new tenant falls into his arms—literally—his libido snaps to attention.
Jovy Larson has four weeks to prove she's worthy of taking over the family business. Her challenge? Sell gluten-free, vegan food—in the middle of cattle country, Texas. It's a tough task, but not half as tough as fighting her attraction to her sexy, surly landlord.
Before she knows it, Jovy's tangling sheets with the hot cowboy, stalked by a jealous cow, and strategizing ways to help Stone's ranch. But by the time her lease runs out and the test is over, she's faced with a new challenge…competing against Stone's sense of duty to win his heart.
Romance Western | Romance Contemporary [Entangled Lovestruck, On Sale: November 28, 2016, e-Book, ISBN: 9781633757653 / eISBN: 9781633757653]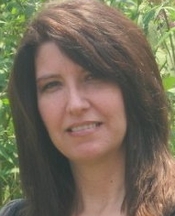 It's all my mother's fault. She read to me when I was little and sparked my imagination. Now, my mind is the limit, and believe me, there's no limit to my mind. Hello, I'm Donna Michaels, NYT & USA Today Bestselling Award winning author of Romaginative fiction. I write romance through the H's—Hot, Humorous, Heartwarming reads with strong alpha cowboys and military men who are equally matched by their heroines. With a husband in the military fulltime, and a household of nine, and several rescued cats, I never run out of material. From short to epic, my books entertain readers across a variety of sub-genres, and one has even been hand drawn into a Japanese Translation.