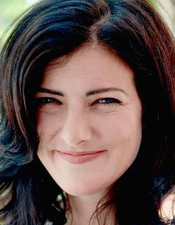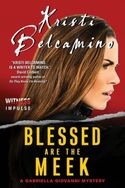 We at Fresh Fiction are thrilled to host Kristi Belcamino, author of  BLESSED ARE THE DEAD, which is her first novel to feature San Francisco Bay Area newspaper reporter and crime-solver Gabriella Giovanni. The second book in the series, BLESSED ARE THE MEEK, releases at the end of July, so Kristi is here to talk to us about this series and how her career as a crime reporter has influenced her writing.
What first drew you to the field of crime reporting?
During my first newspaper job at a small weekly newspaper in Minnesota, a big story, a heartbreaking story, broke on my beat. A young woman from the town I covered was kidnapped off a Texas military base. Traci McBride had been on the payphone on the base talking to someone back home when the line went dead. I met her family and later grieved with them when her body was found. I attended her funeral. The emotional weight and gravity of reporting and writing about something so tragic did not escape me. I realized that I had a knack for writing these stories that other reporters shied away from. I felt a sacred duty to write about tragedy in a way that did the victims justice and decided this was the beat I wanted.
In addition, the other stories on the cop beat are fascinating. You can't make this stuff up. Covering the crime beat is seldom boring. The adrenaline rush of listening to the scanner and running out to cover different crimes and emergencies is probably the same reason many people become cops.
I love coming into work and not knowing what will happen during my shift. On one recent night, I went from standing near first base on a baseball field watching a honeymoon couple throw the first pitch to waiting by the side of the Mississippi River as cops searched for the body of a 14-year-old boy swept under an hour earlier.
What made you decide to write a fiction series drawing on your experience as a crime reporter?
I think I was motivated to write BLESSED ARE THE DEAD by two things.
The first was as a new mother, I was more fearful than the average woman. I knew evil existed. I knew people were out there preying on children because I had met them—in particular a man I spent hours interviewing in jail, talking to on the phone, and exchanging letters.
As a mother, I wanted to purge the memories of this monster out of my head and writing about him was one way to do it. Ever since I was a little girl, I've found that putting my thoughts down on paper is cathartic. Writing a novel about the man who will forever haunt my thoughts has helped me release some of my angst about such people walking this earth.
The other reason I decided to write a fiction series featuring a crime reporter was pure, unadultered nostalgia. It was my way—as a stay-at-home mom—to vicariously live those glory days again.
I was very luck to work for a newspaper in print journalism's heyday. Layoffs were very rare and there were only glimmers of the doomsdays to come. Money was free flowing. It was nothing for me to come into work and be told to catch the next flight to another state to cover a big story. I had a company credit card I could use as I wished. In my case, I used it on late nights at the bar, buying drinks for the cops I knew. Fun times.
Can you tell us about the case that inspired the story of BLESSED ARE THE DEAD?
Xiana Fairchild was walking to the school bus stop in Vallejo one morning when she disappeared. Shortly after that, another little girl in Vallejo was kidnapped. Miraculously, that little girl escaped, freeing herself from bindings in Anderson's car while he was at work inside a nearby building.
He noticed her escape and chased her across the parking lot, but she was able to flag down a trucker and literally jumped through the window into the driver's lap. Police arrested Curtis Dean Anderson.
He was an immediate suspect in Xiana's disappearance and the cops and FBI were all over him, but he wouldn't say anything.
At one point, during jailhouse interviews, Anderson told me, and Xiana's aunt, Stephanie Kahalekulu that he had also taken Xiana. He also told us about his life as a longtime serial killer.
For Stephanie and I—who now share a bond that can never be broken—the goal was to get him to confess where Xiana was and what happened to her, holding out hope that she was still alive. He strung us both along for months until Xiana's little body was found, which was heartbreaking.
Anderson was later sentenced to life in prison for the kidnapping of the one little girl. Before he died, (supposedly of natural causes in his 40s), he confessed to killing Xiana and several other girls.
How similar are you to your lead character, Gabriella?
Gabriella is much cooler, prettier, smarter, and a better reporter than I ever was. I never lived in San Francisco. I never dated a cop.
She is more rebellious, outgoing, carefree, and confident than me!
With that said, sure, we have some similarities. We are both Italian-American, both crime reporters, both bake biscotti.
When you aren't writing and reporting, what do you like to read?
I love to read crime fiction, of course. I love Lisa Unger, Patricia Cornwell, Owen Laukkanen, Sara Gran, S.E. Hinton, Stephen King, and many others.