Sometimes the smallest of actions reaps the biggest outcomes. What to one person, acknowledging a waiter by name, thanking for the refill of water for a parched customer, is a truly small thing but the action can brighten a day. I've always loved the commercial that has person after person passing it on, and watching the smiles on each person growing bigger and bigger.
One job growing up that I never understood was the task of going to an older person in the community and cleaning or straightening up as an act of stewardship. I always thought, why can't they do it? As the oldest it was my job to make sure our house was clean, the supper on the table when my father came home, so surely, this old woman could clean her own house. I was put in charge of our house when I was eleven and this woman was ancient. And I was definitely not being paid for it. This was worse than babysitting, also a task I never looked forward to doing. But my grandmother insisted I go once a month and spend Saturday afternoon helping Mrs. Curtis. So, grandmother's word was law and off I went, the second Saturday of each month.
Mrs. Curtis didn't really need much work, I figured out how to run the old vacuum cleaner, dusted around the doily filled parlor and ended up making a big pitcher of tea. It was all quite different from what we did at our house because being the oldest of six, we didn't have fancy doilies or old furniture that was polished and not broken, instead our life was the pared down basics of a farm family. But Mrs. Curtis had a house filled with old antiques and photos.
So after the vacuuming and careful dusting, I really didn't want to break anything and admonishments to be careful were bouncing in my head from my grandmother, I'd sit down with a glass of tea and Mrs. Curtis would tell me a story about one of the pictures in her parlor. Each Saturday would be the same, a little straightening, dusting and story telling. As a curious young girl, I enjoyed the stories even though I over time found out each photo, except the ones of Mrs. Curtis as a younger woman, was a picture of someone who passed. Mrs. Curtis was the last of her family.
The stories she told brought back people who were no longer with us, people I would never meet but who were still alive through Mrs. Curtis and eventually through me as I retold some of the stories to my friends and to my children. A Saturday afternoon, with a glass of tea and a photograph can reap huge rewards. The little acts of kindness add up to rich memories and eventually a life.
The story of the TWELVE DAYS OF CHRISTMAS reminds me of Mrs. Curtis. Although long gone, I can still remember the evolution of going as a young girl with extreme reluctance to anticipation to the joy of spending the second Saturday of each month with Mrs. Curtis. I was actually sad to go off to college and to give up my time with Mrs. Curtis, but it was one of my younger sisters' turn. And so we pass it on.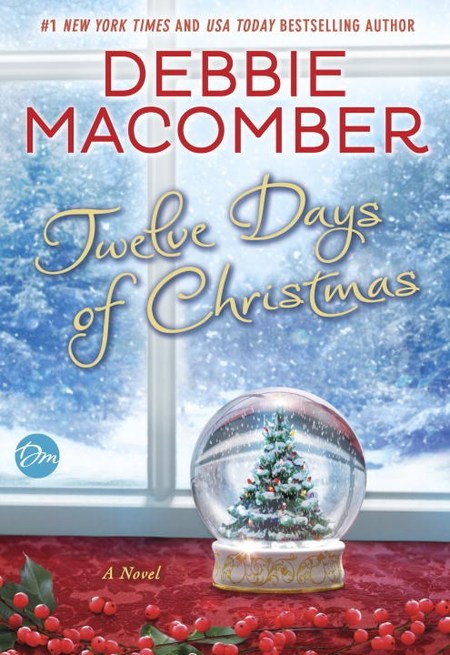 Continuing in a festive annual tradition, #1 New York Times bestselling author Debbie Macomber returns with a new original holiday novel full of romance and cheer—and the magical prospect of finding love in even the most guarded hearts.
Friendly and bubbly, Julia Padden likes nearly everyone, but her standoffish neighbor, Cain Maddox, presents a particular challenge. No matter how hard she's tried to be nice, Cain rudely rebuffs her at every turn, preferring to keep to himself. But when Julia catches Cain stealing her newspaper from the lobby of their apartment building, that's the last straw. She's going to break through Cain's Scrooge-like exterior the only way she knows how: by killing him with kindness.
To track her progress, Julia starts a blog called The Twelve Days of Christmas. Her first attempts to humanize Cain are far from successful. Julia brings him homemade Christmas treats and the disagreeable grinch won't even accept them. Meanwhile, Julie's blog becomes an online sensation, as an astonishing number of people start following her adventures. Julia continues to find ways to express kindness and, little by little, chips away at Cain's gruff façade to reveal the caring man underneath. Unbelievably, Julia feels herself falling for Cain—and she suspects that he may be falling for her as well. But as the popularity of her blog continues to grow, Julia must decide if telling Cain the truth about having chronicled their relationship to the rest of the
world is worth risking their chance at love.
Romance Romantic | Romance; Holiday | Holiday [Ballantine Books, On Sale: October 4, 2016, Hardcover / e-Book, ISBN: 9780553391732 / eISBN: 9780553391749]