STEEPLEJACK: hybridity or when the books you thought you were writing turns into something else.
I had ideas for two books.
One was a faintly Dickensian murder mystery which centered on one of the boys who worked to maintain the tall factory chimneys and other high places in a Victorian city. It came to me as an image inspired by spotting one of those chimneys on my drive to work and noticing that a bush was growing out of the top. It got me thinking about the steeplejacks who—though rare and dying out—still existed in my native Lancashire when I was a kid. I could see the cover illustration. A boy on a rickety ladder a hundred feet above a smoggy industrial landscape…
The other idea was for a fantasy novel. It centered on a girl who had a rare condition that allowed her skin to mimic the color and texture of her surroundings in the ways octopuses do. She had to hide her gift/curse, but then had to take in a baby sister who had the same condition. The book would be about how she juggled the perils of her predicament while learning to use them as a kind of spy…
I liked both ideas, but both had elements which felt over used. The Victorian environment, and its being dominated by an Artful Dodger-type hero working as a kind of Bakerstreet Irregular seemed familiar. The shape shifting aspect of my fantasy story was hard to pair with the hard social reality I had been trying to create, and the "gift" itself was too like the X-Men's Mystique.
After months of tugging at both stories I woke up with an insight (which the present reader will have seen coming a mile off). What if my two stories were actually one?
I dropped the skin changer aspect, reworked my gritty social reality as a quasi Victorian world torn by racial unrest in a place that looks a little like an industrialized version of nineteenth century South Africa, and made my hero a seventeen year old girl—Anglet Sutonga, steeplejack. The fantasy dimension receded (now present only in the alternate history environment and a single mineral—luxorite—which generates a brilliant light and is extremely valuable), and the murder mystery was shaped by that environment's hard social and political edges.
The result was a book I probably could not have written with much hope of publication twenty years ago, because it is so generically hybrid. I spent a lot of time as a young writer having books rejected because agents and editors "didn't know what shelf to put it on," but times have, apparently, changed. Fantasy, it seems, has become far more elastic than it was in my childhood when it seemed like if you didn't have dwarves and elves you weren't doing fantasy, or even in the nineties, when a central hallmark of fantasy seemed to be a pervasive use of magic. My book has neither of these, and in many ways reads more like a thriller, but I think that the internet's creation of niche and sub-sub-compartmentalized genres (along, perhaps, with the downgrading of the physical book store with its carefully defined sections as the key way of thinking about the retailing of genre fiction) has created the space for books which straddle genres. This is, of course, particularly the case in YA, where genre is driven by reading age (supposedly) rather than generic features of story, creating stories which can—so long as they have their own unity—can borrow effectively from different narrative forms. For a writer like me, who has always wandered from genre to genre (yes, I'm an agent's nightmare) the appeal of the hybrid is especially compelling.
And if the two books I first imagined suffered from being, in parts, a bit over familiar, the resultant mash up (to use a nineties-ism) is very much its own beast: a winged horse, perhaps, or some other combination of creatures which might once have been thought monstrous but which is, I hope, unified, consistent and logical within its own rules. I guess we'll see.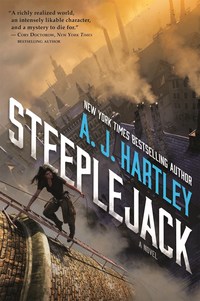 Alternative Detective
Thoughtfully imaginative and action-packed, Steeplejack is New York Times bestselling A. J. Hartley's YA debut set in a 19th-century South African fantasy world
Seventeen-year-old Anglet Sutonga lives repairing the chimneys, towers, and spires of the city of Bar-Selehm. Dramatically different communities live and work alongside each other. The white Feldish command the nation's higher echelons of society. The native Mahweni are divided between city life and the savannah. And then there's Ang, part of the Lani community who immigrated over generations ago as servants and now mostly live in poverty on Bar-Selehm's edges.
When Ang is supposed to meet her new apprentice Berrit, she instead finds him dead. That same night, the Beacon, an invaluable historical icon, is stolen. The Beacon's theft commands the headlines, yet no one seems to care about Berrit's murder―except for Josiah Willinghouse, an enigmatic young politician. When he offers her a job investigating his death, she plunges headlong into new and unexpected dangers.
Meanwhile, crowds gather in protests over the city's mounting troubles. Rumors surrounding the Beacon's theft grow. More suspicious deaths occur. With no one to help Ang except Josiah's haughty younger sister, a savvy newspaper girl, and a kindhearted herder, Ang must rely on her intellect and strength to resolve the mysterious link between Berrit and the missing Beacon before the city descends into chaos.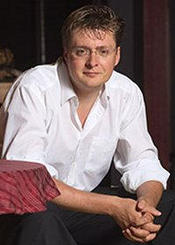 A.J. Hartley is the bestselling author of mystery/thriller, fantasy, historical fiction, and young adult novels.
He was born in northern England, but has lived in many places including Japan, and is currently the Robinson Professor of Shakespeare studies at the University of North Carolina, Charlotte, where he specializes in the performance history, theory and criticism of Renaissance English drama, and works as a director and dramaturg.