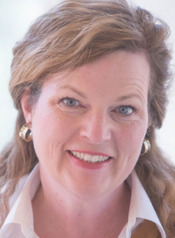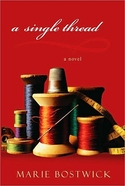 Hey, did you know A SINGLE THREAD, the first book in the Cobbled Court series, is only $2.99 this week (through April 27th). If you haven't discovered the enchanting world of the women of New Bern, here's your chance to get the first book for a special price on your e-reader.
Determined to overcome the despair that has engulfed her since her husband of twenty-five years walked out on their marriage, Evelyn Dixon takes a spur-of-the-moment trip from her home in Texas to see the fall colors in New England. There, she falls in love with New Bern, Connecticut, a village that could have been lifted straight from a Currier and Ives print. Embracing her newfound impulsivity, Evelyn moves to New Bern and reawakens her long dormant dream of opening a quilt shop. But a shocking revelation about her health threatens to destroy Evelyn's dream before it begins. As she struggles with the newfound challenge, one by one three unique women come into her life, each at a crossroads, all needing the support the very special bond of friendship can provide.
When life's pendulum takes an unexpected swing, these four very different women come together; facing their fears, dealing with their pasts, defining their futures, and filling each other's gaps. Bound by a surprising thread of friendship, they stitch together new lives for themselves in a New England village readers won't soon forget.
To comment on Marie's blog please click here.