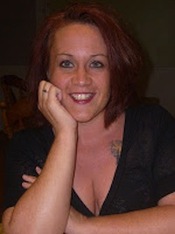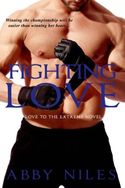 Let me introduce a character type—an independent, strong-willed woman, who has her life together. She owns a successful business, bought a home and is living a comfortable lifestyle thanks to all her hard work and dedication she has put into her career. When it comes to her business, she is a logical, savvy woman who knows what she wants and will bust major butt to obtain it. When it comes to matters of the heart, well, logic seems to fly straight out the window.
In her head, she knows the type of man she needs: A settled down, ready-to-commit, has-his-life-together guy. Her heart disagrees. Her heart wants, has always wanted, her best friend: A the-party-never-stops, why-commit-to-one-woman, YOLO guy. (YOLO=you only live once)
If you haven't figured out by now, I'm talking about my heroine from my upcoming release, FIGHTING LOVE. Julie has been in love with Tommy "Lightning" Sparks since she was ten. As much as she loves Tommy as her best friend, she resents the hold he has on her heart, but no matter how hard she tries to move past him, her heart refuses to let him go.
Love is such an odd thing. Most of the time, it has the infuriating ability to trump any other emotion. It doesn't seem to matter how intelligent you are, there is someone, sometimes more than one someone, who your heart goes stupid for. If you're one of the lucky ones, the man who has made that dratted organ pump harder has gone just as stupid over you as you have for him and you get to be stupid together. If you're unlucky, you get placed on that damned friend shelf and you are all alone with the stupid.
I've been on that shelf. Twice. The first was a friendship that morphed into a year-long relationship when I was a teen. The second was a two year friendship with a man who I eventually married…and divorced. Don't awwww me. We had a great run. Two beautiful children and I won the ex-husband lottery. I'm not being sarcastic. Total seriousness. We have a great "ex" relationship.
But I can speak from experience that the friend shelf sucks when you're feeling for a guy. You can try to rationalize your way out of those feelings all you want, but all it takes is laying eyes on him again and anything you've convinced yourself of is proven a lie.
The real freakiness happens when you've come to terms with how the relationship is. You want more, you hate that you want more, but you've accepted it, and now you're trying to let go. And out of nowhere, he throws you a curve-ball. Both of mine were different looks. Not the friendly oh-you're-so-awesome gazes I was accustomed to. They were lingering, heated and so not friendly.
I don't know how anyone else took the subtle changes from the "friend" they'd been feeling on for years, but I worried about my sanity. I'm the queen of overanalyzing. I questioned every damn thing that gaze could've or couldn't have meant until I'd driven myself and my friends crazy. I still didn't get a clear answer for a couple of weeks and their actions just got weirder.
Like emailing goodnight. (this was before text). All this did was make me stalk my email. For one word. Goodnight. Really? You're already driving me insane with your weird looks, and now you have me stalking my email too? So not cool. Don't even get me started on the abnormally huge grin you keep giving me, yet you still refuse to verbalize what's going on in your head. The thing was they didn't have to say a word. One action would've made everything abundantly clear.
Men: Please save a woman her sanity. If you've placed a girl on the friend shelf and want to take her off of it…don't do subtle. Just kiss her.
If any of you ladies want to chime in with your advice, have at it.
I'd also love to hear stories from those of you who were put on the friend shelf of a guy you didn't want to be friends with but were later taken off. What did he do to let you know he wanted more than just friendship? One person who leaves a comment will win a copy of FIGHTING LOVE
Thanks so much for stopping by!
Abby
FIGHTING LOVE available December 31, 2013
After the MMA scandal of the year, former Middleweight champion Tommy "Lightning" Sparks' career is in shambles. While he fights to get back on his feet, he's forced to swallow his pride and move in with his best friend, Julie. But righting his own wrongs won't be his only battle. Another fighter has his sights set on Julie, and for the first time Tommy's place in her life is threatened.
Julie Rogers fell for Tommy the day he helped her find her lost puppy at ten years old. As a thirty-two-year-old veterinarian, she still has her love for animals–and for Tommy. Over the years, she's come to accept that Tommy will never look at her with anything other than brotherly love. After he moves in, the feelings she's kept locked away threaten to burst through their restraints.
Terrified of losing their friendship, Julie resolves to date another fighter and let go of Tommy. But as she begins to move on, Tommy starts to see her with new eyes. Now, he's more determined to than ever to emerge the victor and become the man she deserves, before he loses the only woman who means everything to him.
About Abby
Abby Niles has always loved to read. After having twins and becoming a stay-at-home mom, she started doodling stories to keep her sanity. She didn't plan for writing to become an obsession, but it did. Today, she juggles work, home life, and writing. It's not always easy, but hey, who said life was easy? When Abby's not writing, you can find her playing 'Just Dance' with her kids or trying to catch up on her never-ending to-be-read list.
To comment on Abby Niles's blog please click here.