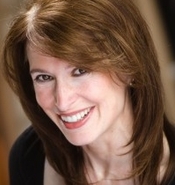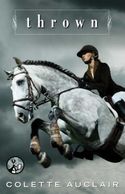 Top Ten Reasons to Get Swept Away by THROWN
Hello! I'm Colette Auclair, and I'm thrilled to be here. My debut novel, THROWN, is a December release and I'm delighted to be here with you during my very first book launch.
So… Why spend your time with my book? Aside from the fact that I'm a wonderful person, even though you don't know me and I'm asking you to take my word for it? As it happens, I've made a list for you.
1. The cover is pretty. First things first. I mean, come on, look at that gorgeous horse! (And no, it's not my horse, and no I had nothing to do with it.)
2. Grady Brunswick, the hero, is to die for. I know he's fictional, I know I created him, but I have to tell you, I'm so in love with him I can't even stand it. I have to remind myself that he isn't going to show up on my doorstep and whisk me off to his mansion. I think you'll like him too—he's a famous movie star, but he's not stuck up; he's charming; he's funny; he's scrumptiously handsome; he plays the piano like Billy Joel and Harry Connick, Jr. combined; he's adorable when he gets flummoxed (love that word); he loves his little girls and wants to be a good father, but he sucks at it (at first); and he falls in love first.
3. Heroine Amanda Vogel is more than a match for Grady. When they meet, her plans for competing in the Olympics in show jumping have been derailed and she has to take a break from showing. She goes to Grady's Aspen estate to teach his daughters to ride. Her only goal is to get through the summer, save a little money (she's broke), and get back on the horse-show circuit. But, see, after a rocky start (she breaks Grady's Emmy–oops!), the actor and his kids start to grow on her. She has zero interest in getting personally involved with them. She tells herself she has her heart set on riding in the Games. But even determined, no-nonsense Amanda has to admit there's something—or someone—else tugging at her heart.
4. One reviewer said it was like The Parent Trap, but with horses. I also think of it as akin to The Sound of Music. No Nazis or nuns, but there are mountains.
5. Harris, the Brunswick's personal chef, is hilarious. He whips up tasty quips as Amanda denies over and over that she's falling for Grady.
6. It's horsily accurate. If you know about horses, you won't roll your eyes at impossible scenarios, like one book I read where the horse broke out of its stall to save his owner from a fire. If you don't know a lick about horses, I hope you'll learn a few things.
7. It's set in Aspen. You get a glimpse of one of America's most beautiful and chic resort towns where the rich and famous play and Kevin Costner lives.
8. There are cats. Kittens, really. Who doesn't love kittens? (Okay, this is just a ploy to appeal to those of you who aren't into horses.)
9. If you like Susan Elizabeth Phillips and Kristan Higgins… They are my faves. As in, I adore their writing. If you like their humor you may well like mine.
10. It was a labor of love. Truly. It's my first book ever, and I love the characters so much, I wanted to share their story. I hope I've done it justice.
Thanks for stopping by. I'd love to hear from you! To celebrate my debut novel, comment and you'll be entered in a drawing to win a $10 electronic gift card from the major online ebook seller of your choice. And if you want to know more about me or my books (like the next book in the series, Jumped), please visit coletteauclair.com.
In this lighthearted and sexy romance, a young woman must choose between winning a competition and the man who has won her heart. Professional horse trainer Amanda Vogel dreams of riding jumpers in the Olympics, but after seeing her best friend die in a riding accident, she's so traumatized she can't compete.
Broke and desperate, she takes a summer job in Aspen teaching some big-shot widowed movie star's spoiled daughters to ride and braces herself for three miserable months. But the movie star is funny, down-to-earth, and gorgeous and his spoiled daughters are just desperate for a mother figure. By Labor Day, she has to choose between capturing a gold medal and the man who has captured her heart.
To comment on Colette Auclair's blog please click here.