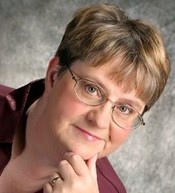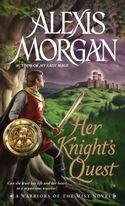 Here's a little secret about me and my writing:  when it comes to how my stories unfold, I'm not always the one with my hands firmly on the steering wheel. What's more, I like it that way. Yes, I know just how crazy that sounds, but that doesn't make it any less true.
When I sit down to start a book, at the most all I've written is a short summary of how I envision the story unfolding. This synopsis is only about seven or eight double-spaced pages long. Considering my final manuscript will top out at around 380 pages, there's a lot of room for new ideas and even new characters to pop into the flow of the story. While true for all of my books, it was definitely true when I wrote HER KNIGHT'S QUEST.
I knew Duncan, the hero, would be travelling alone to a distant abbey. I knew the heroine, Lady Lavinia, would be there. But starting out, I didn't know anything about the sisters who lived there–not even their names. I was aware there was a young girl living at the abbey, but I didn't know why and certainly never expected to have Sarra play such a major role in both this book and the next.
As memorable as the hero and heroine need to be in a story, the secondary characters are equally important. Certainly, their interactions with the hero and heroine help to reveal character and move the plot along. Seeing how Duncan acts around the heroine is crucial to the development of a romance.  However, seeing him interact with a frightened child or earning the respect of other trained fighters gives us glimpses of Duncan we wouldn't have had otherwise.
It's also important to me both as a reader and as a storyteller to see at least some secondary characters become fully developed with their own agendas because it makes for a much richer world and reading experience. However, there's another reason I like to see these other people come to life on the page. As an author, I like to write series of connected books, which means today's secondary character might very well be the hero or heroine in tomorrow's book.
For sure, one of the secondary characters in the Warriors of the Mist has that potential. Known only as Sigil, he started off to be a nameless captain in the service of Duke Keirthan, the villain in the story. However, at the last second in the battle, Sigil did the unexpected and saved Murdoch's life along with Lady Alina's.
Did I expect that to happen? No. Did I know why he acted out of character? Definitely not, but I loved how his actions have impacted the other characters and the storyline from that point forward.
So the bottom line is that rather than doing all the driving when it comes to writing a new story, sometimes it's a lot more fun to settle into the passenger seat and see where my characters want to take me. So, yes, sometimes it feels as if the story is out of my control, but that's part of what keeps me planted in front of the computer day after day!
Two winners today! Just tell us what you love about secondary characters getting their own book, or, tell us YOUR favorite secondary character and WHY they deserve a book! Prizes are a copy of one of the Warriors of the Mist books and a book thong. International winners okay!
To comment on Alexis Morgan's blog please click here.