When I first started writing the Black Cat Bookshop Mystery series for Berkley Prime Crime, our current feline companions happened to be orange tabby brothers. Not that the hubby and I hadn't been caretakers to black cats before; we just seemed to have settled on tiger cats for the duration. But after spending so much time with my fictional black cat, Hamlet, I couldn't help but feel that something was amiss in Cat Land.
One thing I love about our orange tabby boys is that they're mellow guys without the "bite" of the ornery Hammy. That said, I wondered if maybe I needed a junior Hamlet of my own to help jumpstart my writing when I hit a tough spot. Sweet purring cats do not equal compelling plot points! And so, after much consideration, we adopted a brother and sister pair of sleek black felines whom we named Brandon Bobtail (he has but half a tail) and Ophelia.
But after barely a month of living with the new kitty duo, I was amused to remember something I'd forgotten over the years—that having a black cat in the house is like living with a shadow. Or, in our case, a pair of shadows! Half the time, especially in the evening, you can't see the darn kitties until they're almost in your lap! And heaven forbid they're lying on a dark rug in a dark room as you come walking in. Terrible cat screeches and profound human apologies are the usual result. But the major problem with the camouflage shadow thing is that, while Ophelia is content to be a proper indoor kitty, Brandon thinks outside the house…er, box. He makes a game of trying to cloak himself in shadows and sneak past the front door whenever we let the dogs out for their evening potty break.
And when a cat wants something, he usually achieves it. Clever Brandon has actually escaped the house after dark a few times, resulting in a full-fledged kitty alert and roundup. For he doesn't simply stroll about the front walk breathing in the night air; instead, he plays hide-and-seek in the shadowy shrubbery while we chase after him with a flashlight. One time, not knowing he'd gone AWOL, I almost had a heart attack when I found him lurking on the roof over the front door in the dark like some crazed vampire kitty. The subsequent rescue mission for that particular breakout required patience, a feathered toy, and a ladder, but all ended well.
Fortunately, we live on a dead end road in the country, so speeding cars aren't an issue. But coyotes and big owls—heck, even alligators!—are very real hazards, so we couldn't risk midnight kitty excursions on a regular basis. Vigilance, we realized, was key…except that some cat parents are more vigilant than others. (Ahem. Did I mention that all Brandon escapes were on the hubby's watch?). On top of being super-alert, we needed a secondary anti-escape strategy.
And so we equipped both cats with breakaway collars complete with little jingle bells. We reasoned that, even if we couldn't see one of them trying to slip between our feet as we opened the door to the night, we could hear them. It seemed a clever enough plan, until we realized that the little "tinkle, tinkle" of the jingle bell only sounded when the cats a) were jumping up onto the furniture or b) were rolling about on the floor, wrestling. The rest of the time—including when Brandon was in "sneak out" mode—their fur muffled sound of the bell. That, or the little stinkers had learned to walk without jangling.
At that point, we decided that the only other option was a honking big cowbell tied around their respective kitty necks. We also conceded that the cowbell thing probably wasn't a practical alternative. So, we had to go back to the super-vigilant strategy.
And, for the time being, vigilance is working. I'm glad to say that Brandon hasn't made an escape in recent months. But, as payback for being denied his little adventures, Brandon has perfected the "leap from the tall dresser and end with a four-paw landing on the sleeping human's belly" cat-robatic routine. Blending as he does with the shadows, he's long since gone invisible by the time said sleeping human leaps from the bed, now wide awake. And it's hard to scold the little brat when I can't actually prove he's the culprit.
Could have been the dog, I can almost hear him saying, snickering behind one paw.
Forget the bells and the vigilance. Maybe I need to look into glow-in-the-dark paint for one particular shadow cat!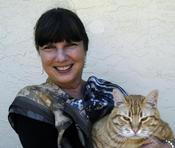 ALI BRANDON is the New York Times bestselling author of the Black Cat Bookshop Mystery series from Berkley Prime Crime. This popular cozy series features Hamlet the cat and his transplanted-Texan caretaker, Darla Pettistone. Together, the pair work and sleuth out of Darla's Brooklyn-based independent bookstore. Whenever a murderer is on the prowl, Hamlet and Darla are ready to pounce—and they always manage to collar the killer! The sixth book in the series, TWICE TOLD TAIL, hits the shelves on November 1.
A native Texan with a degree in Journalism from the University of Oklahoma, Ali now lives in South Florida with her hubby, four dogs, and four very spoiled cats. She's a member of Mystery Writers of America, a former board member of the MWA Florida Chapter, and a member of the Cat Writers' Association.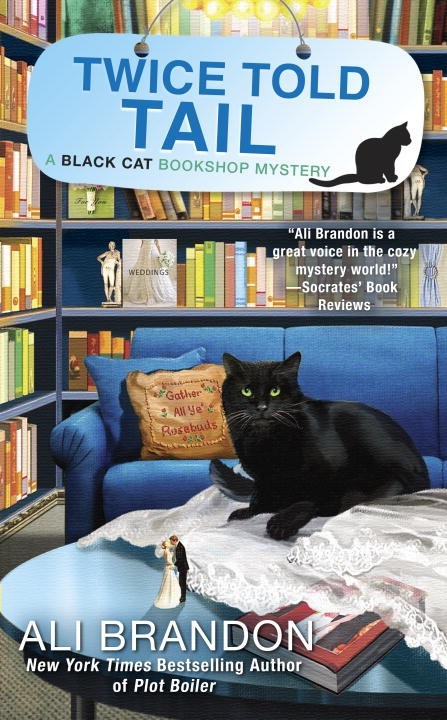 The New York Times bestselling author of Plot Boiler takes us back to Pettistone's Fine Books, where Hamlet the cat isn't the only shadowy figure lurking around the Brooklyn brownstone…
As Thanksgiving approaches, Darla Pettistone is preparing for the busiest shopping season of the year. They've recently launched their online store, where one anonymous bidder is offering a suspiciously high price for an antique book—and Darla doesn't need Hamlet's special senses to know that something isn't quite right.
However, there's no time to think about that after Darla's roped into helping bridezilla Connie Capello get ready for her big day. After looking at wedding dresses, Darla and Connie head to an antique store to find her "something old"—but they find someone dead instead. When Darla learns that the shop carried a copy of the book that her mysterious bidder is after, she suspects she'll need Hamlet's help to discover who penned the poor soul's final chapter, before someone else is read their last rites…
Mystery Cozy [Berkley Prime Crime, On Sale: November 1, 2016, Mass Market Paperback / e-Book, ISBN: 9780425261606 / eISBN: 9781101605974]