I am an author and a reader. Worse than that, I'm one of those historical nerds who think that what people ate hundreds of years ago is actually important. Throw all that in with my espresso machine and Bible, and you have a Christian Historical Fiction author who loves action and real-life, gritty faith-in-action.
Faith. Gritty faith. I suppose what I mean by the combination of those two words is that faith isn't always pretty. People often picture Christianity as a peaceful oasis in a skin-blistering desert, but Christian life is often something more than calm. Christianity is gritty real life. We're faced with the same crushing waves that hit others. Only, we're slammed into the Rock of Ages. When life gets hard or downright dirty, we have hope.
In my latest novel, Grace Triumphant, I was faced with showing how faith works even in the heart of the storm. In my own life, I have seen how God's grace is abounding – even in the midst of the dirty little messes we create and the turmoil that eventually comes our way. So, with writing a book that is obviously centered on grace, I had to realize that grace really is sufficient. That it really does work. That amazing grace isn't just a hymn – it's genuine truth.
In the case of cabin boy Jack in Grace Triumphant, does faith really work on the high seas? Can you serve God on a slaver ship where immorality is rampant and cruelty reigns? And for Elizabeth, a high society young woman working to end slavery, is God's grace really enough to sustain her when the Masked Avenger is threatening her life? Grace is easy enough to talk about for men like John Newton, but what about the average Englishman?
I really think I was able to show – and learn – that's God grace is sufficient. That He always has a master plan, back during the Transatlantic Slave Trade and now in what seems to be a turning point in American history. Just like He worked in the lives of my characters during the abolition movement under Wilberforce, He has been working through me as a missionary and preacher's wife. Through sickness and witnessing poverty, corruption, and cruelty in a foreign land, I have been enabled to understand just how great our God is. How gritty faith is real. How grace is always abounding.
What about you? Has God used you to portray His grace in the words of a book? Or have you learned about it by reading? Maybe you are like me and have experienced both. The awesome power and forgiveness of God is the theme I've always tried to instill in my books. Have you ever read or written such a work? Share your thoughts!
Giveaway
One copy of Grace Triumphant
Alicia A. Willis is a home-school graduate, published author of seven titles and counting, and avid historian. Two of her medieval titles were top-thirty finalists in an international competition, and her Roman title From the Dark to the Dawn reached #3 on Kindle for Amazon Historical-Fiction Best Sellers. God's grace and Biblical principles are the themes of Alicia's books, and her desire is to glorify the master plan of God and inspire a love of history in her readers. Alicia and her husband Samuel live in New Mexico and are currently ministering as deaf and world evangelists.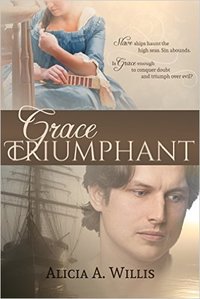 A Tale of the Slave Trade
Profligate London, 1788. Slave ships haunt the seas, bearing human cargos to further the wealth of the rich and destroy the souls of the slave traffickers.
Russell Lawrence is an avid skeptic. Captain of the slave ship Barbados, wealthy, and a respected leader, he views religion as a crutch for the weak. But when the debauchery of the slave trade begins to destroy his good morals, his battle becomes more than fighting pirates and mutineers. What if there really is a God?
Impressed as a cabin boy, Jack Dunbar sees his forced service on the Barbados as a God-given opportunity to witness Christ to the crew. But his efforts to influence the hardened slavers seems to be doing little good. How is it possible to live as a Christian on the sin-ravaged seas? Can his light shine bright in Africa's dark interior?
Back in Grosvenor Square, Elizabeth Grey battles opposition from society and her self-seeking fiancé. Her work with John Newton to end the slave trade is being harshly attacked. She faces life branded as a jilter and radical if she stands up for what she believes in. Will she ever glean the strength to call sin by its rightful name?
A tale of adventure on the high seas, redemption, and faith. Sin abounds. Is grace enough to conquer doubt and triumph over evil?