Now
Hi, Mom!
I delete the exclamation point.
Hi, Mom.
That doesn't feel right, either.
Hey, Mom.
Did you cheat on Dad in college?
Delete.
Hey, Mom.
So I just got an email from FamilyTree.com that says Dad isn't my father. DID YOU CHEAT ON HIM???
Delete.
I close my eyes and focus on breathing, trying to center myself, but there's no use. I should feel validated for all the times I felt like an outsider in my family. My stomach churns at the thought of another family out there, another life where I might have grown up knowing how it feels to belong. My mother took that from me.
One more deep breath, and then I crack my knuckles and start typing.
Hi, Mom.
I got an email from FamilyTree.com. They said a man named Andrew Abrams is my father.
Paige.
Not bad, I think, rereading the words. Direct, straightforward, and not accusatory. Before I lose my nerve, I hit send.
It's just after three, so she's probably out having coffee with one of her girlfriends. I can picture her, glancing at her phone as the email comes in, her face growing pale, her jaw literally dropping.
"Elizabeth, what's wrong?" one of her girlfriends will ask. She'll put a perfect smile on her face and either say nothing at all or make some comment about "Paige being Paige." Because Elizabeth Meyer would never tell anyone anything that might reflect poorly on her.
My mother was still scarred from her original sin—getting knocked up when she was in college. While Aunt Sissy and most of their friends were out partying and having fun at University of Kansas fraternity parties, my parents were sitting in their off-campus apartment, Mom crying as much as her colicky baby. That's one story I wouldn't mind never hearing again.
Margaux walks back in my room, finished with whatever work call she had to take. She looks flustered—something that can usually be said about me but never about her.
"Why do you look nervous?" she asks.
I glance at my laptop, then back at her. "I emailed my mom."
Margaux sighs. "I thought we agreed it would be best to wait until you had some time to reflect and process all this."
"Have you met me?" I ask. The sound of an incoming email calls our attention back to my computer just as the box with the preview alert disappears. "She wrote back."
Margaux wordlessly sits on the arm of my chair, and we both read my mother's one-line response:
MARK MEYER WAS YOUR FATHER AND YOU SHOULD BE PROUD!!!!
I laugh, even though there's nothing funny about her all-caps words or her use of four exclamation points.
Margaux asks if I'm okay, but I don't answer, because I'm honestly not sure. I read the email a third time, and then a fourth, trying to find some meaning between the words.
"Either she's lying to me," I say, "or my DNA is."
Excerpted from the book LITTLE PIECES OF ME by Alison Hammer. Copyright © 2021 by Alison Hammer. From William Morrow, an imprint of HarperCollins Publishers. Reprinted by permission.
Following her acclaimed debut novel, You and Me and Us, Alison Hammer offers a deeply moving story of family and identity. When a DNA test reveals a long-buried secret, a woman must look to the past to understand her mother and herself.
When Paige Meyer gets an email from a DNA testing website announcing that her father is a man she never met, she is convinced there must be a mistake. But as she digs deeper into her mother's past and her own feelings of being the odd child out growing up, Paige begins to question everything she thought she knew. Could this be why Paige never felt like she fit in her family, and why her mother always seemed to keep her at an arm's length? And what does it mean for Paige's memories of her father, a man she idolized and whose death she is still grieving?
Back in 1975, Betsy Kaplan, Paige's mom, is a straightlaced sophomore at the University of Kansas. When her sweet but boring boyfriend disappoints her, Betsy decides she wants more out of life, and is tired of playing it safe. Enter Andy Abrams, the golden boy on campus with a potentially devastating secret. After their night together has unexpected consequences, Betsy is determined to bury the truth and rebuild a stable life for her unborn child, whatever the cost.
When Paige can't get answers from her mother, she goes looking for the only other person who was there that night. The more she learns about what happened, the more she sees her unflappable, distant mother as a real person faced with an impossible choice. But will it be enough to mend their broken relationship?
Told in dual timelines, Little Pieces of Me examines identity and how the way we define ourselves changes (or not) through our life experiences.
Women's Fiction | Women's Fiction Time Slip [William Morrow Paperbacks, On Sale: April 13, 2021, Paperback / e-Book, ISBN: 9780062934871 / eISBN: 9780062934888]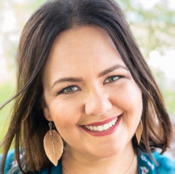 Alison Hammer has been spinning words to tell stories since she learned how to talk. A graduate of the University of Florida and the Creative Circus in Atlanta, she lived in 9 cities before settling down in Chicago. During the day, Alison is a VP Creative Director at FCB Chicago, but on nights and weekends you can find her writing upmarket women's fiction. Her claims to fame include starring in an :08 clip on America's Funniest People, sailing on all 18 Rock Boats and winning 2nd place in a Fantasy Football league.