Welcome to Fresh Fiction, Alison! Please introduce yourself and tell us about your debut novel, YOU AND ME AND US.
Thanks so much for having me! My name is Alison Hammer, and during the day, I'm a VP Creative Director at an advertising agency in Chicago, and during nights and weekends—I write upmarket women's fiction. You and Me and Us the story of a workaholic woman and her distant teenage daughter, and it's about the way their relationship evolves as they go through a tough summer, losing the third member of their family. It's a tearjerker, but there are parts that will make you laugh and smile, too!
What had your publishing journey to your debut novel been like? What has surprised you about getting to the publication of your first book?
While You and Me and Us is my debut novel, it isn't the first book I wrote. I have a manuscript that I put in a drawer after trying to find an agent for about a year. While I was querying, I wrote and revised You and Me and Us. It took about seven months of querying to sign with my amazing agent Joanna—who happened to be the first agent I pitched the story to at a conference.
From the stories I've heard, my path to publication honestly hasn't been that bad. The biggest thing that has surprised me about the publishing process is how long it takes. I wrote You and Me and Us in 2016, I got the book deal in 2018 and it will finally be published in 2020. I've been living with this story for a long time, luckily, I still like it!
Alexis is a hardworking woman – she owns her own business, has a supportive husband, and they are raising their teenage daughter together. When her husband receives a devastating diagnosis. Alexis is forced to figure out where she needs to put her priorities. What inspired the character of Alexis? How do you think she deals with some of the difficult situations YOU AND ME AND US puts her through?
A lot has changed about Alexis Gold in the 20 years I've been writing her story. In the first book, she was newly single, 30-something and a workaholic. In YOU AND ME AND US, she's 40-something, has a teenage daughter and is in a committed relationship. But she's still a workaholic.  
My day job is in advertising, and while I don't have kids—I am a workaholic. So I can definitely relate to that. I work with a lot of amazing women who somehow manage to find a balance between their work life and their family life. Most of them do a much better job at it handling both than Alexis does, but it wouldn't have been much of a story if she'd been good at everything!  
Tommy has to come to terms with his cancer diagnosis and wants to spend quality time with his wife and daughter in Florida. He often makes jokes out his terminal diagnosis, much to the chagrin of his family! What will readers love most about Tommy?
What won't they love about Tommy? I had a few early readers say he was too perfect, so I tried to add some flaws—but even that didn't make him less wonderful. His cheesy sense of humor is probably one of my favorite things about him. And how much he loves his family and friends. I love that about him!  
CeCe is a teenager trying to find out who she really is, and adding her father's cancer to the mix is a LOT to deal with at such a young age.  Because her mother focused on her career, CeCe has always been used to her father being around, and the thought of losing him and being left with the person she's always felt distant from is hard to fathom. How will readers relate to CeCe? What advice would you give CeCe while she's dealing with these situations?
I think a lot of readers will want to reach into the book's pages and shake CeCe on more than one occasion. She's a fourteen year old girl who thinks the world revolves around her—at least at the beginning of the book. I think her character probably undergoes the biggest transformation. If I were to give CeCe advice on how to handle everything, I would probably tell her to allow herself to feel her feelings, and to realize that her mom is actually the one person who understands what she's going through.
Much of YOU AND ME AND US is spent on a family vacation in Destin, Florida! Do you have any fun family vacation memories to share?
I have so many great family vacation memories. I'm originally from St. Louis and spent at least one vacation a year down at the beach in Naples, Florida where my grandparents had a condo. The beach was always my idea of paradise. When I was in college, my dad moved to Destin, Florida and I discovered the amazing beauty of the white sand beaches and emerald water. Thinking back to the fun memories—most of them involved massive sun burns, lost luggage and getting stuck out in the ocean on a weird boat-like-object. In the moment, they weren't fun—but looking back, the memories are!
You're one of the founders of the Every Damn Day Writers Facebook group, an online writing group for women. Can you tell us more about how this came together, and what you love about the group?
I love everything about the group! Seriously. And I'm so glad you asked about it. The group started out as a NaNoWriMo (National Novel Writing Month) support group. Every day during the month of November, a small group of writers checked in and shared our writing status. At the end of the month, none of us wanted to stop—so we started a private group. That private group is still going strong, but we decided to make a public version of it so we could share support and accountability with more women writers.
I love asking authors what they've been reading! What have you read lately that you enjoyed and want to recommend?
I've read so many good books lately! A few favorites are Minor Dramas & Other Catastrophes by Kathleen West, Follow Me by Kathleen Barber, and The Family Upstairs by Lisa Jewell. 
What can readers expect from you next?
My next book will be out in spring 2021. It's called LITTLE PIECES OF ME, and it's the story of a woman who founds out through a DNA website that the dad she adored isn't her biological father.
Rapid Fire Random Questions
Dragons or unicorns: Definitely unicorns.
Five people you'd invite to your book club (dead, alive, fictional, etc.!): Bradeigh Godfrey, my amazing critique partner who is also a brilliant writer and Instagrammer, Michelle Obama, Tina Fey, Jimmy Fallon and Belle from Beauty and the Beast.
Some of your auto-buy authors: Oh, there are so many! Jodi Picoult, Jennifer Weiner, Kristin Hannah, Camille Pagán, Katherine Center and Taylor Jenkins Reid.
Favorite flower: This is the question that stumped me the most! I'm not sure I have a favorite kind of flower, so I'll say Just Because flowers–ones that I get for myself, or that someone else surprises me with. 🙂
Earliest celebrity crush: My earliest celebrity crush was Fred Savage. My current one is Seth Rogen 🙂
Random interesting fact you like to tell people:  I was on a five-second segment of America's Funniest People when I was fourteen. I was in a segment that involved a water balloon, a toilet plunger and a nail.
Hobbies you have (aside from reading and writing): I'm on an embarrassingly high level of Candy Crush. I love traveling and going to see live music. And karaoke (my go-to songs are Build Me Up Buttercup and I Think We're Alone Now.)
Dream vacation: Italy and Greece are on my bucket list. But I take two dream vacations every year. In January, I go on a cruise called The Rock Boat – it's a floating music festival. And every May, a group of girlfriends and I rent houses on the beach and attend Rock By The Sea, a charity music festival.
Sweet or salty snacks: Salty all the way. Even if it's sweet, I like a little bit of salt.
You have a totally free afternoon – no deadlines, no obligations, no Twitter notifications!  What do you do?: I'd be relaxing in the pool with a good book! That's my idea of paradise.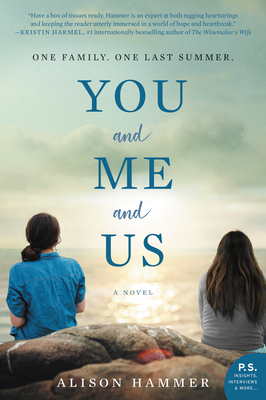 The heartbreaking, yet hopeful, story of a mother and daughter struggling to be a family without the one person who holds them together–a perfect summer read for fans of JoJo Moyes and Marisa de los Santos.
Alexis Gold knows how to put the "work" in working mom. It's the "mom" part that she's been struggling with lately. Since opening her own advertising agency three years ago, Alexis has all but given up on finding a good work/life balance. Instead, she's handed over the household reins to her supportive, loving partner, Tommy. While he's quick to say they divide and conquer, Alexis knows that Tommy does most of the heavy lifting–especially when it comes to their teenage daughter, CeCe.
Their world changes in an instant when Tommy receives a terminal cancer diagnosis, and Alexis realizes everything she's worked relentlessly for doesn't matter without him. So Alexis does what Tommy has done for her almost every day since they were twelve-year-old kids in Destin, Florida–she puts him first. And when the only thing Tommy wants is to spend one last summer together at "their" beach, she puts her career on hold to make it happen. .  . even if it means putting her family within striking distance of Tommy's ex, an actress CeCe idolizes.
But Alexis and Tommy aren't the only ones whose lives have been turned inside out. In addition to dealing with the normal ups and downs that come with being a teenager, CeCe is also forced to confront her feelings about Tommy's illness–and what will happen when the one person who's always been there for her is gone. When the magic of first love brings a bright spot to her summer, CeCe is determined not to let her mother ruin that for her, too.
As CeCe's behavior becomes more rebellious, Alexis realizes the only thing harder for her than losing Tommy will be convincing CeCe to give her one more chance.
You and Me and Us is a beautifully written novel that examines the unexpected ways loss teaches us how to love.
Fiction | Women's Fiction [William Morrow Paperbacks, On Sale: April 7, 2020, Paperback, ISBN: 9780062934857 / ]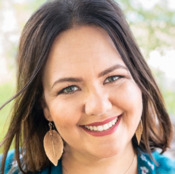 Alison Hammer has been spinning words to tell stories since she learned how to talk. A graduate of the University of Florida and the Creative Circus in Atlanta, she lived in 9 cities before settling down in Chicago. During the day, Alison is a VP Creative Director at FCB Chicago, but on nights and weekends you can find her writing upmarket women's fiction. Her claims to fame include starring in an :08 clip on America's Funniest People, sailing on all 18 Rock Boats and winning 2nd place in a Fantasy Football league. Alison is represented by Joanna MacKenzie of Nelson Literary Agency.