Thank you for inviting me to Fresh Fiction today. I am excited to announce the release of IF THE EARL ONLY KNEW, which features some of my favorite characters. Determined to avoid society as much as possible, Lady Kate has returned to London after leaving six years ago. Part of her departure, and certainly the haste with which she left, can be blamed on a certain John Arlington, the Earl of Wynbrook, for it was he who kissed her in a moment of trial. She had hoped to elude him when she returned but of course that didn't work and she finds herself alone with him in the study.
Here is an exclusive excerpt from IF THE EARL ONLY KNEW of Kate and Wynbrook discussing the kiss—and Wynbrook trying to convince her to do it again—properly this time!
Wynbrook cleared his throat and motioned for her to sit in a chair beside the waning embers of the fire. He took the chair opposite her and Kate waited in silence.

"The last time you left was so sudden, I did not have the chance to say good-bye. This time, I wanted to be able to express my gratitude for your service to my family."

Kate gave him a short nod. "Duly noted." She knew this was not the reason he had wished to see here alone.

"I was surprised to hear you are leaving so soon," commented Wynbrook.

"Our business is concluded. Our investors paid. There is no reason to trespass on your hospitality any further." She attempted to keep her face neutral.

Wynbrook gave her a quick nod. "Then there is only one more thing to discuss." He cleared his throat. "The kiss."

Kate was so surprised, she gaped at him. "Whatever do you mean?"

"The night before you left six years ago—"

"Was terribly difficult for you," said Kate, attempting to change the subject. "You had suffered a grievous loss. I am sure your recollections of that time are hazy at best." She was giving him a way out. Take it.

"No, it will not do," said Wynbrook after a moment's pause. "I must beg your forgiveness for such inexcusable behavior."

"Nonsense. You were sick with grief. If anyone took advantage, it was me," said Kate.

"Do not be absurd. My behavior that night was unconscionable. As a gentleman, I cannot abide it."

"But you have already told me you are no gentleman."

John gave her a slow smile. "Very true. If anyone had seen my behavior, an offer of marriage would have been expected."

"But no one did see it."

"You could have told your brother. I would not have denied it. In truth, I do not know many young ladies who would not have confessed what happened, knowing the outcome would be a wedding."

"If you think I would trap you or any man into marriage, you are very much mistaken."

"Yes. You are unique in that." He gazed at her with frank admiration in his eyes, bringing to the fore all the difficult emotions she had worked so diligently to repress.

"I have no desire for a proposal." Was she telling him or reminding herself?

"I do not blame you for holding me in low regard. The only thing worse than kissing you when you were under the protection of my own house was to do the thing badly. I fear my kiss was poorly executed, and for that, I apologize."

"It was not… That is to say…I would not have said it was poorly done," she faltered.

"So you liked the kiss?" He sounded sincere, but his eyes blazed with mischief.

"You are incorrigible. If you would excuse me." Kate stood. It was past time to make her escape.

John stood as well. "Forgive me, please. It is not my intention to cause discomfort, truly. Is there anything I can do to make amends?"

They stood in silence staring at each other. This was her last chance to have any interaction with the man who haunted her dreams and she could think of nothing to say. "You say the kiss was a poor one?" Had she said that out loud?

"One of my worst."

It seemed a shame that if one kiss would haunt her dreams forever that it not even be his best. If she was to cling to one memory of a kiss for the rest of her lonely, celibate life, should she not at least taste what the man could truly offer?

"I am willing to attempt the process again, and you can judge whether or not my performance is improved." He was so somber and matter-of-fact, she almost missed the fact that he had offered to kiss her again.

That will not be necessary. Those were the words she should say, but somehow they were stuck in her throat. Kiss me! was what she wanted to say, but she held that in check as well.

"In truth, I should beg your indulgence to give you a corrective kiss," he suggested slyly.

"A corrective kiss?"

"Yes, one to correct the memory of the poor one I gave earlier."

"You are asking to repeat the kiss?"

"Yes." John smiled in a manner Kate bet few women could resist. "As a favor to me." He stepped forward. "Lady Kate, may I give you a proper kiss?"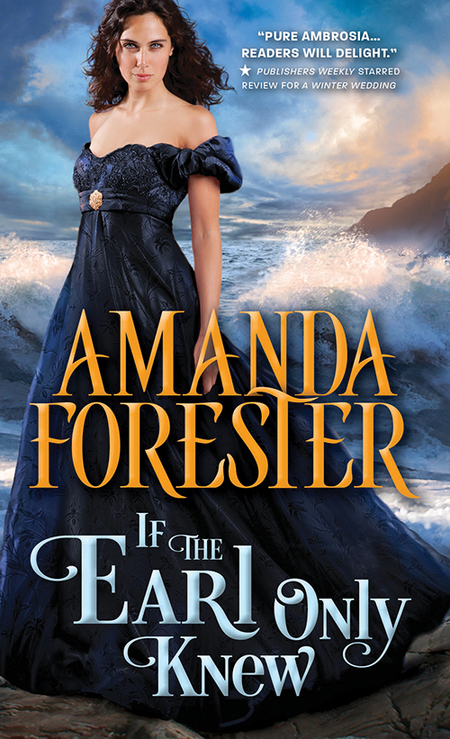 The chase is on in award-winning author Amanda Forester's brand-new Regency romance series!
A sizzling scandal just waiting to happen…
Orphaned at a young age, Lady Katherine Ashton and her brother have spent most of their lives on the high seas, seeking to restore their family fortune through somewhat dubious means. After that kind of adventure, Kate knows she won't ever be accepted as a proper society lady.
To the annoyingly clever, temptingly handsome, and altogether troublesome Earl of Wynbrook, society ladies are a dead bore. Kate, on the other hand, is scandalous, alluring, and altogether fascinating. And Kate can't decide which she relishes more, the thrill of chasing fearsome pirates, or having Wynbrook chase after her…
Romance Historical [Sourcebooks Casablanca, On Sale: July 1, 2016, Paperback / e-Book, ISBN: 9781492605492 / eISBN: 9781492605508]
Amanda Forester holds a PhD in psychology and worked many years in academia before discovering that writing historical romance was way more fun. A Publishers Weekly Top Ten author, her books have been given starred reviews from Booklist, Publishers Weekly, and a Top Pick from RT Book Reviews. Whether in the rugged Highlands of medieval Scotland or the decadent ballrooms of Regency England, her novels offer fast-paced adventures filled with wit, intrigue, and romance. You can visit her at www.amandaforester.com.