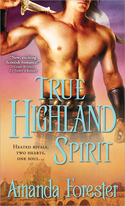 The heroine of my new release, TRUE HIGHLAND SPIRIT, has an unusual occupation for a laird's daughter in medieval Scotland. Due to the poverty of her clan, and her natural prowess with a sword, she joined the group thieves led by her brother, who roam the countryside looking for unsuspecting travelers from whom they "request" a donation to the fund for wayward highwaymen.
While this was admittedly unusual, there are several cases of females from this era donning armor and leading the troops, which have survived through history. I can only imagine that women fought beside men in more instances which were never documented.
Morrigan is actually named after a mythological Celtic goddess of war, strife, and sovereignty. The fact that powerful woman warriors exist in myth show that this concept was one that existed.
Several examples of women warriors also exist in history in the 14th and 15th centuries. It was not unusual for the wife of a lord to take command of a besieged garrison if the lord of the castle was away. However, Agnes Randolph, Countess of Dunbar and March, earned herself the nickname of Black Agnes by her brash antics in the siege of Dunbar. Black Agnes defended Castle Dunbar from an able military commander for five months until her enemy finally gave up. She gained noteriety for her mocking tactics of having her maids lightly dust the battlements after being attacked by catapults.
The most famous of medieval female warriors is probably Joan of Arc. Joan was born a country maid who claimed to have religious visions of victory in battle. I am not sure what is more surprising, that she somehow convinced the King of France to let her lead his armies into battle, or that she actually won those battles. Unfortunately, she was eventually captured by the English and burned at the stake as a heretic.
Since I am writing romantic fiction, I am able to give Morrigan a much happier ending than poor Joan. In True Highland Spirit, Morrigan meets her match in a mysterious French knight who is much more than he appears to be.
I enjoy strong female characters who are not afraid to get involved and do what needs to be done. What character traits do you like to see in your heroes and heroines?
Morrigan McNab learned to survive with a sword in her hand. Taking command, she is determined to protect her impoverished clan, no matter the cost. When an elusive French knight offers gold to fight against England, she joins the call to arms. Sparks fly on the battlefield as a forbidden passion smolders between Morrigan and Sir Dragonet. Yet Sir Dragonet holds a secret that will destroy the hope for a life together, and will make them rivals on a dangerous quest for a mysterious relic. As they fight beside each other against the English, and against each other to find the treasure, their love becomes a greater force than either can control.
Visit Amanda: website, facebook, or twitter.
To comment on Amanda Forester's blog please click here.