One of the first historical romance novels I ever read was LOVESONG by Valerie Sherwood, when I was about fifteen. There's an early scene featuring the heroine sneaking out of her London boarding school to meet up with her elusive beau at an 18th century gaming hell (spoiler alert: he's not the hero and this doesn't end well for her). Her friends help her dress in disguise as a young man, so she can prowl the streets of London at night alone. One provides a pale green satin men's suit with silver metallic embroidery, made for her brother. She wears her own clocked stockings and garters. Another friend styles the heroine's platinum blonde hair into something resembling a powdered wig.
It's been thirty years and I can still remember that dress up scene and still recall small details of her outfit. I couldn't recall the heroine's name, or the shady beau's, or the eventual hero's. But that green satin suit? It stayed with me forever! That was probably my first indication that my future lay in costume design. I ended up getting a master's degree in costume design, and I've spent twenty years in New York working in the industry.
Costume design is about more than designing clothes. It requires, first and foremost, a thorough understanding of the character, their socio-economic standing, their education and job, their emotional makeup, and their relationships to others and the world around them. Sounds a little like writing, huh? Designing something in another era requires detailed research, and not just the big moments in history. Costume designers are forever looking for the obscure, the personal. What did knitting patterns in 19th century Sweden look like? What did medieval knights wear under that chain mail? What would a lower class woman in the 19th century wear in the snow?
When I started writing historical romance, I felt right at home. Researching the introduction of electricity in English country homes wasn't all that different than researching the manufacture of Victorian corsets, or how the substructure of an 1880's skirt would work. And just like in costume design, it's very easy to fall down the rabbit hole of research. That above tidbit about electricity in English country houses? I researched it for A DUCHESS IN NAME. It took me two full days to find the answer.
My costume design background means I don't necessarily have to research the clothes when I'm writing. The real challenge for me is not getting bogged down in details. Fashion is certainly one of the fun parts of reading historical romance, but I suspect even the most avid historical fashionista would be bored by my page-long descriptions of a ball gown. I try to keep it to a minimum in writing, just enough to give the flavor of the clothes, but never doubt—in my mind, I know what that dress looks like, down to the 5/8" covered buttons down the front and the 1" box pleated taffeta trim on the skirt. Hazard of the day job, I guess!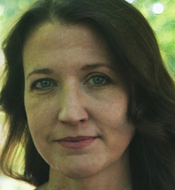 Amanda has loved romance since she read that very first Kathleen E. Woodiwiss novel at fifteen. After a long detour into a career as a costume designer in theatre, she's found her way back to romance, this time as a writer.
A native Floridian, Amanda transplanted to New York City many years ago and now considers Brooklyn home, along with her husband, daughter, two cats, and nowhere near enough space.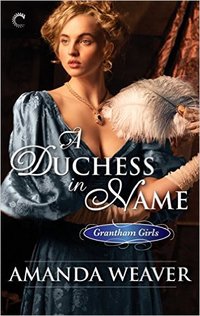 Victoria Carson never expected love. An American heiress and graduate of Lady Grantham's finishing school, she's been groomed since birth to marry an English title—the grander the better. So when the man chosen for her, the forbidding Earl of Dunnley, seems to hate her on sight, she understands that it can't matter. Love can have no place in this arrangement.
Andrew Hargrave has little use for his title and even less for his cold, disinterested parents. Determined to make his own way, he's devoted to his life in Italy working as an archaeologist. Until the collapse of his family's fortune drags him back to England to a marriage he never wanted and a woman he doesn't care to know.
Wild attraction is an unwanted complication for them both, though it forms the most fragile of bonds. Their marriage of convenience isn't so intolerable after all—but it may not be enough when the deception that bound them is finally revealed.