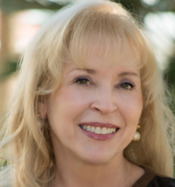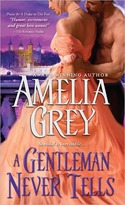 Good Morning! Thank you for having me at Fresh Fiction. I'm happy to be with you today to talk a little about my new book A GENTLEMAN NEVER TELLS and along the way I thought it might be fun to talk about some bloopers I've had in my books.
You know when you are writing somewhere close to one hundred thousand words it's easy to write the wrong thing and over look it. Some of the easiest mistakes to overlook is she for he, there for their, and than for then. But those aren't the kind of mistakes I'm talking about today. I'm remembering the time I first wrote a scene with the hero and heroine and put it outside. I later moved it inside the parlor but I forgot to take the lovely, shade tree out of the scene.  Luckily my editor noticed that blooper right away.
There were some other memorable ones from my earlier books that I would have been mortified to see in print. In one of my books the heroine needed to tend a wound on my hero so she pulled out a small leather drawstring bag that was filled with slaves. Yes, slaves rather than salves and ointments. How embarrassing is that for your editor to catch! Then there was the hells of my heroine's shoes rather than the heels of her shoes. But I think the funniest is when I'm sure I meant to write she scratched behind her ear and somehow all that was written was she scratched her behind! I didn't think I could ever make a mistake worse than that. But in A GENTLEMAN NEVER TELLS I might just have topped that one.
There's a scene in the book where Lord Brentwood lays Lady Gabrielle on a rug in front of the fire but that's not what I wrote. I wrote that he had laid her on a rag. Imagine how horrible it is to think of the hero making love to the heroine on a rag. Eeek!
But enough of that. Let me give you a short synopsis of A GENTLEMAN NEVER TELLS: Viscount Brentwood is minding his own business, walking his mother's Pomeranian in Hyde Park early one morning when a lovely and alluring young lady, walks out of the mist and into his arms. Of course, this is all very much to his liking until they are caught, and he finds out that she is not only another man's fiancé, she also happens to be the daughter of a powerful duke. And if that wasn't enough trouble for the Viscount to be in the middle of, he's lost his mother's dog, too.
Lady Gabrielle is dependable, sensible, and obedient. That's why she had accepted the practical, unemotional marriage her formidable father had arranged for her. That's what those of her kind did–or so she had always believed until early one morning, when her defenses were down, she threw all of her upbringing away for the chance to spend a few passionate moments in the arms of a handsome stranger.
But kissing the stranger didn't free Lady Gabrielle. She only thwarted the shackles of one arranged betrothal to immediately find herself stuck in yet another forced engagement.  The strong-willed lady isn't going to give up her freedom so easily. She has plans that her father and Lord Brentwood don't know about and scandal and mishaps becomes the order of the day while Gabrielle and Brent scour London to find a notorious dog thief.
So why don't you tell me about some of the mistakes you've seen in books and be entered in a chance to win one of two copies of A GENTLEMAN NEVER TELLS.
Please visit my website or email me for more information about me and my books.
A GENTLEMAN NEVER TELLS BY AMELIA GREY–IN STORES JULY 2011
A stolen kiss from a stranger…
As if from a dream, Lady Gabrielle walked from the mist and into Viscount Brentwood's arms. Within moments, he's embroiled in more scandal than he ever thought possible…
Can sink even a perfect gentleman…
Beautiful, clever, and courageous, Lady Gabrielle needs Brent's help to get out of a seriously bad situation. But the more she gets to know him, the worse she feels about ruining his life…
Enter the unforgettable world of Amelia Grey's sparkling Regency London, where a single encounter may have devastating consequences for a gentleman and a lady…
ABOUT THE AUTHOR
Winner of the Booksellers Best Award and the Romantic Times Award for Love and Laughter, Amelia Grey's books have sold in Europe, Russia and China. Married for twenty-five years to her high school sweetheart, she has lived in Alabama, Connecticut, New Hampshire, and now calls Panama City Beach, Florida, home. For more information, please visit www.ameliagrey.com.
To comment on Amelia Grey's blog please click here.