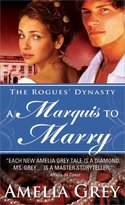 Thank you for having me today at Fresh Fiction to talk about my current book A Marquis To Marry. I'm happy to tell you that this book is the second of in series called The Rogues' Dynasty. The first book of the series, A Duke To Die For, came out in April 2009 and is still available at your favorite local or online bookstore, and the third book is An Earl to Enchant will be published in April 2010.
I started the Rogues' Dynasty series with this premise: Everyone in the ton knew that Lady Elder had tried many times by fair and foul means to force her grandsons to marry. After all, she had been happily married . . . four times. Decades earlier she had successfully married off each of her three daughters to titled gentlemen. And in turn, each daughter had given her a grandson all in the same year
To read more of Amelia's blog please click here.