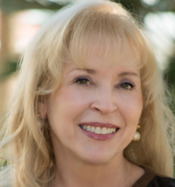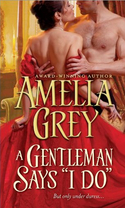 Good morning everyone!  Thank you for having me at Fresh Fiction today. I always enjoy my visits to this fabulous site.
You know, as a writer, I get asked the same questions over and over again so I was thinking it might be fun to share with you the top three questions I hear and what I think about them.
Without a doubt the most asked question is, "Where do you get your ideas?"  I would love to be able to answer something exciting like "From Mars! Or, I make nightly trips to the moon in a space ship and pick them up from a little green man." But, alas, that wouldn't be the truth. The answer is that I sit down in front of the computer and start by saying, "What if?"  As in my book that just came out May 1 A GENTLEMAN SAYS "I DO".  What if my heroine has to finish her father's story so he will get paid and she will have enough money to keep the household going? What if the story sheds a slanderous light on the hero's mother? What if when the hero comes looking for the poet, he find the lovely daughter instead? So it's really simple but all my ideas come from what ifs.
The second most asked question comes from friends, family, and acquaintances and it's "Are you still writing?"  Now, I have to admit this question annoys me. Would anyone ever ask a doctor if he was still practicing medicine? Would anyone ask a lawyer if he was still practicing law? But for some reason it seems to be perfectly acceptable to ask if I'm still writing. The answer is always the same, "Yes! After twenty-four books I still enjoy it and I'm not ready to stop writing."
The third most asked question is my favorite and it is, "When is your next book coming out?" I love to tell people when I have a new book coming out. My latest book hit local and online bookstores May 1 and it's titled A GENTLEMAN SAYS "I DO".   Here is a short synopsis of the story to enjoy.  
Iverson Brentwood has finally met his match. Catalina Crisp heats his blood like no other lady.  Her alluring countenance has stopped him dead in his tracks. But no matter how attracted he is to her, he can't give into his desire to possess her in every way… she is the daughter of the man he's sworn to destroy.
Catalina's father is a well-known writer, but he's a wastrel whose disappearances continuously put them close to destitution.  Something drastic must change, so it is with quill in hand, that Catalina completes her father's latest parody of Iverson and Matson Brentwood's spectacular arrival in London.  When the story hits the newsprint, a darkly handsome man is at her door, looking for her father.
Seeing the dashing rogue in the flesh, for a bewildering moment dallying with the rake seems like the perfect fictional escape—and it's all she can do not to give into the madness of the intriguing man.
I hope you'll pick up a copy of A GENTLEMAN SAYS "I DO".
I love to hear from readers. Please visit me at website, Facebook, or email me
One commenter will win a copy of A GENTLEMAN SAYS "I DO". . US / Canada addresses only
To comment on Amelia Grey's blog please click here.