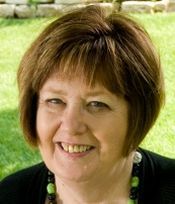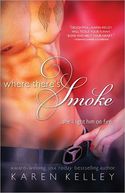 I've loved paranormal since the days Dark Shadows was on TV. We weren't allowed to watch TV in the day time so my sister and I used to sneak into the living room and turn it down low. I would stand guard. I always stood guard since I was younger, but I caught enough that I was forever hooked on the genre.
For my new series I  knew the heroes would be nephilim. The following is a short excerpt from WHERE THERE'S SMOKE so you'll have a better idea about the nephilim:
Chance skirted the very edges of what was legal—for an angel…
Not actually an angel when he thought about it. A nephilim, to be exact. All their fathers were angels. Centuries before, they mated with mortal women. When the women bore children, a new race was created. Immortals with powers—demigods.
The children didn't live by the same rules as mortals, nor that of the typical robe-wearing, bright-light-surrounding-them angels. Hell, most of the time the nephilim were breaking the rules and making up new ones as they went. As long as they didn't cross over to the dark side, everyone pretty much stayed out of their way.
Then we have the heroine, Destiny:
Destiny Carter was six years old when she had the first inkling that her life wouldn't be a fairy tale. That was the day her mother left her in a grocery store and never came back. Destiny was right, her life went downhill from there. Bad foster homes, bad boyfriends, and really, really bad choices.
Then she died and went to Hell.
Until she was kicked out.
That's where the problem lies. Destiny has to steal a soul or else. She's not exactly sure what the or else means, after all, she was already in Hell, but she's determined to gain demon status. Chance, on the other hand, is equally determined to save her soul. When the two meet it's explosive—then all hell breaks loose! I hope everyone enjoys WHERE THERE'S SMOKE
Karen Kelley is the author of over twenty-one books. I'M YOUR SANTA spent three weeks on the USA Today bestseller list. Karen lives in a small Texas town with her very supportive husband, their spoiled Pekinese, a host of wild birds that eat way too much.
She makes jewelry as a hobby because she's a firm believer that one can never have enough bling-bling. You can visit Karen at www.authorkarenkelley.com where you'll find lots of fun stuff!
One commenter will win a copy of WHERE THERE'S SMOKE. US / Canada only
To comment on Karen Kelley's blog please click here.