1–What is the title of your latest release?
2–What is it about?
Well, as you can probably tell from the title, it's a holiday book about eggnog … and murder. Just kidding. It's a bit more complicated than that. An Eggnog to Die For is the second of the Cape Cod Foodie mysteries, which feature Samantha Barnes, a disgraced but resilient ex-chef and now the local paper's "Cape Cod Foodie." In this book, Christmas is coming to Cape Cod, but when Sam finds a very dead Santa in a very hip restaurant, it's up to her to sift out suspects who have been naughty vs. nice….
3–What do you love about the setting of your book? 
The setting is the captivating small town of Fair Harbor on Cape Cod, Massachusetts, in the weeks before Christmas.  I love the Cape, which even in winter has the power to thrill your heart. Here's how Sam describes it:  "In the winter sun a thin frosting of snow still sparkled on the green branches of the pines, and the blue waters of Crystal Bay peeked tantalizingly through the leafless oaks. Once again, the magic of this great curve of sand and sea charmed me."
4–How did your main character(s) surprise you? 
Sam never stops surprising me. You'd think because I made her up, she'd be just a little bit like me.  But no. She is everything I'm not. Tall (really tall, like, over-six-feet-tall kind of tall), brave (wait until you see her face down the Santa slayer), funny, and snarky (I am boringly polite). So I never know what she's going to do or say until she does it. Which is probably why I love spending time with her so much.
5–Why will readers relate to your characters? 
I think because they're not perfect, but they are all doing the best they can. There's the town librarian Helene Greenberg, who talks and acts like no librarian you ever met; Sam's organic farmer friend Miles Tanner, who looks like a gay Paul Bunyon; her best friend from childhood, Jenny Snow Singleton, the harried mother of the Three Things; Jillian Munsell, the manager of the local nursing home and the best baker Sam has ever known; the local paper's editor-in-chief, Krista Baker, who likes to point out that she's not bossy, she just has "executive leadership skills;" and, of course, Sam's hunky harbormaster sweetheart, Jason Captiva, (be still my heart). And last but in no way least, there's Sam's canine companion Diogi (pronounced dee-OH-gee, as in D O G, get it?).
6–What was one of your biggest challenges while writing this book (spoiler-free, of course!)? 
The biggest challenge had to be how do you even write a "holiday murder mystery"? I mean, it seems like a contradiction in terms, right? (Although Sam would probably just say, "What's Christmas without a dead Santa?") I struggled with this until it came to me – what if Fair Harbor's Santa was a thoroughly unpleasant character killed by another thoroughly unpleasant character? But everybody else in the book is really nice and the food is yummy (recipes!) and there are lots of laughs… And, oddly, it all seems to work!
7–Do you look forward to or do you dread the revision process? 
I love the revision process! I would rewrite until the cows came home if my wonderful agent and editor didn't at a certain point grab the manuscript out of my hands.
8–What's your favorite snack to have on hand while writing? 
Coffee. Although that's not really a snack – more of a legal stimulant. Popcorn comes in second. Candy corn third.
9–Where would you go for an ideal writer's retreat? 
Cape Cod. Cape Cod. Cape Cod.
10–What's the best piece of writing advice you've received? 
In her classic book on writing, the novelist Anne Lamott advises the would-be author to just "write the s***ty first draft." Just get it all down on paper and then edit, edit, edit (see revision, above.) It's never failed me.
11–Who is the fictional character you want to hang out with the most? (anyone in literature!)
Just one? Okay. Sue Grafton's wonderful PI, Kinsey Millhone. I've read and re-read every one of the Kinsey Millhone books from A is for Alibi to Y is for Yesterday. I was so sad when we lost Ms. Grafton (and Kinsey) a few years ago, and I cried when her daughter said that for her family, "the alphabet now ends at Y."
12–What's one of your earliest book memories? 
I will never forget reading Louise Fitzhugh's Harriet the Spy when I was ten. I loved everything about Harriet – her blue jeans rolled up at the cuff, her glasses, her classic black and white notebook in which she wrote down everything she saw and heard around her.  I remember thinking, "Maybe if I did that, maybe I could figure out why people do the things they do." (I was a very clueless kid!)
13–If you had to write in a different genre, what would it be and why? 
As a one-time classical archaeology major, I've always wanted to write a historical novel about ancient Etruria. Go figure.
14–What song will automatically put you in a good mood? 
Tina Turner's "Proud Mary" does it for me every time.   
15–What is your favorite way to practice self-care?
I crawl into bed every night and read for at least an hour (two is better).  It is heaven.
16–What can you eat and never get sick of? 
Sourdough toast slathered with Irish butter.
17–Will you share a favorite, recent-ish book you recommend? 
I HIGHLY recommend Richard Osman's The Thursday Murder Club mysteries! Wonderful fun and wonderfully written.
18–Do you have any hobbies?
Read. Cook. Eat. Repeat.
19–Are you an early bird or a night owl?
Definitely an early bird!
20–What can readers expect from you next? 
Next summer I'm planning a new adventure for Sam and Diogi in Murder is No Picnic, the third Cape Cod Foodie mystery.  We'll have a fresh murder to solve, a fabulous recipe for the World's Best Blueberry Buckle, and maybe an answer to the eternal question of "will Sam and Jason ever figure things out?"
A Cape Cod Foodie Mystery #2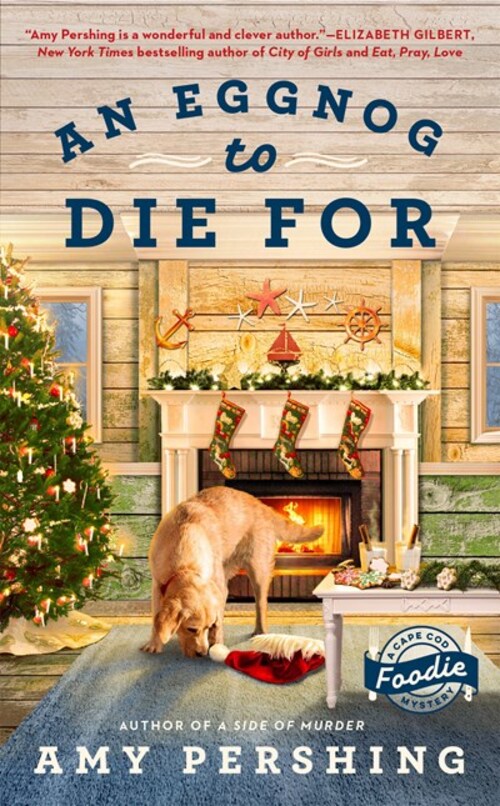 Christmas is coming to Cape Cod, but when Sam Barnes finds a very dead Santa in a very hip restaurant, it's up to her to sift out suspects who have been naughty vs. nice….
Professional foodie Samantha Barnes has a simple Christmas list: a quiet holiday at home with her dog and a certain handsome harbor master; no embarrassing viral videos; and no finding dead bodies. Unfortunately she's got family visiting, she's spending a lot of time in front of the camera, and she's just stumbled over the lifeless body of the town's Santa Claus.
Plus, Sam's plans for Christmas Eve are getting complicated. There's the great eggnog debate among her very opinionated guests. There's the "all edible" Christmas tree to decorate. And there's her Feast of the Five Fishes prepare. Nonetheless, Sam finds herself once again in the role of sleuth. She needs to find out who slayed this Santa—but can she pull off a perfect feast and nab a killer?
Mystery Private Eye [Berkley, On Sale: November 2, 2021, Mass Market Paperback / e-Book, ISBN: 9780593199169 / eISBN: 9780593199176]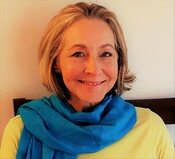 Amy Pershing is a lifelong mystery lover and wordsmith. She was an editor, a restaurant reviewer, and a journalist before heading employee communications at a global bank. A few years ago she waved goodbye to Wall Street to write full time (and spend more time sailing on the Cape!).
A Side of Murder is the first book in the Cape Cod Foodie mystery series featuring Samantha Barnes, a disgraced but resilient ex-chef and the world's most reluctant YouTube star. While Sam tries to balance her new job as the local paper's "Cape Cod Foodie" with her complicated love life, a posse of just-slightly-odd friends, a falling-down house, and a ginormous puppy, she also discovers a new talent: a propensity for falling over dead bodies … and for solving crime.