When I announced to my friends, family, and writing colleagues that I finally secured a contract to publish a novel-in-stories, Floating in the Neversink, about growing up in Brooklyn and the Catskill Mountains from 1955-1961, I received unexpected enthusiasm. Certainly, my older family members anticipated memories of gossiping on city brownstone stoops and grabbing a Chinese lunch on Flatbush Avenue, and my growing-up friends hoped to recapture memories of make-out parties in the Catskill day camp meeting house during humid summer nights. But I was surprised by the interest of the younger relatives and friends, my daughter's Generation X and the Millennials. Some were movie buffs and loved cult favorites like Dirty Dancing, Sweet Lorraine, and A Walk on the Moon, romanticizing the summers of that era, or more recent movies like immigrant life in Brooklyn. Many had heard their parents' and grandparents' stories; others were obsessed by Amazon's 1950s-set comedy The Marvelous Mrs. Maisel.
But I suspected this interest was more layered: young and old were attracted to a time when life was seemingly more humanly connected. I looked for verification of my theory, and I lazily began on social media. I searched Facebook for groups relating to the Catskills and Brooklyn in the 1950s-1960s. There were those targeting a specific village, the bungalow experience, a hotel, and Sullivan County in general; and those who wanted to connect with a Brooklyn street, school, movie theater, or favorite restaurant. Groups ranged from hundreds of members to tens of thousands. In short, there were a lot of people looking for something.
I joined all groups for a closer look. The broader ones of country-folk often snuck in a political comment, verging on insults, but the narrower-targeted group members eschewed current controversies and focused on specific memories. Catskill postcards sported oversized type preceded by "Greetings From." There were sepia photos of day campers, bungalows, pools, and hotel menus; some places were from back in the "day," others currently abandoned or dilapidated. The Brooklyn members included lists of graduating classes, photos of street games, and teen hangouts. Both country and city dwellers posted invitations to reunions, and endless queries to identify people and shared activities (and many references to the miraculous Spalding ball). Often, there were just comments of longing.
I was attracted to one reviewer, a self-described non-Jew and a Millennial, too young to have experienced the "Golden Years" of the Catskills. He was envious of that "simpler" time and pined for a "sense of community that was genuine and had continuity." He mentioned the family closeness and resort hospitality of those decades. An older reviewer said living through that period was close to "Camelot." Many others echoed this sentiment, recalling an Epoque that was culturally and economically impactful and sadly nonexistent in today's world.
So, what are these people looking for? Certainly, it is more than a replication of a lost era. In these years of unprecedented Cold Civil War, our nation is torn apart at the very fabric of its flag-waving past. We are seething in our tribal hatreds. And the sexist and prejudiced views from our younger years are covered up by myopic lenses. These group members want to believe again in the best of times, when affection, humor, and morality were prized, and when dreams of a better life for the next generation were expected and attainable.
These "dreamers" long for a decent cha-cha partner, a challenging game of gin rummy, a talent show at the bungalow canteen, the skip on 45 rpm rock n' roll records, blueberry picking in the mountain's woods, grandparents speaking incomprehensible Yiddish, a full Saturday of cartoons and a movie at the Loew's Kings, a comedian's politically incorrect insult jokes, roller skates and sidewalk chalk games, a tricky game of Simon Sez, gossiping on a green Adirondack chair, blintzes with sour cream, and a chocolate egg cream to wash it all down. Those were the days.
In the summer of 1955, nine-year-old Amanda Gerber tearfully leaves her best friend, Francine, and their adventurous life on her block in Brooklyn's Flatbush. She joins her cantankerous family on the long, hot drive to her grandmother's home in the Catskill Mountains among the city's Jews who flock to countless hotels and bungalow colonies in the heyday of the Borscht Belt. In the idyllic mountains, Amanda becomes ensconced in the tumult of her extended family and their friends, often seeking solace in the woods with her beloved cousin Laura.
Through the following summers, interspersed with the heightened drama of her emotionally charged city life, Amanda faces severe tests to her survival mechanisms, including the pain of loss, abuse, and betrayal, while family secrets threaten to disrupt her life even further. A novel-in-stories, Floating in the Neversink is a testament to the power of survival, friendship, and love.
Women's Fiction Historical | Historical | Fiction [Black Rose Writing, On Sale: October 3, 2019, Paperback, ISBN: 9781684333493 / ]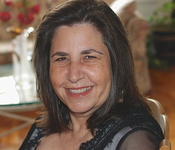 Andrea Simon is a writer and photographer based in New York City. She has worked as an editor, writer, and manager on diverse projects, and was the co-owner of an editorial/production company that specialized in health-related educational materials. For the past several years, she has devoted her efforts to fiction and literary nonfiction, including her published memoir/history, Bashert: A Granddaughter's Holocaust Quest, now in a paperback edition; her award-winning historical novel, Esfir Is Alive; and her new novel-in-stories, Floating in the Neversink. Andrea has published numerous stories and essays and has received prestigious literary honors, including the winner of the Ernest Hemingway First Novel Contest, two Dortort Creative Writing Awards, the Stark Short Fiction Prize, the Short Story Society Award, and the Authors in the Park Short Story Writing Contest. Esfir Is Alive was a 2016 Foreword INDIES Book of the Year Award Finalist and a 2017 Moonbeam Children's Book Awards winner.
Photographing her impressions for many decades, Andrea specialized in archival black-and-white printing, and has moved onto digital images. Her photographs have been published in numerous vehicles and displayed at international galleries.
She holds an MFA in Creative Writing from the City College of New York where she has taught introductory writing and creative writing. A member of the Story Circle Network (SCN), Andrea has taught an online course on "How to Write About Your Family – and Still Talk to Them Afterwards" and conducted a SCN conference workshop on writing about your mother. She has presented her work at book clubs, schools, synagogues, the 92nd Street Y, genealogy conventions, and reading series. A longtime member of a writing group, Andrea has also mentored many writers.