He wore blue jeans and a white T-shirt with leather flip-flops. His longish, snow-white hair framed a deeply tanned face and the most startling eyes Keely had ever seen. In fact, they were the first thing she'd noticed after being placed in the cell. The old man's eyes were blue, but it was a lighter–no, a brighter–shade of blue than she had ever seen.
It was as if his eyes had been encased in crystal. There was a clarity to them Keely was unable to define. She had heard of eyes that sparkled, but always considered that specific description a way of referring to excitement reflected in a person's face. But this old man? His eyes really did sparkle.
He had already been in the cell when Keely was locked in during the early morning hours. When the door had shut behind her, the officer quickly departed. Keely simply stood by the door with tears streaming down her face. She had been angry, afraid, and drunk.
Now, her head pounded ferociously, but she was beginning to recall those first moments in the cell. The old man had stood when she walked in, Keely remembered. And he had said something. What was it? Oh yes . . . he had bowed slightly and said, "Welcome. Come in and rest. I've been waiting and am glad you're here."
Keely stared at the old man for a moment through half-open eyes. "Who are you?" she said.
"Jones," he smiled. Then, nudging her playfully with his shoulder, added, "Not Mr. Jones. Just Jones." She didn't return the smile but watched as he stood and stepped to the brightly lit area near the cell door. "A jail is also a near perfect starting gate," he said absently as he ran his hand along the steel bars and poked his finger into a welded joint.
Keely's eyes narrowed. She wanted the old man to shut up. Why wouldn't he just be quiet and let her go back to sleep? She knew that the only way to shut him up was to be unresponsive and so decided that she would not say another word. Almost immediately, however, Keely blurted out another question. "Why a starting gate?" she heard herself say.
When Keely asked her question, she frowned as if she had eaten something distasteful. For some reason, the old man thought that was funny and laughed, motioning for her to stand and join him at the door. "C'mere, young lady," he said. "Move into the light." He was only a short distance away but held his hand out toward her.
Keely did not want to stand or even shift position but felt oddly compelled to do as this man, Jones, asked.
It was a moment or two before Keely realized that the old man had not responded. Opening her eyes, she was taken aback to see him in the same position— right hand still reaching forward— and in the same place as he had been when she'd attempted to stand.
"Don't quit now," he said. "Come on. Try again."
Keely was about to end the conversation with a rude yet crisply articulated comment, but as she gathered breath for the effort, the old man tilted toward her at an impossible angle. Forgetting what she was about to say, Keely blinked hard and looked closely. His right hand remained outstretched, but with his left, Jones had gripped a bar of the cell. He was leaning as far as the span of his arms would allow. The old man wiggled his fingers toward her and said again, "Come on."
To Keely, it was a ridiculous visual. Here she was–in a jail cell–and this old guy was reaching out for her like she was in the water. Sinking . . . or needing help. Or something.
"I am drowning, aren't I?"
"Yes," Jones said simply. "Yes, you are."
Excerpted from Just Jones by Andy Andrews. Copyright 2020 by Andy Andrews. Used with permission from www.thomasnelson.com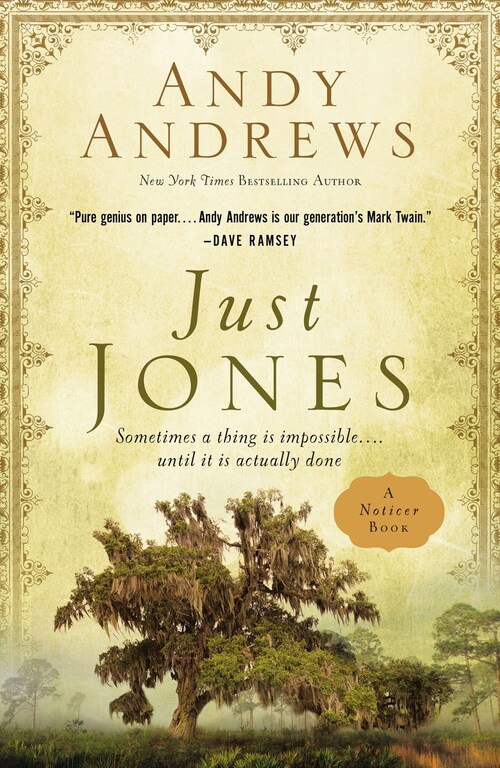 Sometimes a Thing Is Impossible . . . Until It Is Actually Done
The return of one of our favorite fictional characters: Jones, from Andy Andrews's bestselling book The Noticer.
From New York Times bestselling author Andy Andrews comes the return of one of our favorite fictional characters: Jones, the noticer. A mysterious elderly man with white hair and endless wisdom who always appears to show up exactly when he's needed most.
At 3:29 a.m. on May 22, a telephone rings in Orange Beach, Alabama. Breaking the sleepy silence inside the bedroom of New York Times bestselling author Andy Andrews, a hastily whispered message heralds the news that Andy has been waiting on for seven years: Jones is back in town. Apparently, however, he is also in jail.
The old man is tight-lipped about the circumstances surrounding his brief incarceration. After arriving to bail him out, Andy is shocked to discover that his trusted friend has already opened an unusual business in one of the resort town's most high-profile shopping districts. Jones's Five & Dime seems to always have exactly what visitors are looking for, even as their fate steadily becomes entwined with Jones's.
As the town moves from spring to summer, a practical joker is becoming bolder and more inventive with every prank that is pulled. Could Jones be behind some of it? Why? And what will happen if he is? What's the truth about that four-hundred-pound table in his Five & Dime? What compels certain people to gather around it every morning? And why does it look as if every person Jones meets has a secret they will reveal only to him?
With rare insight, Andy and Jones take us on a journey that proves the importance of perspective, the power of connection, and the ability we all have to make the impossible come true.
Fiction Inspirational | Inspirational [Thomas Nelson, On Sale: September 8, 2020, Hardcover / e-Book, ISBN: 9780785226567 / eISBN: 9780785226574]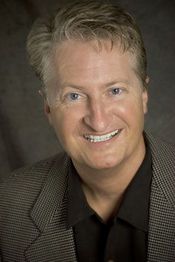 Hailed by a New York Times reporter as "someone who has quietly become one of the most influential people in America," Andy Andrews is the author of multiple New York Times bestsellers including The Traveler's Gift and The Noticer. He is also an in-demand speaker, coach, and consultant for the world's largest organizations.
Zig Ziglar said, "Andy Andrews is the best speaker I have ever seen."
Both The Noticer and The Traveler's Gift were featured selections of ABC's Good Morning America and continue to appear on bestseller lists around the world. His books have been translated into over 40 languages.
Andy has spoken at the request of four different United States presidents, worked extensively with the Department of Defense, and regularly addresses the world's largest corporations. Arguably, there is no single person on the planet better at weaving subtle yet life-changing lessons into riveting tales of adventure and intrigue—both on paper and on stage.