1–What is the title of your latest release?
LOVE SPELLS AND OTHER DISASTERS
2–What is it about?
This is an ooey-gooey romance about a girl who writes some love spells for a class project then discovers they actually work!
3–What do you love about the setting of your book? 
I love the Marshall mansion with all of its ghostly appeal. I love the candle store, Scents and Things, where Rowan and Abby get one of their spells from –it's modeled after some of the stores I've visited in Salem, Massachusetts. I love the Grady Farm and the renovated barn that Luca takes Rowan for a romantic evening.
4–How did your heroine surprise you? 
I created Rowan to be the embodiment of so many of my past students that she has all of the parts that I loved the most. While it didn't surprise me, I love that she finds the strength to reconnect with her mom and through their bond, find a solution to her love spell dilemma.
5–Why will readers love your hero? 
Luca is caring and respectful. He understands consent and doesn't push Rowan into doing anything she isn't comfortable with. He knows what he wants to do with his life and takes action on his dreams. He doesn't let a life-altering set back keep him down because he's the kind of guy who is used to taking hits (football player) but will keep getting up.
6–What was one of your biggest challenges while writing this book (spoiler-free, of course!)? 
The biggest challenge was not taking too many liberties with slang! When I was in the classroom, I heard all the newest slang that my students were using. Writing and editing this book taught me that just because my students use it, doesn't mean I should. Lol At least, not to death.
7–Do you look forward to or do you dread the revision process? 
The first pass revision letter is a little daunting no matter how many books you've written. It takes some time to digest the ideas/suggestions. Once that's over with though, I quite enjoy the editing process. To me, editing is where the magic happens. It's where books are transformed.
8–What's your favorite snack to have on hand while writing? 
I don't eat usually while writing. That would impact my word count goals by messing with my flow. After writing, I might have a bit of candy (cinnamon sweets I keep at my desk) or chocolate (if I'm really happy with my progress).
9–Where would you go for an ideal writer's retreat? 
Scotland!! If I could go back to Scotland, I would in a heartbeat. I'd love to sit in a café or a pub, people watch and listen to those wonderful accents. I'd love to rent a cabin in the highlands and type furiously. I'd love to go on more ghost tours and learn the history of castle ruins and enchanted towns.
10–What's the best piece of writing advice you've received? 
Don't give up.
11–Who is the fictional character you want to hang out with the most? (anyone in literature!)
James Juniper Eastwood from The Once and Future Witches by Alix E Harrow–she is exactly the kind of witch I want to be.
12–What's one of your earliest book memories? 
The Littlest Witch (author unknown) was a picture book that I made my dad read me so many times that it mysteriously disappeared.
13–If you had to write in a different genre, what would it be and why? 
I'd love to write thrillers in an epic, twisted series with a lead detective that readers fall in love with and a serial killer that they also love to hate.
14–What song will automatically put you in a good mood? 
Might be Right by White Reaper
15–What is your favorite way to practice self-care?
Reading! Let me escape into a good book for a few hours and I'm happy.
16–What can you eat and never get sick of? 
I love steak. It's my favorite meal. I also love cheesecake and bacon. Not together.\
17–Will you share a favorite, recent-ish book you recommend? 
Mexican Gothic by Silvia Moreno-Garcia
18–Do you have any hobbies? 
Writing was once my hobby but is now a full-time job (on top of my other full-time job as a consultant). I suppose that reading could be a hobby, although I think I'd die if I couldn't read every day. Is shopping a hobby? I like doing that even if my wallet doesn't appreciate it too much.
19–Are you an early bird or a night owl?
I'm an early bird, I think. I wake up early for work and I'm not generally in a bad mood about it. Although when I'm off in the summer, I tend to stay up pretty late and sleep in so maybe I'm a bit of both.
20–What can readers expect from you next? 
Hopefully another couple of books in the same magic realism genre. I've got a few balls in the air that I'm waiting to drop so hopefully I'll catch them when they do!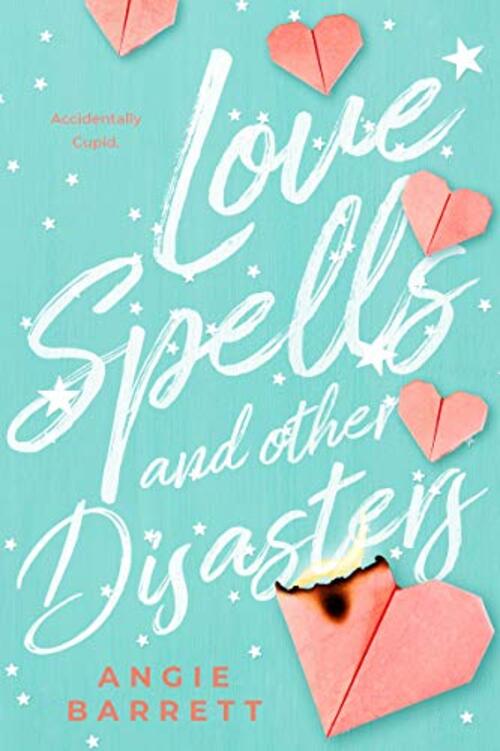 I didn't know when I wrote the first love spell that it would actually make things happen. Like, actually make people fall in love with each other. . .
How could I have known something like that? I mean, magic isn't real, right?
But here's the thing–the spell does work and so does the next one and the next one. . . and suddenly I'm getting a whole lot of attention from everyone at my high school. Me, Blend-into-the-Walls, Please-Let-Me-Introvert-in-Peace Rowan Marshall. And not only that, but I've also caught the attention of Luca Russo, a godlike, football-playing hottie who claims he likes me just the way I am. Ummm. . .
But as I'm about to learn, playing around with things you don't understand means when things go wrong–like really, very awfully wrong–you don't know how to fix them.
Young Adult Romance | Young Adult Fantasy [Entangled Teen, On Sale: February 1, 2021, e-Book, ISBN: 9781649371256 / eISBN: 9781649371256]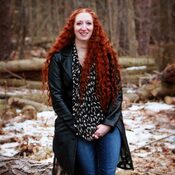 Author Angie Barrett lives in a small town in Ontario, Canada in an old century home that is also known as the "cat house" because, well, Angie likes cats. A lot. She also likes shopping for books, or for anything really, and spending time RVing in the summer with her family. She has worked for sixteen years as a high school English teacher and Librarian and is currently a Curriculum Consultant for new teachers.