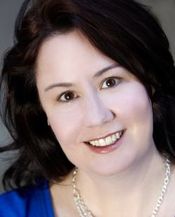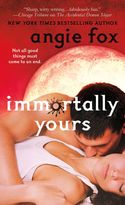 Hi, thanks for having me today. I'm so glad to tell you a bit about my new book, and how it's gotten me out of a tough spot with a few of my old professors (well, maybe). You see, I graduated Journalism School from the University of Missouri. It was one of the first journalism schools in the country and let's just say they take the news very seriously.
Whenever I go back to visit, some of my professors like to tease me about how I don't really use my degree. I spent all those years learning how to present news facts, only to turn around and make things up for a living. Of course, I like to remind them that they actually have to wear shoes to work.
Flash forward to this new series. I hadn't planned to use my degree (why start now?) But as I was writing IMMORTALLY YOURS, it hit me. The book takes place in a paranormal MASH camp during the middle of a centuries-long supernatural war. And while the hero is a tough-as-nails wounded warrior and the heroine is the doctor who saves him (in more ways than one), we still need coverage of what is happening outside the camp.
Enter PNN: the Paranormal News Network. It's the supernatural version of CNN, well, with a few fanged, horned, and other exceptions. And while PNN offers a steadying presence in the book, the news reporting often borders on the sensational. It's my book, I can do what I want, right?
For kicks and grins (and of course, to make use of that "New Media" class), I've set up the "official" PNN website. It's a bit like The Onion, only paranormal. And it allows me to offer up a fun taste of the series, while immersing readers in the world of PNN.
Check out PNN at www.PNN-Network.com. Comment below with the headline of your favorite PNN story and you're entered to win an autographed copy of IMMORTALLY YOURS!
To comment on Angie Fox's blog please click here.