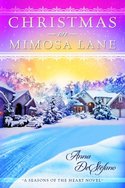 What's most important for me this time of year is feeling that rush of memories and smiles and hopes for another holiday season like my favorite ones from before. I've heard a lot from readers who're enjoying CHRISTMAS ON MIMOSA LANE, and one of the most comment reviews or emails I get is about past and present phenomenon.
Yes, folks are loving the book. But more than that, they're feeling the characters experiences—dealing with Christmases past, dreaming of perfect Christmases future, and embracing the hopeful holiday they want to embrace today. Because we're never really feeling only now this time of year. We're also sensing those idealistic holidays we've had before and wishing for even better memories to come.
In CHRISTMAS ON MIMOSA LANE our characters deal with their memories (both good and bad) so they can focus on the beautiful holiday they're making now. This is the only way for them to have their chance to be happy. Some of us struggle with being happy, too, this time of the year, while the rest of the world seems to be celebrating non-stop.
Pete and Mallory and little Polly's story is about realizing that you can make your holiday now whatever you want it to be–make it look however you want it to look–no matter what you or anyone else has been saying should make you happy. First, though, you have to decide–for yourself–exactly what that happy will look like, instead of assuming it will look like everyone else's holiday.
What we want is usually a combination of before and now, with a sprinkle of what we hope could be. It's often a confusing rush of emotion and longing that doesn't feel entirely comfortable, so we don't look too closely at first (like my characters) for fear that we can't have it, or it's not the right thing to want, or even that we'll have to let go of past holidays (even not-so-good-ones), and that doesn't seem like the right thing to do.
But right this time of year is our individual ideal to define. We shape how we'll live and love during this season. And once me make the decision to live, and not just get by or endure or make do, then the sky's the limit. There's no joy or dream holiday too fantastic–and no simple, quiet moment too fragile and perfect for us to savor–that we can't make real.
What will your past, present and future holidays mean to you this year? How will you grow from where you've been, live and love and revel in where you are, and take the steps you must to grow in the direction you want to take in the upcoming year. Take a moment to answer them, when you can, just as I challenge me characters to.
That's your Christmas present to you this holiday!
Share your memories in the comments for your chance to WIN a $10 Amazon gift certificate!
***
"Christmas on Mimosa Lane celebrates the resilience of not only the holiday spirit, but the human spirit as well. You won't regret being part of that celebration." —Kathy Altman, USA TODAY, Happy Ever After
"Christmas on Mimosa Lane is a charming, tender delight with unforgettable characters. It will make you laugh, it will make you cry, and it will make you feel as if you've come home yourself to a magical place where Christmas dreams do come true. Anna DeStefano is a treasure!" —Teresa Medeiros, New York Times best-selling author of Goodnight Tweetheart
"Christmas on Mimosa Lane is one of the most emotionally powerful tales I have read in a long time." —Romance Junkie Reviews, 5 Blue Ribbons
"A deeply emotional story that furls around your heart like a Christmas ribbon." —Lori Wilde, New York Times best-selling author
To comment on Anna DeStefano's blog please click here.