Hi! I'm so delighted to be here today with an exclusive excerpt from ARCTIC HEAT, my newest release in the Frozen Hearts series set in Alaska. As with the other two books in the series, this one stands alone well–there's only the briefest of mentions of the prior books' couples and no spoilers. This is my opposites-attract, odd couple roommates, snowbound romance as a seasoned ranger finds himself paired with a newbie volunteer for the winter season where they'll be snowed in together at a remote Alaska state park. One thing I loved about writing this one was showing the progression of them from unwilling partners to reluctant roommates to something more. For this excerpt, I wanted to show you a look at the moment when the ranger, Quill, realizes that the winter partnership with Owen, for whom he already had a bit of an awkward encounter with the night before, is inevitable.
****
Quill had no hope of this thing working well for anyone, but he'd already done what he could. No sense in upsetting Hattie, who was simply trying to do her job. He saved his ire, heading to the coffee table where Owen was still fussing with his tea.
No way could Quill stomach a beverage of his own right then. God, but he hated uncomfortable conversations, confrontation, but there was no avoiding this. Not bothering with trying to figure out a greeting, he gave him a hard stare and nodded at the hallway. "A word?"
"Of course." Owen gathered up his tea and followed Quill out to the hall, far friendlier than Quill would have expected given how they'd parted. Maybe he'd gotten better sleep than Quill. And fuck, wondering whether Owen had slept alone was not what Quill wanted to be doing right then. Not that any of this was, but he didn't need jealousy on top of everything else.
"Did you ask for this?" Quill asked when they were clear of the doors. "Ask to be moved?"
Owen's eyes went wide. "No. Not at all. Your friend Hattie called me this morning. I was beyond surprised."
"So why not tell her no?"
"I didn't feel I had any choice." Owen's voice was infuriatingly calm. "It's not like you would have wanted me to tell her that we left things on…not great terms. I thought you'd value my…discretion."
"It's not unappreciated," Quill ground out. Anger, as it turned out, was a good antidote for avoidance. He might not want to be having this conversation, but irritation was good at keeping his voice firm, making him hold his ground. "But, hell, this is a mess. You don't really want to winter with me."
"More like you don't want to winter with me." Owen laughed lightly. Damn it. Why did Owen have to be so reasonable? "I'll be fine. Like I told you yesterday, I'm adaptable. And I'm not picky about which state park I'm based out of. This should be fun, regardless."
Fun. There was that damn word again, and this time, Quill couldn't hold his temper back. "If you're looking for fun, you're looking in the wrong place. This is hard work. Grueling even. Long days. Hattie wasn't wrong that it's more than a one-person job, but it's way more than a lark. And if you're thinking I'm up for…anything extra, you'd be wrong."
"Hard work and fun aren't mutually exclusive." Owen's dark eyes flashed with more emotion than Quill had seen from him thus far. "I'm prepared to work hard. You're the one who has doubted that from the start. Guess I'll simply have to prove you wrong."
"I didn't mean…" Quill trailed off lamely because he had meant that he didn't think Owen could last the winter. Hadn't meant to be rude about it, but he still couldn't deny the opinion. "Look, things don't have to be this awkward. You could ask—"
"Things are only going to be awkward if you let them." More from Mr. Reasonable. "And no, I'm not going to ask for a change. For what it's worth, I'm not planning to spend all winter hitting on you either. I can take a hint, and closet cases might be fun for a night, but it's hardly my regular jam either."
"I'm not… That is…." Fuck. Was that seriously disappointment wiggling its way around Quill's spine, getting into his head? He didn't want Owen hitting on him. And what did it matter what Owen thought about him? "I'm a private person."
"Hey, I'm not judging. You do you." Owen's tone was somewhere between understanding and patronizing and made Quill's neck muscles tense. JP had had a similar judgy tone, always unable to understand Quill's aversion to drama. And Quill wasn't without understanding that most people preferred to live a little more loudly than he was capable of. But he still resented the implication that he was some sort of prude.
Prude implied a certain unreasonableness, an insistence on clinging to irrational fears. But Quill knew all too well that his issues weren't arbitrary. Others hadn't walked his path, hadn't endured all the teasing and prodding until the very idea of being open made him break out in a cold sweat. Even so, he'd tried, once upon a time. Let himself be young and foolish. And he'd carry his father's red face and angry words and everything that happened after to his grave. No, he wasn't being irrational. Life wasn't always rainbow T-shirts and jubilant parades. Sometimes openness carried a steep price, and Quill wasn't going to apologize for not wanting to pay that price, not again.
"Professional is best in any event." Quill made himself sound as reasonable as Owen had, like they were negotiating a used car sale, not letting memories of the night before cloud his judgment. The best thing really would be if they could forget the kiss ever happened. If that was even possible with his lips still tingling, remembering how Owen had felt and tasted.
"I can do professional." Owen shifted his tea to his left hand and stuck out the right. "It'll be a good winter. Promise. And you never know. We might actually end up friends."
Ha. It had taken Quill and Hattie years to approach true friendship. No way was Quill getting there with Owen in a matter of months, especially not when he'd need to keep his distance to avoid falling into temptation again. Not when merely shaking Owen's hand caused warmth to snake up his spine. Survival, not friendship, had to be his goal here.
(C) Annabeth Albert, Carina Press, 2019
***
Frozen Hearts Book 3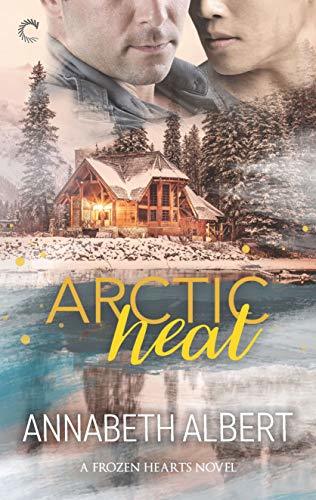 A lasting connection needs more than simply surviving a winter together–they'll have to outsmart danger, let down their defenses and open their hearts.
Owen Han has a fresh lease on life–he's kicked cancer's ass and is roaring through his bucket list. The former investment banker hopes to find his next challenge in Alaska, volunteering alongside park rangers and fulfilling his childhood dreams of snowy winters and rustic life. Of course, those dreams did tend to feature big strapping mountain men in vivid detail. . .
Ranger Quilleran Ramsey would like to be anywhere other than dealing with newbie volunteers. And really, the only thing he needs less than a green volunteer "partner" is the flirty attentions of a buff city boy who doesn't look ready to last a week, let alone an Alaskan winter. They're all wrong for each other, even if Quill's traitorous body enjoys the flirting more than it should.
As the weeks pass, the two snowbound men give in to temptation. But can their seasonal romance last until spring? For them to have a future together, each will have to trust the other. . . while hoping that the harsh elements and omnipresent dangers don't destroy what happiness they've found in the moment.
One-click with confidence. This title is part of the Carina Press Romance Promise: all the romance you're looking for with an HEA/HFN. It's a promise!
This book is approximately 89,000 words
Romance Contemporary | Romance LGBTQ [Carina Press, On Sale: September 23, 2019, Mass Market Paperback / e-Book, ISBN: 9781335008091 / eISBN: 9781335008091]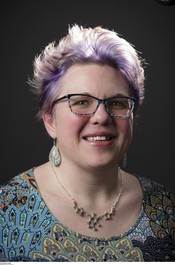 Annabeth Albert grew up sneaking romance novels under the bed covers. Now, she devours all subgenres of romance out in the open–no flashlights required! When she's not adding to her keeper shelf, she's a multi-published Pacific Northwest romance writer. Emotionally complex, sexy, and funny stories are her favorites both to read and to write. Annabeth loves finding happy endings for a variety of pairings and is a passionate gay rights supporter. In between searching out dark heroes to redeem, she works a rewarding day job and wrangles two toddlers. Represented by Saritza Hernandez of the Corvisiero Literary Agency