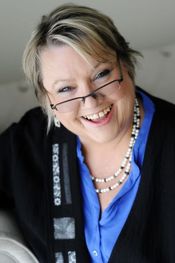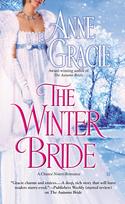 If I told you you'd love a hero who was frightened of literary societies and muffins, would you believe me? Probably not, but read on, and maybe I can change your mind.
For me to enjoy a romance, I have to love the hero. Generally I like one who's strong, tough, and honorable, a take-charge kind of guy, the kind of guy who relishes trouble, who's a fighter as well as a lover. But sometimes an unexpected hero simply arrives on the page.
The hero in THE WINTER BRIDE, Freddy Monkton-Coombes appeared in the previous book (THE AUTUMN BRIDE—a RITA finalist) as a minor character. He was the hero's best friend, a sidekick kind of guy. He's neither tough, or take-charge —he's a beta-hero, a funny, charming, bad-boy rake. Freddy isn't even a heroic kind of name.
But somehow, I knew he had to be the hero of the next book. Even though he's horrified by things like literary societies and muffins.
Freddy on the literary society Damaris (the heroine) attends:
"The horror stories those girls read are enough to make a fellow's hair stand on end."

Max frowned. "Horror stories? They don't read horror stories, only entertaining tales of the kind ladies seem to enjoy, about girls and gossip and families—"

"Horror stories, every last one of them," Freddy said firmly. "You asked me to sit in on their literary society last month, when you went up to Manchester, remember? The story they were reading then . . ." He gave an eloquent shudder. "Horror from the very first line: It is a truth universally acknowledged, that a single man in possession of a good fortune must be in want of a wife. Must he, indeed? What about the poor fellow's wants, eh? Do they matter? No. Every female in the blasted story was plotting to hook some man for herself or her daughter or niece. If you don't call that horror, I don't know what is!"
Freddy on muffins. Not the edible kind. Muffins in Freddy's lexicon are "Females. Eligible females. Seriously marriage-minded eligible females, usually of the reforming type."
Freddy stared gloomily at the plate before him. Lady Bea was convinced that muffins were the Monkton-Coombes food of choice. That was Max's fault, blast him. He'd told his aunt that Freddy was obsessed with muffins, and of course the old girl thought he meant these blasted bun things. She had him served with them each time he called. And expected him to eat them. With enthusiasm.

He picked up a muffin, hefted it lightly and eyed the fire with a narrowed gaze. It was a good blaze, strong enough to reduce a muffin to ash in a short time. But would there be an incriminating smell?

He raised the muffin, aimed and was about to toss it in the fire when feminine footsteps sounded in the hall. He dropped the muffin, turned toward the open doorway and saw four smartly dressed females advancing toward him, smiling.

The hairs on the back of his neck rose. Why the devil were they grinning at him like that? What did they know? What did they want? He had a powerful urge to flee.
To get his parents and marriage-minded muffins off his back, our hero pays marriage-shy Damaris Chance to enter into a false engagement. She gets a cottage of her own and the security she craves; he gets peace from the females who stalk him relentlessly. It's a foolproof plan; how could anything go wrong?
Published by Berkley, USA in mass market paperback, e-book, and audio, THE WINTER BRIDE is out now — April 2014.
I loved writing this book. Freddy is funny and charming, a flirtatious, bad-boy rake, but he has hidden depths, and as the story progresses, he slowly reveals himself to be "an utterly to-die-for hero" (so said Mary Jo Putney.) Damaris is serious and quiet, and the secrets of her past make her vulnerable, but underneath her cool exterior she's really something special — watch her stand up to Freddy's b*tch of a mother, and I think you'll love her as much as I do.
So what about you — do you enjoy an occasional beta-hero? A walk on the lighter side of romance? Do you like muffins? Or book clubs? I'll give a copy of THE WINTER BRIDE to someone who leaves a comment.
To comment on Anne Gracie's blog please click here.