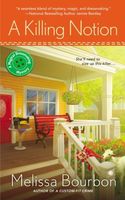 You don't know me (or maybe you do… that would be awesome!), but I'm a mystery writer. I'm the author of the Lola Cruz Mystery Series and A Magical Dressmaking mystery series. A KILLING NOTION, book 5 in the Harlow Cassidy series, released today!
When you aren't a regular on a blog, it can be hard to know what to write, and how to present it to a brand new audience. Should I be funny, like in my books? Serious, because murder is serious business? Or some combination of the two, perhaps? The truth is, I'm no stand up comedian (not by a long shot), but like any fleshed out character, I'm a combination of things. I love a good mystery (cutting my teeth on Nancy Drew, graduating to Agatha Christie, and branching out from there), read the occasional romance (Julia Quinn makes me laugh), but stick mostly with women's and/or literary fiction (The Help is a favorite).
How, then, did I come to write mysteries, and why are some of my mysteries sexy and sassy (Lola Cruz) and some very down home (Harlow Cassidy's A Magical Dressmaking mystery series)?
The short answer is, I like the mystery device. What better way to propel a plot forward than to have a crime to solve?
The little-bit-longer answer is that crafting a puzzle that the sleuth and readers need to piece together is challenging–and fun; watching characters you love to spend time with grow and discover themselves–and each other–is rewarding. Having humor and wit in a book is icing on the cake.
For me, then, the mystery is only half the story. Lola Cruz, for example, came about long before the framework of Living the Vida Lola. She came to me as a character who was at once sassy, smart, sexy, determined, strong, feminine, Latina, black belt in kung fu, idealistic, American, sister, daughter, friend, and so much more. When it was time to figure out how I was going to tell her story, it made perfect sense to put her into an investigative role. Elements of the mystery, I knew, could pit Lola against external conflicts, as well as internal conflicts, of which she has many. It would force her to evaluate her life, her choices, her dreams, her desires, and her future (all in a funny, light way). Balancing her drive to be a detective, her traditional Mexican family, cultural expectations, her American sensibilities, and her love life is no easy task. Add in a mystery, and it's a wild ride!
When I created Harlow Cassidy, she possessed many of the same qualities as Lola, but the setting and the family were so different. Small town Texas, descendants of Butch Cassidy, magical charms, strong women. These are the things that began to shape Harlow. How she'd react in any given situation was drastically different than how Lola would react (professional PI verses amateur sleuth). Add in a mystery, and once again, I had the framework in which I could explore these characters that I was creating and already loved.
My books are character driven more than anything, but the mysteries really interest me. They're 'ripped from the headlines', twisted, redefined, and made original. The mysteries shape, form, and/or enlighten Harlow (and Lola) in her personal life or with her decision-making. They are equal, then, to Harlow's own story, which spans the arc of the series.
I'm always curious to find out if readers like their mysteries straight up, homespun, with lots of crafty hooks, or with the zany, romantic. How do you like yours?
~ Melissa
About Melissa
Melissa Bourbon, who sometimes answers to her Latina-by-marriage name Misa Ramirez, gave up teaching middle and high school kids in Northern California to write full-time amidst horses and Longhorns in North Texas. She fantasizes about spending summers writing in quaint, cozy locales, has a love/hate relationship with yoga and chocolate, is devoted to her family, and can't believe she's lucky enough to be living the life of her dreams.
She is the Executive Publicity Director with Entangled Publishing, is the author of the Lola Cruz Mystery series with St. Martin's Minotaur and Entangled Publishing, and A Magical Dressmaking Mystery series with NAL. She also has written two romantic suspense novels, a light paranormal romance, and is the co-author of The Tricked-out Toolbox, a practical marketing and publicity guide for authors.
Connect with Melissa: MelissaBourbon.com | Facebook | @MelissaBourbon | Goodreads
To comment on Melissa Bourbon's blog please click here.