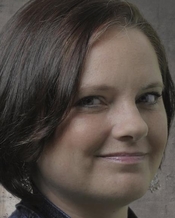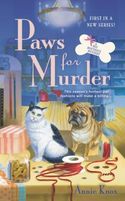 That Dixie Chicks song is on my iPod, and whenever I go for a walk or a drive there's a decent chance I'll find myself singing along about Wanda and Mary Ann and the abusive man who deserves to bite the dust.  I sing with relish, letting go of my better nature and diving headlong into a world of vigilante justice where people get what they have coming to them:  their just deserts.
In cozy mysteries, the victims of our murders are often the Earls of the world.  They have done Very Bad Things so we don't feel too awful about their deaths.  Moreover, they've wronged enough people to give us an array of potential suspects.  I've found, though, that this is a convention I have to bend.
Some of my victims start off looking like Earls, but most of them turn out to be likeable folks.  Flawed, but likeable.
Take Sherry Harper, the victim in PAWS FOR MURDER, the first in the Pet Boutique Mystery series.  She's been handed a generous trust fund without ever working a day in her life, she's completely irresponsible, she's dedicated to agitating and protesting no matter whom it hurts, and she's an unreliable friend.  I had no shortage of people who wanted Sherry Harper dead, potential suspects who led my sleuth Izzy McHale on a merry chase.
Ultimately, though, Sherry didn't deserve to die.  As the story unfolds, so does Sherry's life.  Both Izzy and the reader get to see evidence of Sherry's remarkable generosity, her earnestness, and her tender heart.  She's flawed, but likeable.
Funny thing is, the potential killers (and the real killer) tend to be likeable, too.  Decent people pushed beyond the brink.  Again, flawed, but likeable.
You'd think I spend enough time plotting methods and motives for murder that I wouldn't have any trouble writing a genuinely black-hearted character.  But so far, I don't think I've written a one.  Instead, I can't help writing victims and killers who are normal people, all with both good qualities and bad, who find themselves in the most dire of circumstances.  I want to be able to imagine what it's like to live in their skin, see things from their perspectives (remember, we're all the heroes of our own stories).
I hope you'll join me in uncovering which flawed but likeable resident of Merryville, Minnesota, was pushed far enough to commit the ultimate crime.  And I hope that you'll agree that poor Sherry Harper is more than just an Earl.
Comment To win a gift certificate to BN.com or Amazon, winner's choice
To comment on Annie Knox's blog please click here.