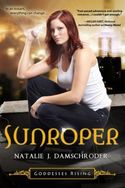 My day to day life is very dull. I do paperwork at my day job for a chiropractor. I edit marketing materials in my freelance job. Coincidentally, both jobs require a lot of sitting and typing. My kids are older now, the oldest away in college and the youngest in high school and very self-sufficient and independent. So I might drive her around some, and do household chores or run errands. When I get down time, I'm watching the TV shows that have piled up on the DVR or, if we're getting really wild, going to a movie with my husband.
No one would ever want to read about what I do in my real life. Which might be why I write stories about people who are doing anything but real-life-type activities.
Take my Goddesses Rising trilogy. When it starts out, Quinn has a "regular" kind of day-to-day life, if you consider owning a bar and using her abilities as a goddess in a side business "regular." But right off the bat, she's racing off to try to stop a leech who's draining goddesses of their powers. None of them ever get back to normal after that. All three books in the trilogy have battles and bad guys and people struggling to find their place in the world. In SUNROPER, the book that just came out this week, the heroine has sold the inn she used to run and is on a mission to prevent entitled, spoiled young men from taking and using power that isn't theirs.
It's the same with the romance side of things. I've been married for 21 years to a stable, loving, funny, hard-working man who has made it possible for me to pursue my dreams. So of course I write about heroes who fight people all the time. All of them do have those loving, funny, hard-working traits inspired by my husband, but they tend to have more exciting extracurricular activities, like Sam's research-fu (aka hacking) and Gage's "businessman adventurer" lifestyle.
So if you like to read the "anti-normal" in your romance novels, the Goddesses Rising trilogy might be for you. The third book, SUNROPER, just came out this week, and to celebrate, you can get the digital edition of the first book for only 99 cents until January 8.
For additional retailer links, you can go to the Goddesses Rising page on my website.
About the Book
Marley Canton is done being a victim. A year and a half has passed since she discovered her ability to nullify power in those who aren't supposed to have it. She's now on a quest not only to stop the brats who've become addicted to goddess power, but also to find the source of their addiction.
Like Marley, Gage Samargo is tracking down the goddess who went rogue decades ago. Insane with too much power from the sun, she's selling that energy to Gage's younger brother and his friends, who are no longer content to come into power naturally. While they work to find a way to neutralize the goddess, Marley discovers that every time she nullifies someone, she takes on some of the goddess's insanity.
Gage falls for Marley's sharp wit and intense desire to right wrongs. But once he discovers she's turning into her enemy, is it too late to back away?
About the Author
Natalie J. Damschroder is a multi-published author of contemporary and paranormal romance, with an emphasis on romantic adventure. Her 15 novels, 7 novellas, and 15 short stories have been published by Avid Press, Echelon Press, and Amber Quill Press, with current work published by Carina Press and Entangled Publishing. She is a 2012 recipient of the RWA Service Award and two-time finalist in the EPIC eBook Awards romantic suspense category: Fight or Flight in 2012, and Acceptable Risks (which won the category in 2013). She is also a multi-finalist in the International Digital Awards. You can learn more about her at , where you'll also find links to her blogs and social media.
Comment to win an e-copy of UNDER THE MOON
To comment on Natalie J. Damschroder's blog please click here.