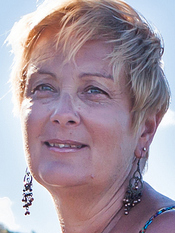 Ever since I can remember, I would pick up anything that had words on it and read. Whether it was the newspaper, a flyer, an advertisement, a billboard, a book or a magazine…I would read it. A thirst for knowledge, a desire to know what was happening in the world and the opportunity to experience other worlds, lives, and times was available to me through the written word.
Move forward to the second decade of the twenty-first century and the internet is at my fingertips. Oh, what a delight for an author. To be able to research exotic places far away, to be able to verify facts and dates and to look at images of exotic settings.
Stuck for a character's name? Log on and research names. Stuck for a physical description? Log on and look at the millions of images available to you.
Is this love of research a trait common to all writers? I'm not sure…
My love of reading and research melded into a highly satisfying career when I left school and studied to be a librarian. During my twenty-year career with books and the written word… I worked in a variety of library settings.
A university library working with tertiary students and lecturers from the classics to geology and architecture; a medical library working with medical students and researchers involved in the latest research; a public library… where I would help primary school students with their homework and source romances and westerns for  elderly folk who would come in and seek my recommendations. And finally in a secondary school library where I began my career as a teacher and moved out of the library field.
My training and experience as a librarian has been a marvellous asset as I have turned to my lifelong dream of writing. The ability to carry out effective searches on the internet and separate the wheat from the chaff on the myriad of sites out there, as well as being able to recognise fraudulent sites was honed in my early years as a research librarian. Now that love of research and the amazing search engines and images on the internet all contribute to my creation of exotic settings and alternative worlds…of course, it also helps to have a very vivid imagination to kick it all off!
Come on over and read some of my bizarre creations—WINTER OF THE PASSION FLOWER has some unusual machinery in an alternative setting. And my exotic settings—HOLIDAY AFFAIR has some gorgeous tropical settings. And mythology combined with witchcraft and country and western music in BLIND LUST. And currently being researched and written…a most exciting story about ley lines, time slips and rock music.
All verified through painstaking and most enjoyable research!
I love research and I love being an author and sharing my stories with my readers!
To comment on Annie Seaton's blog please click here.