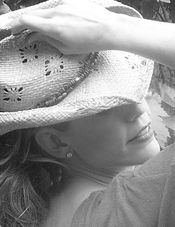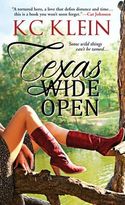 Whoo Hoo! I am so excited to be on Fresh Fiction. (I kinda feel like I've just gotten a party invite from the cool kids at school.) So before I go on, I have to thank Fresh Fiction so so much for having me here. J
I want to tell everyone about the big thing that is going on in my life, which is…drumroll…the release of my first book in the Texas Fever series, TEXAS WIDE OPEN.
I really am excited about this story because it is totally different from what I've written in the past. I like my romances dark and gritty, the more torture the better. This story started out as an escape, a little side action, from what I really wanted to focus on. This was supposed to be my cotton candy romance. You know the one that's easy to whip up and goes down just as quick. In the end, writing my romance-on-a-stick became a lot more complicated than just adding sugar and food coloring, but, oh, it sure was fun.
Katie is the young girl next door who has loved her cowboy neighbor for, like, ever. What I love about Katie was how easy she was to write. There was never a question of how she would handle a situation. Simply put, she'd follow her heart. She is fearless, passionate, and sometimes reckless when it comes to people she loves or the causes she cares about. She's crazy about horses, the ranch, and above all, Cole, the older man next door who, unfortunately, has his own ideas about what's proper and what's not when it comes to their relationship.
Cole is deliciously tortured. (Don't you love tortured heroes? Really, is there any other kind?)  He is riddled with so much baggage he needs a U-Haul. There's plenty of guilt, shame, and addiction (yep, totally messed up) to go around. There's a floundering ranch to take care of, a hell-raising, pool hustling little sister to manage, and the head strong girl next door who tempts him at every turn. Even though deep down Cole may love Katie, there's no way a lowly, half-breed, who doesn't have two nickels to rub together would ever deserve her. Sometimes the right thing isn't the easiest to do. So he makes sure Katie gets the message…loud and clear.
Here's the blurb because I know you're interested.
Katie Harris loved growing up on a ranch. She had her horse, the beautiful Texas prairie, and Cole Logan, the cowboy next door. But there are a lot of secrets hidden under a Texas sky…
Katie always knew she'd marry Cole one day—until he broke her dreams and her heart. But now that Katie's father is sick, she's back home, older, wiser, and nowhere near the love-sick fool she once was.
Cole knows Katie doesn't want anything to do with him. But after so many years, he can't pretend she's no more than a neighbor. Not when thinking about her cherry lip gloss and hell-for-leather passion is keeping him up all night. Holding his ground was hard enough when she was seventeen. Now that she's her own woman, Cole's heart doesn't stand a chance…
"Passionate, gritty and fast paced…with a hot blooded, honorable hero to make every woman's knees go weak."—Diane Whiteside
So come on, doesn't a little romance-on-a-stick sound good? It's like eating melt-in-your-mouth mind candy, but without all the calorie regret later.
One commenter will win a copy of TEXAS WIDE OPEN (e-Book)
To comment on K.C Klein's blog please click here.