Writes:
Contemporary and Paranormal Romance full of wit, humor, and heroes and heroines willing to risk it all for their happily ever afters.
About:
Quirky romance writer seeks readers for her stories about love and loss and the courage to make all your dreams come true. These worlds are populated by wounded heroes with a score to settle and heroines who take no crap and dish out sarcasm like today's blue-plate special. Deep inside, however, these people want what we all do—kindness, acceptance, tolerance, and love.
What I'm Looking For in My Ideal Reader Match:
Someone whose idea of a perfect date is a sexy man, a feisty woman, and copious amounts of chocolate and eighties movie references.
Dreams of a love that will last forever and the perfect foot massage.
Falls in love easily with hot, brooding, sometimes snarky men.
Likes fast-paced, emotional stories bursting with action, romance, and humor.
Doesn't mind the occasional open-door love scene.
Enjoys everything from paranormal alpha brotherhoods and motorcycle gangs, to sleek, sexy billionaires, hot docs, and the occasional blue-collar hunk next door.
Loves to laugh and have fun.
Thinks the ideal vacation would be cruising America with the Winchester brothers or tracking tornados with a storm chaser crew.
Has a penchant for Disney movies, Star Wars, Marvel and the romantic comedy genius of Sandra Bullock.
What to Expect If We're Compatible:
Frequent books and novellas from yours truly
Lots of cuteness, fun, and giveaways through my newsletter and Facebook.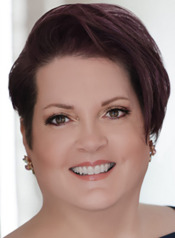 Thrilling Tales of Suspense, Fantasy, and Happily Ever Afters…
USA Today Bestselling Author Traci Douglass writes fiction bursting with romance and action, usually mixed with a healthy portion of fantasy, urban edge and/or snark. Her stories feature sizzling heroes with quick wits and dark pasts and smart, independent heroines who always give as good as they get.
Reverend "Rev" Walker, expected some backlash after he foiled The Council's attempts to overthrow the Blood Ravager Biker Gang. What he hadn't expected was to wake up in the last place he ever wanted to see again—a dank cell of The Council's Siberian dungeon. Drained and chained, he faces certain death if he can't escape from the hellish prison. Now, his only means of escape depends on him accepting help from a fellow prisoner, a woman whose very existence is a lie and the only one capable of awakening Rev's long-dormant heart.
Claire Deveraux is Dygarian, a race of shadow-shifters who have been slandered and hunted to extinction by The Council. But Claire has used her years of enslavement well, reading her captors' secret texts and hearing their whispered secrets. Now, after being locked up for a crime she didn't commit, she plans to use her knowledge of the dungeon's maze-like interior to gain her freedom, or die trying. Then a new prisoner arrives, a man Claire has dreamed of and knows in her heart is her destined mate, if only she can break through his walls.
On the run and threatened from all sides, will Rev and Claire learn to trust each other and their growing feelings for one another before it's too late?
Romance Paranormal [Tule Publishing, On Sale: April 12, 2017, e-Book, ISBN: 2940157413934 / eISBN: 9781946772077]