I love Spring! The air is finally warmer, the flowers are blooming, the birds are chirping, and the swing in the garden is calling my name to come on out, bring a book, and sit a while!
I know that "cozy mysteries" invoke the mental image of curling up by the fire on a winter day, being cozy with a good book and a cup of cocoa. But you can grab a lively story and plop into a swing or front porch chair with a glass of raspberry lemonade and enjoy the same "cozy" feeling during the spring and summer!
April finds us with a wide variety of mysteries to choose from by some new authors, and some favorite authors. So take a few minutes this beautiful spring to savor the finer things in life – a cool drink, a comfy chair, and a delightful mystery – what could be better?
Three top authors in the mystery genre have new books out this month.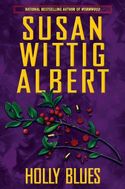 One of my favorite authors, Susan Wittig Albert continues her tales of herbalist/amateur sleuth China Bayles with her new book, HOLLY BLUES.
It's a battle of the current wife vs. the ex-wife when China's husband, Mike McQuaid's first wife Sally shows up right before Christmas with nowhere else to turn. And since China is a goodhearted lady, and Sally is the mother of McQuaid's son, Brian, she has no option but to invite Sally to stay for the holidays.
But it seems Sally has a few secrets of her own, and when menacing phone calls begin, it's up to China to figure out who is threatening to turn Sally into the Ghost of Christmas Present, not to mention ruining Christmas for everyone.
This is Albert's eighteenth book in the China Bayles series, and it is as intriguing and thrill-filled as the other books. Although it is set during the Christmas season, think of it as a headstart on the holidays to come!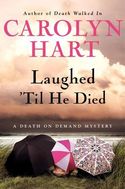 Author Carolyn Hart's new book, LAUGHED 'TIL HE DIED, the 20th book in her "Death On Demand" series, takes her readers back to her beloved Low Country of South Carolina to visit with favorite sleuths/bookstore owners Max and Annie Darling.
In this story, Max and Annie are asked to help their friend, youth center director Jean Hughes who has been accused of killing her former lover, wealthy businessman Booth Wagner. It's up to the Darlings to discover which of Wagner's many enemies snuffed out the obnoxious fellow.
Hart's stories in the "Death On Demand" series can be considered stand-alones in that each story is unique and fresh, but always feature the loving couple of Max and Annie.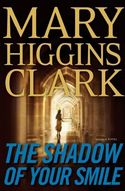 Mary Higgins Clark is the grand dame of mysteries, and while her books can't really be considered cozy, it would be thoughtless of me to not mention her new book, THE SHADOW OF YOUR SMILE. Clark has influenced so many writers during her amazing career, and this new book is sure to be among the top mysteries of the year.
In THE SHADOW OF YOUR SMILE, intrigue swirls around family secrets, medical miracles, and the beatification of a beloved nun, and if she is true to form, Clark will give her dedicated readers the thrilling suspense they love her for.
Now, on to the cozies!
I don't know if it was a coincidence or not, but most of the covers of our beloved cozy mysteries this month feature colors of green and blue, just right for inspiring spring time thoughts. (Just had to point that out!)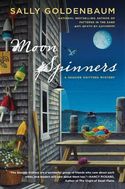 Lobsters, knitting and murder can be found among the pages of MOON SPINNERS: A Seaside Knitting Mystery by Sally Goldenbaum. The gals of the Seaside Knitters are taking a break from their stitching to help their friend Gracie open her new restaurant, The Lazy Lobster and Soup Café. But when Gracie's rich aunt Sophie is killed in a freak car accident, and Gracie's mother Julianne is arrested for her sister's death, well you know the knitters are going to get involved in solving the mystery of who killed Sophie.
The third book in the Seaside Knitting Mystery series, MOON SPINNERS is as quirky and delightful as its characters. Goldenbaum includes a cute pattern for a knitted Fish Hat with her story.
I've never played Bunco, but I have heard that it is a lot of fun. In her book, TIL DICE DO US PART: A Bunco Babes Mystery, author Gail Oust gives readers a look into a group of feisty, lively retirees with a passion for Bunco and for mystery solving as well.
In the 2nd book of the hilarious series, Bunco Babe Claudia has returned from Vegas with new husband and the other babes wonder if she hit the jackpot or not. And when the new hubby turns up dead, and all clues lead to Claudia being the prime suspect, it's up to her pals to find the real killer. Maybe what happens in Vegas should stay in Vegas, including new husbands!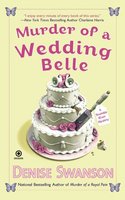 It's Bridezillas and murder in Denise Swanson's 12th installment of the Scrumble River Mystery series, MURDER OF A WEDDING BELLE.
Skye Denison is talked into to not only being a maid of honor, but also helping her cousin Riley with her extravagant wedding plans, which means running interference with her controlling and obnoxious wedding planner, Belle Canfield. But when Belle is found dead just days before the wedding, it's up to Skye to solve the murder and get the bride to the church on time.
My mother read this mystery, and said it was one of the most enjoyable she had read in a long time, and if Momma likes it, well, you know it's got to be good.
Hobbies are a popular subject among cozy mysteries, and this month finds decoupage and miniatures the focus of two new books.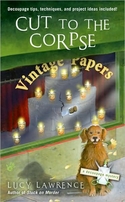 CUT TO THE CORPSE: A Decoupage Mystery by Lucy Lawrence features Brenna Miller, the co-owner of Vintage Papers and expert decoupage teacher.
Brenna has been talked into helping with Tara Montgomery's wedding favors, but has vowed to keep her nose out of the wedding gossip. But when she finds Tara in bed with her fiance's best friend, his recently deceased best friend, and Tara is holding the murder weapon, it's up to Brenna to find out who is putting the brakes on the wedding with murder on their mind.
Lawrence includes directions for making a darling decoupaged votive holder and a cute block puzzle for her readers.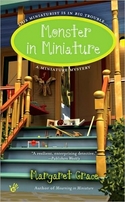 Little bitty stuff is the focus of Margaret Grace's Miniature Mystery series, and her latest book, MONSTER IN MINIATURE, finds Geraldine Porter and her ten year old granddaughter Maddie excited about the upcoming Halloween holidays. But when a decorative scarecrow turns out to be a dead body, Geraldine and Maddy once again find themselves searching for clues to the murder that somehow reconnects to Geraldine's late husband.
This is a delightful, multi-generational mystery that has plenty of twists and turns, albeit in miniature size! There are even a few crafty miniature tips included.
Food mystery lovers haven't been left out this month! A mystery for wine lovers and lovers of good food are on bookstore shelves just waiting to be devoured. (ok, bad pun!)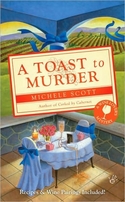 A TOAST TO MURDER: A Wine Lovers Mystery by Michele Scott finds Nikki Sands and her fiancé, winery owner Derek Malveaux finally tying the knot. But when Nikki's best friend Simon is shot as he walks her down the aisle, Nikki has to uncork a murderer before she can complete her "I dos."
Scott's lively characters, fascinating locale, and thrilling story pairing suggestions and recipes to boot.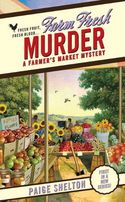 I love a good Farmer's Market, and was thrilled to find FARM FRESH MURDER: A Farmer's Market Mystery by Paige Shelton. The first in Shelton's series, readers will be introduced to Becca Robins, a young gal who is a whiz at making jellies and jams to sell at the Bailey Farmer's Market. When Matt Simonsen, a fellow vendor who sold peaches, is killed, and the clues point to Abner Justen as the prime suspect, Becca jumps in to find out who killed the peach farmer, and why her buddy was being framed for his murder.
Set in South Carolina, FARM FRESH MURDER is a breath of summer freshness that is an absolute delight to read and savor. Add in the recipes for Strawberry Jam and Lemon Meringue Pie, to name a couple, and you have a feast of a mystery to enjoy.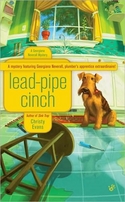 Unusual jobs are also great topics for mysteries, and Christy Evan's character Georgiana Neverall, the murder solving plumber's apprentice, has one of the most unique jobs and set of sleuthing skills in the cozy mystery market today. In her latest book, "LEAD- PIPE CINCH: A Georginana Neverall Mystery, Evans has Georgiana building a moat for a castle in the middle of Oregon. When her nemesis Blake Weston, the man who stole her security company from her, is found dead in the moat, Georgiana finds herself knee deep in mucking herself out of a murder charge.
Always lively, Evans once again delivers a fun mystery full of puzzling secrets, and stimulating clues along with a plethora of plumbing tips.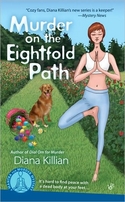 And if you like your mysteries tied up in knots, check out Diana Killian's MURDER ON THE EIGHTFOLD PATH: A Mantra For Murder Mystery which features A.J. Alexander, owner of the Sacred Balance Yoga Studio.
A.J. has a talent for stumbling upon murders, and this time, she literally trips over the body of her mother's boyfriend in the garden. When her mom becomes the prime suspect, A.J. is determined to find out who had poor Dicky in the last downward dog position of his life.
Killian's yoga-inspired mystery is sassy and smart, with organic recipes and yoga facts to inspire the reader as they puzzle out A.J.'s unusual life.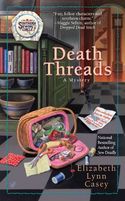 Well, there you have a lively lineup of mysteries to keep you occupied for the beautiful lazy days of spring. Come back by on April 15th when I'll be interviewing Elizabeth Lynn Casey about her upcoming release, DEATH THREADS, that comes out next month!
Until then, cozy reading ya'll!
---
Sharon Chance has been a freelance entertainment journalist for the past fourteen years. As a regular contributor to the Wichita Falls Times Record News, she has written well over 1,600 articles covering everything from concert and movie reviews to museum openings to interviewing some of the top musicians performing today, including members of Bon Jovi and Guns and Roses.
But her true love lies in the world of books. A voracious reader from a young age, Sharon began reviewing books at the urging of her sister-in-law, who was a big fan of the Oprah Winfrey Book Club. What began as a simple fun attempt at sharing her views of books she enjoyed has developed into a work of passion for Sharon. In addition to being a senior book reviewer for the Times Record News, Sharon is also a regular guest contributor for the Las Vegas Review Journal's Book Nook, as well as having written for several other publications.
A distant relative of the great Edgar Allan Poe, Sharon has a fondness for mysteries, especially those of the cozy kind. In her new column, Sharon's Cozy Corner, Sharon hopes to bring news of the latest in the cozy mystery genre, as well as insightful interviews with the authors who write them.