"I'M CURIOUS," JINX SAID, her voice sounding strange even to her. "How did you get that scar?"
She watched Angus swallow, then seem to relax, his blue eyes bright with humor. "Well, it's kind of an amusing story." He smiled. "I got pushed out of a barn loft when I was eleven."
"That's awful."
He sat up straighter until they were eye to eye. "It was my fault. I asked for it."
"You asked to be pushed out of a barn loft?"
"I was teasing her. She warned me that if I didn't stop she would knock me into tomorrow."
"She?" Jinx felt goose bumps break out over her skin and for a moment she could smell the fresh hay in the barn, feel the breeze on her face, remember that cute cowboy who'd taunted her. Her heart began to pound.
His smile broadened. "She was a spitfire, as fiery as her hair back then."
Jinx felt heat rush to her cheeks. "Tell me her name wasn't JoRay McCallahan."
"Sorry, I'm afraid so," he said and laughed. "I wondered if you would remember."
"When I saw you, I thought I'd met you before, but I couldn't think of when that might have been. Then Max told me that my mother took me up to the Cardwell Ranch for a short visit when I was about nine." She groaned. "Your mother must have been horrified by what I did to you." Jinx didn't think she could be more embarrassed.
He shook his head. "My mother said, 'What did you do, Angus?' I confessed that I'd been giving you a hard time and that you'd warned me what would happen if I didn't knock it off."
"Oh, I can imagine what my mother said."
"Actually, both mothers had trouble hiding smiles, once they realized that no one was hurt badly. Your mother told you that you couldn't go around pushing boys just because of something they said or you'd spend the rest of your life fighting them."
"You'd think I'd have learned that lesson."
He grinned. "When your mother said that, you replied, 'Well, if the boys are smart, they won't give me a hard time—especially standing in front of an open window two floors up.'"
She laughed with him. "Oh, that sounds so much like me. I'm so sorry."
"Don't be," he said as he seemed to fondly touch the scar. "It was a good learning experience for me." His blue eyes hardened. "And I never forgot that girl."
"I suppose not." She shook her head in disbelief. "Still, you came down to help me get my herd up to summer range."
"Like I said, it's what neighbors do," he said and grinned again. "Also, I was curious to see the woman that girl had grown into."
She couldn't help the heat that rushed to her cheeks wanting to blame it on the sun beating down on them. "Now you know."
He smiled. "Yes. I wasn't disappointed." He leaned toward her and she knew even before his lips brushed hers, that he was going to kiss her–and she was going to let him.
The kiss started out soft, sweet, delicate, but as her lips parted for him, he looped his hand behind her neck and pulled her down for a proper kiss. She felt the warmth of his bare chest against her still-damp Western shirt. A shiver moved through her as he deepened the kiss. She touched the hair curling at the nape of his neck, wanting to bury her fingers in his dark hair, wanting the kiss to never stop.
At the sound of Max ringing the chow bell, he let her go. She drew back, shaken by the kiss. "We shouldn't have done that."
"I'm not going to apologize for kissing you. I've wanted to since the first time I laid eyes on you. Only back then, I was just a boy who thought the way to get a girl's attention was to give her a hard time."
"I'm still a married woman," she said, hating that she sounded breathless. Had she ever been kissed like that? "And I'm your boss."
He nodded. "If you're saying that I have bad timing, I couldn't agree more." He grinned. "But I'm still not sorry." With that, he touched her cheek, a light caress before he rose, retrieved his shirt from the tree, pulled on his boots and left, saying, "I'll see you back in camp, boss."
(C) B.J. Daniels, Harlequin Intrigue, 2020. Reprinted with permission from the publisher.
***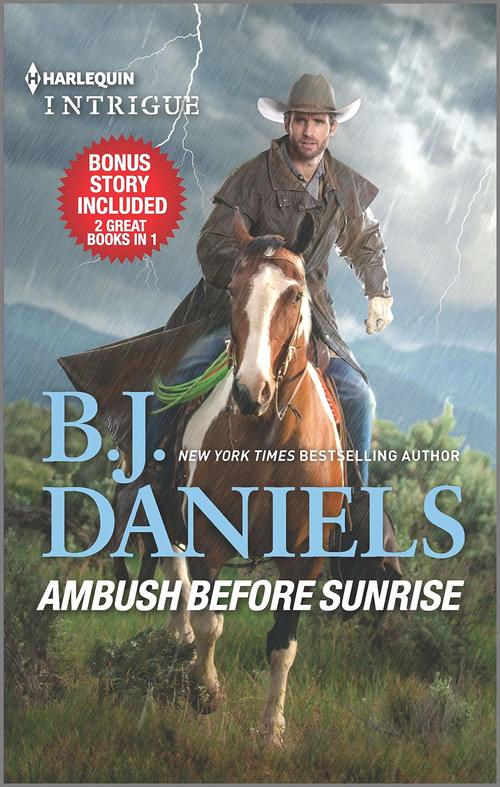 plus Gun-Shy Bride
B.J. Daniels returns to Cardwell country in Ambush Before Sunrise—plus a bonus story!
Ambush Before Sunrise
Wrangler Angus Savage has come to Wyoming to help Jinx McCallahan get her cattle to high country. He's signed on for the dangerous drive, eager to reconnect with the woman he knew when they were kids. Now in the wilderness the no-nonsense cowboy and the strong-willed rancher must navigate the trail's many hazards—like her treacherous ex who wants her back…or dead.
Gun-Shy Bride
The discovery of human bones by the Winchester Ranch rocked the small town and its deputy sheriff, McCall Winchester. The grave held answers to questions that had long haunted her, and nothing would stop her from getting them…not even the return of Luke Crawford.
Romance Western [Harlequin Intrigue, On Sale: May 19, 2020, Mass Market Paperback / e-Book, ISBN: 9781335213983 / eISBN: 9781488057175]
NYT and USA Today Bestselling author B.J. Daniels was born in Texas but moved with her family to Montana at the age of five. Her first home was a cabin in the Gallatin Canyon and later a lake house on Hebgen Lake outside of West Yellowstone.
Most of her books are set in Montana, a place she loves. She lives now in a unique part of the state with her husband and three Springer Spaniels.
When she isn't writing, she loves to play tennis, boat, camp, quilt, and snowboard. There is nothing she enjoys more than curling up with a good book.